The Supreme Court has already rejected a key part of Trump's defence
The 'independent state legislature' theory that animated Republican attempts to overturn elections is dead. The former president's lawyers and right-wing pundits want to bring it back to life, Alex Woodward reports
Wednesday 09 August 2023 19:23 EDT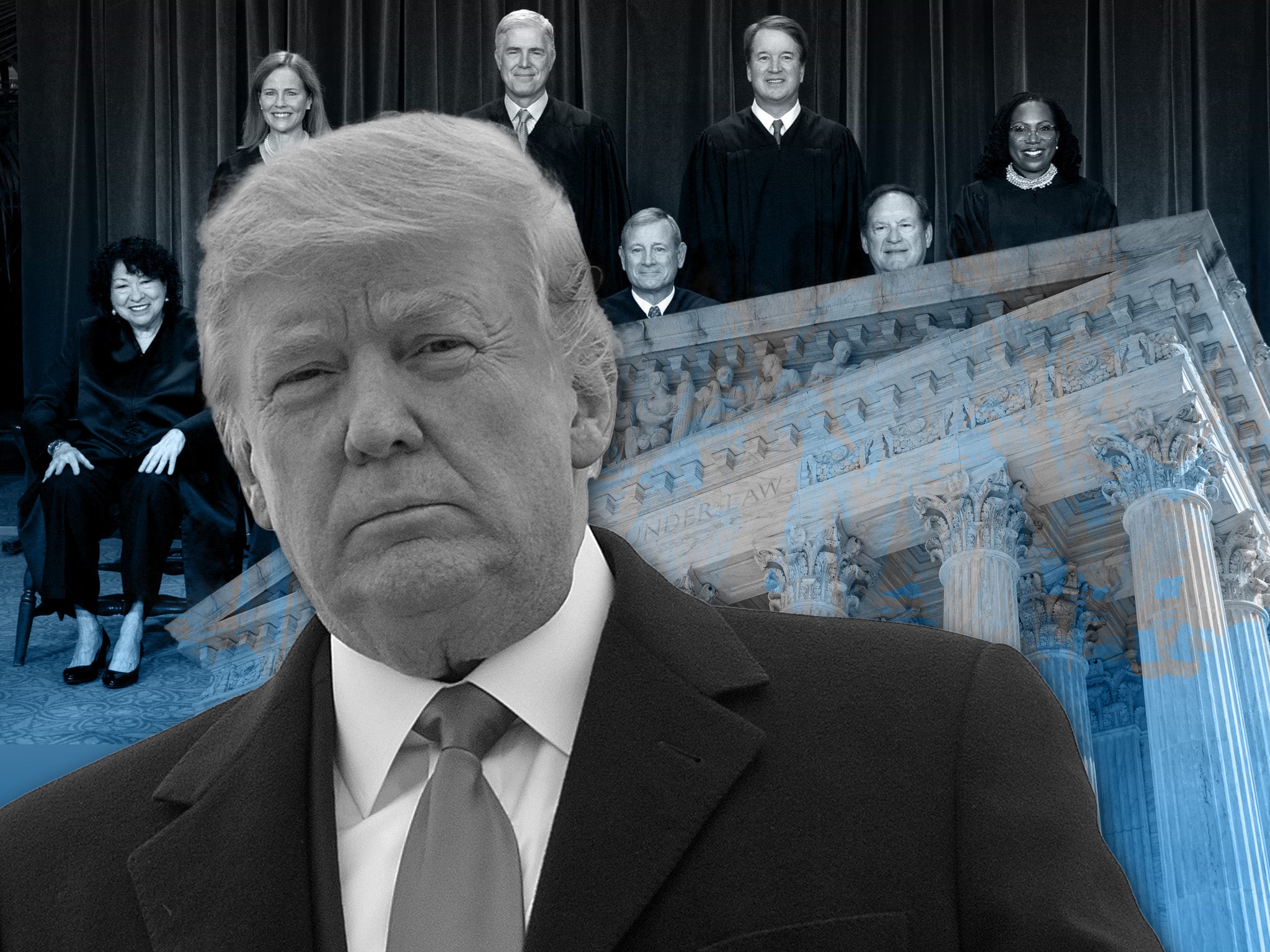 The defence of Donald Trump playing out on television and on social media for the most serious charges against him yet revives the same bogus theory that the US Supreme Courtshot down less than two months ago.
That legal theory formed the basis of the same false claims that the former president and his co-conspirators are accused of making as they allegedly schemed to overturn the results of the 2020 presidential election.
The former president has been charged with three overlapping criminal conspiracies, fuelled by knowingly false claims about election fraud – and a fraudulent reading of the US Constitution from the fringes of right-wing legal activism.
Unfortunately for Mr Trump, "that defense has never been available to him, because the 'independent state legislature theory' has always been wrong," Eliza Sweren-Becker, senior counsel with the Brennan Center for Justice at NYU Law, told The Independent.
"But it is especially bad timing for him because the Supreme Court just shot down this idea a mere five and a half weeks ago," she said.
The "independent state legislature" theory misreads the Constitution's elections and electors clauses for regulating federal elections – like presidential ones – by asserting that state lawmakers have unilateral authority to determine the results.
The outcomes of presidential elections rest on slates of electors who decide their votes based on the outcome of their states' popular vote. A 45-page federal indictment outlining the case against Mr Trump alleges a multi-state scheme to arrange slates of "alternate" electors in seven states he lost to Joe Biden, a plot to effectively toss out electors representing the votes of millions of Americans.
The "independent state legislature" theory re-emerged from the fringe of right-wing academia and legal groups in 2020, as Mr Trump and his allies tried to prevent governors, secretaries of state and election officials from implementing election policies that would make it easier for people to vote at the onset of the Covid-19 pandemic.
After courts struck down attempts to challenge vote-by-mail policies, and after the failures of his campaign and administration to find the evidence of fraud to defend his claims, then-President Trump routinely used his bully pulpit at the White House and on stage at his campaign rallies to launch a flood of false claims spread widely among his supporters and on social media.
And after months of laying the groundwork, Mr Trump relied on the predictable delay between the counts for Election Day votes and mail-in ballots as a pretext to convince his supporters that the election was stolen from him.
As the indictment alleges, he spent the weeks that followed planning with his co-conspirators and state officials to undermine those results, using the "independent state legislature" theory as their guide.
That was 2020. Jump forward to December 2022, when the Supreme Court heard oral arguments in the case of Moore v Harper, an unrelated but not unfamiliar case about election rules.
The case involved North Carolina's Republican-drawn gerrymandered congressional map and a lawsuit from voters and advocacy groups against it. North Carolina Republicans, with support from an influential right-wing legal group, appealed to the Supreme Court with a question invoking the "independent state legislature" theory at the centre of its argument.
US Solicitor General Elizabeth Prelogar warned justices that the so-called "independent state legislature" theory would "wreak havoc" on elections. Neal Katyal, a former acting solicitor general under Barack Obama who argued the case on behalf of voting rights groups and the state's Democratic voters, said the theory's "blast radius" would "sow election chaos".
Months earlier, there were some signals from the Supreme Court's conservative justices – including Samuel Alito, Neil Gorsuch and Clarence Thomas – that the court would be willing to hear a case involving the theory, arguing that it presents an "exceptionally important and recurring question of constitutional law."
In 2020, Justice Gorsuch wrote that the Constitution "provides that state legislatures – not federal judges, not state judges, not state governors, not other state officials – bear primary responsibility for setting election rules."
In dozens of briefs to the court, constitutional law experts, election officials, voting rights advocates, judges and prominent Republicans – including lawyer Ben Ginsberg, who worked on the landmark Bush v Gore case in 2000 that opened the door for the theory to take shape – urged the justices to reject that idea.
On 27 June, the nation's highest court issued a 6-3 opinion wholly rejecting the theory. Justices Alito, Gorsuch and Thomas dissented.
Chief Justice John Roberts wrote the majority opinion – with support from Justices Sonia Sotomayor, Elena Kagan and Trump-appointed justices Brett Kavanaugh and Amy Coney Barrett – plainly asserting that the Constitution "does not vest exclusive and independent authority in state legislatures to set the rules regarding federal elections."
That decision was "about as unequivocal as the Supreme Court gets," Ms Sweren-Becker told The Independent.
"The court … reaffirmed hundreds of years of precedent and practice in the United States, and stated that state legislatures are not above their own state constitutions. They're not above judicial review," she added. "And the chief wrote in no uncertain terms that that was the case, and that to argue otherwise was a complete manipulation or an attempt at manipulating the court's precedent and was totally ungrounded in history and practice and the text of the Constitution and, frankly, the system of government and the rule of law that we have had for hundreds of years."
Two months later, the former president's lead defence attorney performed an apparent media tour insisting the exact opposite.
John Lauro told CNN on 1 August that the "actual responsibility for qualifying electors is in the state legislatures".
"The president was told, given advice, that under these circumstances, the state legislatures have the ultimate ability to qualify electors," he added. "He followed that advice. Now you may disagree as to whether or not those things actually occurred or not. That's why we have political debate; we don't have criminal trials over that. We have the discussion, like we're just having."
On 3 August, hours after appearing in court for his client's arraignment, he told Fox News that Mr Trump wanted to "halt" and "pause the voting" to allow "state legislatures to take one last look and make a determination as to whether or not the elections were handled fairly."
"That's constitutional law," he said. "That's not an issue of criminal activity."
His claims are "simply not grounded in any real law," Ms Sweren-Becker told The Independent.
"This is the difference between arguing a case in the court of public opinion and arguing the case in a court of law," she added. "Just because Mr Trump's lawyers can make these arguments on air doesn't mean that they hold water in court. … Ultimately, it's the role of the judiciary to be our system of accountability, and that's where we will need to watch and see how this plays out."
Former US Attorney Joyce Vance said Mr Lauro's defence "would be funny if it wasn't so serious."
"You know who else asks people to commit crimes in an 'aspirational way' without 'directing' them to?" she said. "Mob bosses, human traffickers [and] the heads of organized drug rings."
Right-wing pundits were also quick to adopt Mr Trump's defence.
"On advice of counsel, Trump asked Pence to kick it back to the states for recertification where state legislatures are constitutionally empowered to determine elections. That's called politics," Fox News host Jesse Watters said on his prime-time programme.
During a media blitz on 6 August, Mr Lauro told CNN that Mr Trump "was told, given advice, that under these circumstances, the state legislatures have the ultimate ability to qualify electors."
On ABC's This Week, he said that John Eastman – a chief architect of the fake elector plan – told Mr Trump that "there is a constitutional pathway" to nullify a state's popular vote and install electors loyal to the loser.
"A technical violation of the Constitution is not a violation of criminal law," he told NBC's Meet the Press.
Georgia State University law professor Anthony Michael Kreis said the criminal conspiracy charge against Mr Trump for allegedly depriving peoples' right to vote is "exactly that".
"When a person conspires to injure a constitutional right – like the right to vote and have it counted – then a constitutional violation is a crime," he wrote.
That long-standing statute was established in 1870 to protect what were then newly enshrined constitutional rights of equal protection under the law and due process.
"The idea that a president can run roughshod over voters' ability to cast ballots in a free and fair election as an exercise in vanity in pursuit of power is profoundly wrong," Mr Kreis wrote.
The former president spent the days after his indictment and court appearance lashing out at federal prosecutors and casting himself as a victim of political persecution from his Democratic rival, using the multiple criminal indictments against him in his campaign fundraising messages and in his stump speeches as he seeks the 2024 Republican nomination for president.
He is also defending his alleged actions as First Amendment-protected speech, a point that US Department of Justice special counsel Jack Smith appeared to anticipate in the indictment; Mr Trump has a right "like every American" to lie about election results, the charging document states.
But there's no First Amendment right to participate in a conspiracy. Mr Trump isn't being prosecuted for what he said but whether those actions amount to criminal conspiracy.
"What President Trump was doing is within the reality and the realm of free speech," Mr Lauro told CNN on 6 August. "What President Trump did not do is direct Vice President Pence to do anything. He asked him in an aspirational way. Asking is covered by the First Amendment."
Days earlier he told Newsmax that Mr Trump "wanted to get to the truth" of the election "in the courtroom" and by "lobbying legislatures – that's all First Amendment".
"And then at the end he asked Mr Pence to pause the voting for 10 days, allow the state legislatures to weigh in, and then they could make a determination to audit or re-audit or re-certify," he said.
"The indictment doesn't allege misconduct on the basis of Mr Trump's speech. It alleges misconduct on the basis of his acts," Ms Sweren-Becker said. "So the First Amendment … as a defence is really a red herring."
For now, the Supreme Court's rejection of the "independent state legislature" theory cuts off any attempt to similarly subvert the outcome of the 2024 election, a ruling that Mr Ginsberg said "keeps the toothpaste in the tube" while conspiracy theory-fuelled state lawmakers and election-denying officials manoeuvre potential future losses.
The theory is "firmly dead," Ms Sweren-Becker said. "And so that makes the attempt to resuscitate it, in defense of this indictment, particularly unfounded."
"It's clear now that the court has seen the evidence and deeply considered the issue and that they have firmly rejected this radical notion and reaffirmed that it has never been a part of our law," she said. "It has never been a part of our system, and it won't be going forward."