Who are Trump's six alleged co-conspirators in the 2020 election probe case?
While the former president is the only person charged so far, the indictment refers to six co-conspirators who worked with him to try to overturn the 2020 presidential election - with crucial hints at who they each are. Rachel Sharp reports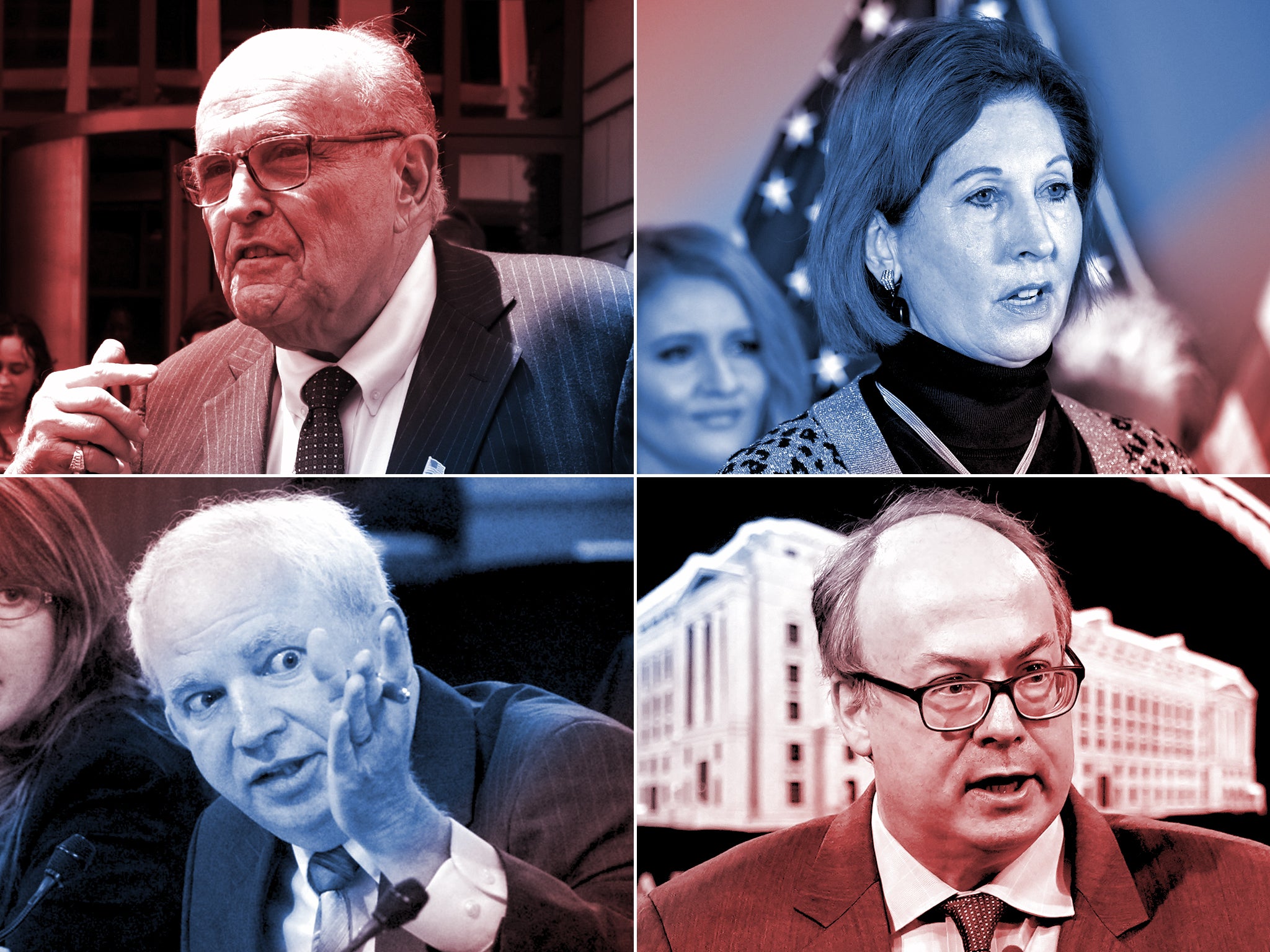 Donald Trump has been hit with his third indictment– this time for conspiring to overturn the 2020 presidential election in an attempt to thwart the vote of the American people.
A grand jury, which has spent months hearing evidence in special counsel Jack Smith's investigation, returned a federal indictment on Tuesday 1 August.
The former president was charged with four counts: conspiracy to defraud the United States, conspiracy to obstruct an official proceeding, obstruction of and attempt to obstruct an official proceeding, and conspiracy against rights.
Mr Trump was arraigned in DC on Thursday and pleaded not guilty.
While the former president is the only person charged, the indictment refers to six co-conspirators who worked with him to try to overturn the 2020 presidential election.
The six individuals – four attorneys, one Justice Department official and one political consultant – have not been named in the charging documents because they have not yet been charged with any crimes.
However, based on the details in the indictment and records already known about the events leading up to the Capitol riot, the identities of five of the six co-conspirators are clear.
Co-conspirator 1: Former New York City Mayor and Trump lawyer Rudy Giuliani
The individual labelled as co-conspirator 1 appears to be Mr Trump's former attorney Rudy Giuliani – who is widely-known to be a key player in the efforts to overturn the 2020 election.
The indictment refers to co-conspirator 1 as an "attorney who was willing to spread knowingly false claims and pursue strategies that the Defendant's 2020 re-election campaign attorneys would not".
Multiple quotes attributed to co-conspirator 1 match those previously attributed to the former New York City mayor.
On 6 January 2021, co-conspirator 1 left a voicemail for a US senator, according to the indictment.
"We need you, our Republican friends, to try to just slow it down so we can get these legislatures to get more information to you," he said.
"I know they're reconvening at 8 tonight, but it… the only strategy we can follow is to object to numerous states and raise issues so that we get ourselves into tomorrow – ideally until the end of tomorrow."
The quotes match a previously-obtained transcript of a call made by Mr Guiliani to Senator Tommy Tuberville that day.
Mr Giuliani's attorney Robert Costelllo acknowledged to The New York Times that it "appears that Mayor Giuliani is alleged to be co-conspirator No. 1". He went on to denounce the indictment as "election interference" and a violation of the first amendment.
Mr Giuliani railed against the historic indictment in an appearance on Newsmax on Tuesday night. "The people lying are the people bringing this… They should be indicted for conspiracy against rights," he fumed.
Co-conspirator 2: Former Trump lawyer John Eastman
Co-conspirator 2 – described in the indictment as an "attorney who devised and attempted to implement a strategy to leverage the Vice President's ceremonial role overseeing the certification proceeding to obstruct the certification of the presidential election" – appears to be Mr Trump's former lawyer John Eastman.
Mr Eastman can be identified through the mention of co-conspirator 2 writing a "two-page memorandum" falsely outlining how then-vice president Mike Pence could overturn the 2020 presidential election on 6 January 2021.
This memo was first reported in Bob Woodward and Robert Costa's book Peril before Mr Eastman himself released a longer six-page memo to the media laying out his claims.
Beyond the memo, quotes cited to co-conspirator 2 match quotes of Mr Eastman previously revealed in court in Georgia, including an email which read:"Although the President signed a verification for... back on Dec. 1, he has since been made aware that some of the allegations... has been inaccurate," the email read.
"For him to sign a new verification with that knowledge... would not be accurate."
Mr Eastman's lawyer released a statement on Tuesday night where he slammed the indictment and ruled out any possibility that he could take a plea deal.
The indictment is "a misleading presentation of the record to contrive criminal charges against presidential candidate Trump and to cast ominous aspersions on his close advisors," attorney Charles Burnham said in a statement.
"If Dr Eastman is indicted, he will go to trial. If convicted, he will appeal."
Co-conspirator 3: Former Trump 'Kraken' lawyer Sidney Powell
Co-conspirator 3 is described in the indictment as "an attorney whose unfounded claims of election fraud the Defendant privately acknowledged to others sounded 'crazy'" – a description that appears to match Sidney Powell.
Former Mr Trump lawyer Ms Powell mounted what she claimed to be a "Kraken" case against the election results – a case that would blow up the case that President Joe Biden won.
However, her case did no such thing and was actually filled with conspiracy theories.
The indictment alleges that co-conspirator 3 filed a lawsuit against Georgia governor Brian Kemp on 25 November 2020 alleging that there was "massive election fraud".
The lawsuit was then dismissed on 7 December 2021.
The dates and details of this lawsuit matches the federal lawsuit Ms Powell filed against Mr Kemp.
Co-conspirator 4: Former Justice Department official Jeffrey Clark
Jeffrey Clark, a former top Justice Department official under Mr Trump, appears to be the individual identified as co-conspirator 4.
The indictment describes co-conspirator 4 as "a Justice Department official who worked on civil matters and who, with the Defendant, attempted to use the Justice Department to open sham election crime investigations and influence state legislatures with knowingly false claims of election fraud".
In the charging document, prosecutors describe several encounters and documents involving Mr Clark that were previously detailed in the final report released by the House committee investigating the January 6 Capitol riot.
One of these was a meeting between Mr Trump and co-conspirator 4 at the White House on 22 December 2020.
This meeting – which was allegedly a violation of DoJ policy "restricting contacts with the White House to guard against improper political influence".
The charging document and the Jan 6 report also refer to the same letter sent by co-conspirator 4 claiming that the DoJ had identified "significant concerns" that may have impacted the outcome of the election.
Co-conspirator 5: Lawyer Kenneth Chesebro
Co-conspirator 5 is described in the indictment as "an attorney who assisted in devising and attempting to implement a plan to submit fraudulent slates of presidential electors to obstruct the certification proceeding". That attorney appears to be attorney and Mr Trump ally Kenneth Chesebro.
Mr Chesebro's actions as well as specific quotes from documents from the January 6 committee report match up precisely with that of co-conspirator 5.
On 13 December 2020, Mr Chesebro sent an email to Mr Giuliani outlining the fake electors plot.
That same email was detailed in the January 6 report and cited as being sent by Mr Chesebro.
Co-conspirator 6: Mystery political consultant
Co-conspirator 6 is the only individual whose identity remains a mystery.
The indictment describes them as a "political consultant who helped implement a plan to submit fraudulent slates of presidential electors to obstruct the certification proceeding".
It states that back on 7 December 2020, the political consultant spoke with co-conspirator 1 – identified as Rudy Giuliani – and handed him a list of attorneys in Arizona, Georgia, Michigan, Nevada, New Mexico, Pennsylvania and Wisconsin who he believed could help with the fake elector scheme in their respective states.
While this person could have been a number of people in Mr Trump's orbit at the time,The New York Times zeroes in on a particular clue in the indictment in that an email sent in December 2020 matches the above description of an interaction with Mr Giuliani.
That email was sent on 7 December 2020 by Boris Epshteyn, a strategic adviser to the Trump 2020 campaign, and had the subject line "Attorneys for Electors Memo".
Per the Times, it reads: "Dear Mayor, As discussed, below are the attorneys I would recommend for the memo on choosing electors," and then goes on to identify lawyers in the seven states listed above on page 57 of the indictment.
Todd Blanche, a lawyer for Mr Epshteyn, declined to comment when contacted by the Times, as did Peter Carr, a spokesman for the special counsel Jack Smith.
Join our commenting forum
Join thought-provoking conversations, follow other Independent readers and see their replies