Trump's election fraud claims were always bogus. Will his history of lies finally catch up to him?
Republican has spent years spreading bogus statements about elections. Federal prosecutors want to know how often he was told he was wrong, Alex Woodward reports
Wednesday 02 August 2023 10:41 EDT
Comments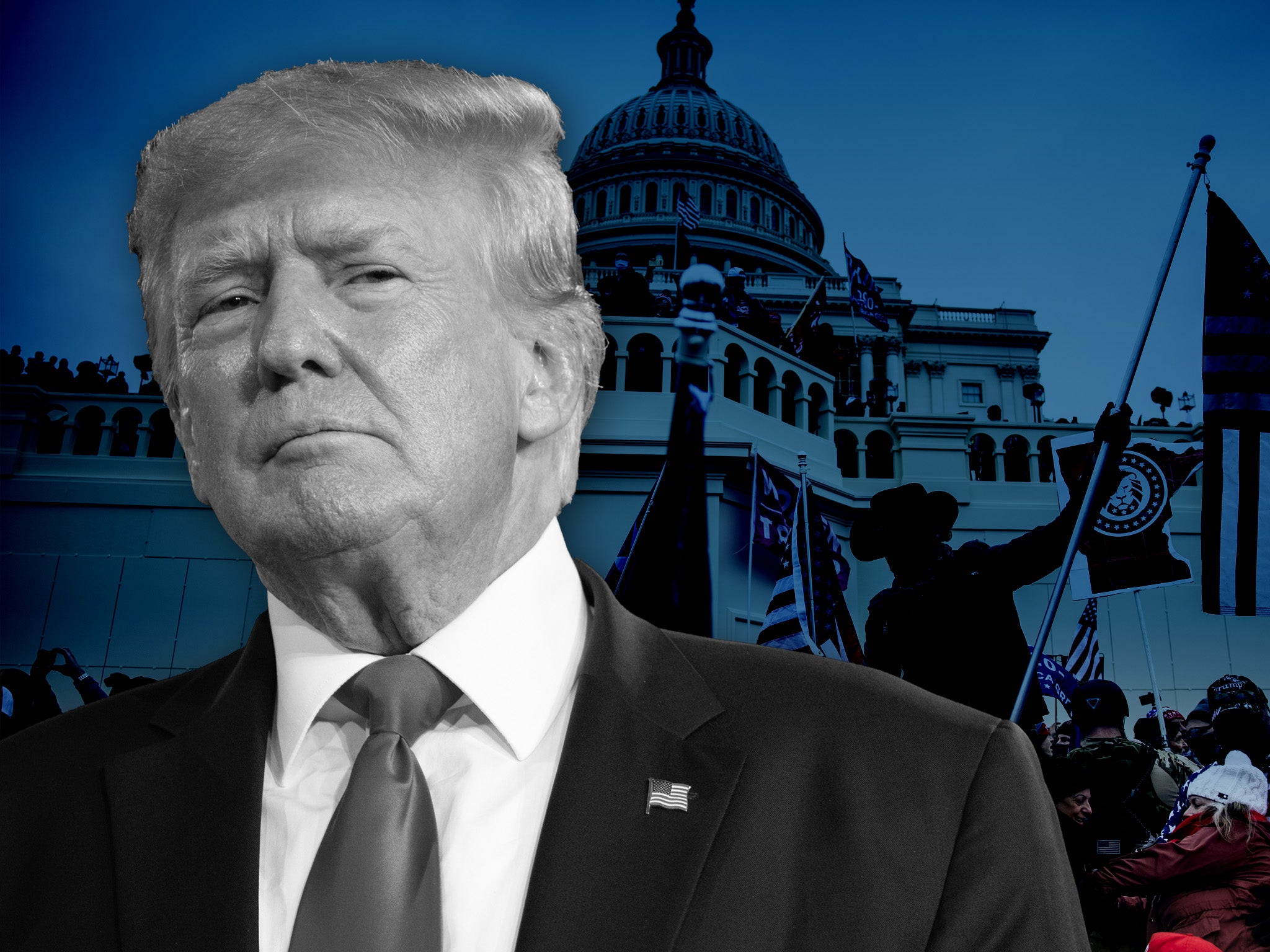 Former president Donald Trump's attempts to undermine the results of elections that his rivals have won are now at the centre of a sprawling federal indictment against him, one that follows an avalanche of lies and conspiracy theories about the democratic process and a campaign to overturn the votes of millions of Americans.
Lawsuits from his legal team and Trump allies were shot down in court. His own administration and campaign failed to produce any evidence.
But his false and inflated claims, spanning more than a decade, have sowed enough doubt among his supporters to construct the lie of "stolen" and "rigged" elections, animating Republican attempts to challenge results and craft legislation to do what Mr Trump failed to do in the courts.
A persistent lie that the election was stolen from him fuelled violence at the US Capitol on 6 January 2021, sustained partisan investigations intended to reverse the outcomes in states he lost, inspired Republican-led legislation in nearly every state to change how elections are run, and has formed the basis of Mr Trump's 2024 campaign.
Did he believe the "truth" of his claims? And how often was he told, by both his advisers and White House officials, that he was wrong?
These are questions that prosecutors are likely considering as US Department of Justice special counsel Jack Smith and his team prosecute the former president, but they won't need to establish that he was aware that he was spreading misinformation to charge him for crimes allegedly committed to throw out millions of Americans' votes and remain in power.
Years of evidence, however, suggests that he knew what he was saying was false, or that he should have known he was not telling the truth, when he waged his assault on an election he lost to Joe Biden.
A history of 'sham' and 'rigged' elections
Mr Trump told his followers to "march on Washington and stop this travesty." He told them to "fight like hell and stop this great and disgusting injustice".
"The world is laughing at us," he said. "This election is a total sham and a travesty. We are not a democracy! Our country is now in serious and unprecedented trouble... like never before."
It was 7 November 2012 and Barack Obama's election night defeat of Mitt Romney that first sent Donald Trump into a Twitter tailspin.
Most of those messages were later deleted, but similar statements were repeated often and in public in the years that followed, including on a stage in Washington, DC, that day a mob of his followers stormed the halls of Congress on 6 January 2021.
Four years after raging over 2012 results, after he came in second place in the Iowa caucus for the Republican nomination for president, Mr Trump said his then-rival Ted Cruz "stole" the primary from him.
"Ted Cruz didn't win Iowa, he stole it. That is why all of the polls were so wrong and why he got far more votes than anticipated. Bad!" he said on Twitter in February 2016.
He called for a new election or for the votes to be "nullified".
In August 2016, during a campaign stop in Ohio, he said he is "afraid the election's going to be rigged" – a statement based on nothing.
But that summer, however, Republican operative Roger Stone called on then-candidate Trump to talk about voter fraud "constantly".
He told Breitbart: "He needs to say for example, today would be a perfect example: 'I am leading in Florida. The polls all show it. If I lose Florida, we will know that there's voter fraud. If there's voter fraud, this election will be illegitimate, the election of the winner will be illegitimate, we will have a constitutional crisis, widespread civil disobedience, and the government will no longer be the government.'"
Mr Trump "will go to the places other politicians won't, and he's probably the only person to run for president within the last 50 years who would dare to do this, and might even get away with it," Stone added.
Then-candidate Trump would later tell Fox News host Sean Hannity that there are "1.8 million people who are dead, who are registered to vote, and some of them absolutely vote."
"Of course there is large-scale voter fraud happening on and before election day. Why do Republican leaders deny what is going on? So naive!" he said on Twitter that same week.
A voter fraud commission that found no evidence of voter fraud
Shortly after entering office in 2017, Mr Trump established a Presidential Advisory Commission on Election Integrity, chaired by his then-Vice President Mike Pence. Kris Kobach, then the secretary of state of Kansas and a key architect of GOP election laws, was appointed as vice chair.
Other members of the commission included members of influential right-wing think tanks like the Heritage Foundation and the Public Interest Legal Foundation, which have also advanced restrictive voting laws under the "election integrity" banner.
In July 2017, Mr Kobach requested every state to provide a list of all registered voters, the last four digits of their Social Security numbers, their addresses, dates of birth, political affiliation, and voting history.
Mississippi's secretary of state Delbert Hosemann said the commission's request "can go jump in the Gulf of Mexico". Virginia's then-governor Terry McAuliffe said he had "no intention" to respond to the commission's request.
"This entire commission is based on the specious and false notion that there was widespread voter fraud last November. At best this commission was set up as a pretext to validate Donald Trump's alternative election facts, and at worst is a tool to commit large-scale voter suppression," he said in a statement at the time.
He added that the only "irregularity" stemming from the 2016 presidential election involved Russian troll farms to sow political and social discord and boost Mr Trump's candidacy.
On 3 January 2018, Mr Trump announced that he was dissolving the commission.
"Despite substantial evidence of voter fraud, many states have refused to provide the Presidential Advisory Commission on Election Integrity with basic information relevant to its inquiry," he said in a statement at the time.
"Rather than engage in endless legal battles at taxpayer expense, today I signed an executive order to dissolve the Commission, and have asked the Department of Homeland Security to review these issues and determine next courses of action."
The commission released its documents six months later, after a lawsuit from Maine's secretary of state and commission member Matthew Dunlap argued that instead of "widespread evidence of fraud" the commission's findings "actually reveals a troubling bias."
Mr Dunlap said that the commission's "purpose was not to pursue the truth but rather to provide an official imprimatur of legitimacy [from] President Trump's assertions that millions of illegal votes were cast during the 2016 election and to pave the way for policy changes designed to undermine the right to vote."
There exists "no single document that reveals there is no widespread voter fraud," according to Mr Dunlap, but evidence that fails to substantiate the president's claims.
A disinformation campaign before a single vote was cast
Before he publicly and repeatedly cast doubt on the legitimacy of mail-in ballots and the results of the 2020 election, then-President Trump was reportedly so impressed with his administration's work in election security that he planned a press conference around it.
Months before Election Day, intelligence officials met with Mr Trump and other White House officials on 14 February, 2020 to review potential threats to that year's election and assured the president they had no concerns about its integrity.
That briefing came one day after a House committee hearing with intelligence officials who warned lawmakers that Russia was likely interfering in 2020 campaigns to boost Mr Trump's chances of re-election. Days later, Mr Trump fired Joseph Maguire, the acting director of national intelligence who testified at that hearing. He was immediately replaced with Richard Grenell.
That press conference never happened; Mr Trump continued his narrative that elections, particularly those in which Republicans lose, are corrupt.
In March 2020, as election officials prepared for an increase in voting by mail during the onset of the Covid-19 pandemic, Mr Trump told Fox News that higher voter turnout would be a political disaster for Republicans.
"The things they had in there were crazy," he said of Democratic proposals for emergency coronavirus aid. "They had levels of voting, that if you ever agreed to it you'd never have a Republican elected in this country again."
Mr Trump vowed to block such emergency funding for the US Postal Service, specifically to prevent expanded access to voting by mail.
"They need that money in order to make the Post Office work so it can take all of these millions and millions of ballots," he told Fox Business in August 2020. "But if they don't get those two items, that means you can't have universal mail-in voting, because they're not equipped to have it."
Mr Trump and Republicans have repeatedly claimed without evidence that "universal mail-in voting" – in which any eligible voter can request an absentee ballot – is ripe for fraud.
"Republicans should fight very hard when it comes to state wide mail-in voting. Democrats are clamoring for it," Mr Trump said in April 2020. "Tremendous potential for voter fraud, and for whatever reason, doesn't work out well for Republicans."
Proponents have often defended those claims by pointing to a 2005 report from the Commission on Federal Election Reform, co-chaired by former president Jimmy Carter and former secretary of state James Baker.
The report noted that because voting by mail takes place outside of polling locations, there is an increased potential for fraud, but does not say that any such fraud has occurred on the scale Mr Trump has alleged. The report goes on to state that when safeguards are in place – like in Oregon, where voters have exclusively voted by mail since 1998 – fraud was virtually nonexistent.
False claims and mischaracterisations about the report prompted former President Carter to issue a rare public statement in May 2020 urging political leaders "to take immediate steps to expand vote-by-mail and other measures that can help protect the core of American democracy – the right of our citizens to vote."
After court rulings struck down his attempts to challenge vote-by-mail policies, and as he campaign failed to find evidence, then-President Trump routinely used his bully pulpit at the White House and on stage at his campaign rallies to launch a flood of false claims spread widely among his supporters and on social media.
When a federal judge ordered his campaign to "produce such evidence in their possession, and if they have none, state as much," attorneys produced evidence pointing to only a handful of election fraud cases – none of which involved mail-in ballots.
A legal effort to overturn results while aides told him he lost
By Election Day in 2020, then-President Trump made dozens of false or misleading statements about voter fraud and voting by mail within that year alone. He kept going within hours after polls closed on 3 November.
"A big WIN!" he wrote on Twitter at 12.45am that night. "We are up BIG, but they are trying to STEAL the Election. We will never let them do it. Votes cannot be cast after the Polls are closed!" he wrote minutes later.
At a news conference hours later, he claimed a "very sad group of people" are "trying to disenfranchise" his supporters before listing states that he falsely claimed to have won.
"Frankly, we did win this election," he said. "So our goal now is to ensure the integrity, for the good of this nation. This is a very big moment. This is a major fraud on our nation."
Over the following days and months, he continued to suggest that the late-counted mail-in ballots for Mr Biden that changed the outcome in states that he lost were evidence of fraud, after he spent months denigrating absentee ballots and urging his supporters to cast their votes in person.
A flurry of legal challenges and partisan legislative hearings targeted election laws and outcomes in states that he lost; none produced any evidence of widespread fraud.
His legal team largely walked away from the effort, except for Sidney Powell and Rudy Giuliani, who are now facing defamation claims and professional sanctions for amplifying the same baseless claims.
In November 2020, one week after the election, Mr Krebs said in a statement through his agency that "there is no evidence that any voting system deleted or lost votes, changed votes, or was in any way compromised." That sentence was highlighted in bold in the statement.
Mr Trump fired him with a tweet.
The House select committee investigating the events surrounding January 6 found that Mr Trump's senior advisers told him on 12 November, 2020, that he lost the election – not from fraud, but because more people voted for Mr Biden.
Mr Trump was then reportedly furious with his US attorney general Bill Barr when he told the Associated Press in December 2020 that "to date" no agency has seen any evidence of fraud "on a scale that could have affected a different outcome in the election."
That month, John Eastman – a Trump-linked attorney who organised the so-called "alternate" elector scheme – also warned the campaign against repeating debunked data in a suit targeting Georgia's election results.
Mr Trump was "made aware that some of the allegations (and evidence proffered by the experts) has been inaccurate," Mr Eastman wrote, according to court filings. "For him to sign a new verification with that knowledge (and incorporation by reference) would not be accurate."
That email from Mr Eastman underscores what federal prosecutors have alleged: That Mr Trump's team was aware that the arguments they were making were indefensible, and that the man who was insisting on them knew that.
Judge Carter also pointed to an email from a Trump attorney that said "merely having this case pending in the Supreme Court, not ruled on, might be enough to delay consideration of Georgia."
"This email, read in context with other documents in this review, make clear that President Trump filed certain lawsuits not to obtain legal relief, but to disrupt or delay the January 6 congressional proceedings through the courts," wrote Mr Carter, alleging a similar tactic that Mr Trump has used to squash investigations and lawsuits against him for years.
The House committee spent a year and a half on its investigation, including a series of blockbuster public hearings laying out evidence and witness testimony describing the depth of Mr Trump's attempts to remain in office at whatever cost. The panel's final 845-page report provides a detailed account of Mr Trump's refusal to cede power – regardless of the outcome of a democratic election – while his close advisers told him that he lost.
In his interview with the House select committee, Trump adviser Jason Miller said he had "several" conversations with Mr Trump that his claims were wrong. Mr Barr told the committee that Mr Trump's claims were "detached from reality".
Mr Barr and other administration officials also said they tried to debunk conspiracy theories surrounding Dominion Voting Systems, which recently settled with Fox News for $787m in a landmark defamation case against the network. But Mr Trump went on to tweet about Dominion nearly three dozen times from November 2020 up until the attack on the Capitol on January 6.
In a text message reviewed by federal prosecutors, Mr Trump's own chief of staff Mark Meadows joked with a White House lawyer about his false claims of voter fraud in Georgia.
The former president has continued a narrative of political persecution as he seeks the 2024 Republican nomination for president, with a reliable mention of "stolen" or "rigged" election in speeches and on his Truth Social platform.
Mr Trump, who has reliably turned to projection in his rhetorical playbook, is now referring to the multiple investigations and indictments against him as their own form of politically motivated "election interference" to stop him from reaching the White House.
This story was first published on 27 July and has been updated with subsequent developments.
Join our commenting forum
Join thought-provoking conversations, follow other Independent readers and see their replies