Why Trump is charged under a civil rights law used to prosecute KKK terror
Republican is accused of conspiring to undermine Americans' right to vote – a charge with roots in the Civil War's aftermath but used more broadly to prosecute voter fraud conspiracies and election interference, Alex Woodward reports
Wednesday 02 August 2023 04:24 EDT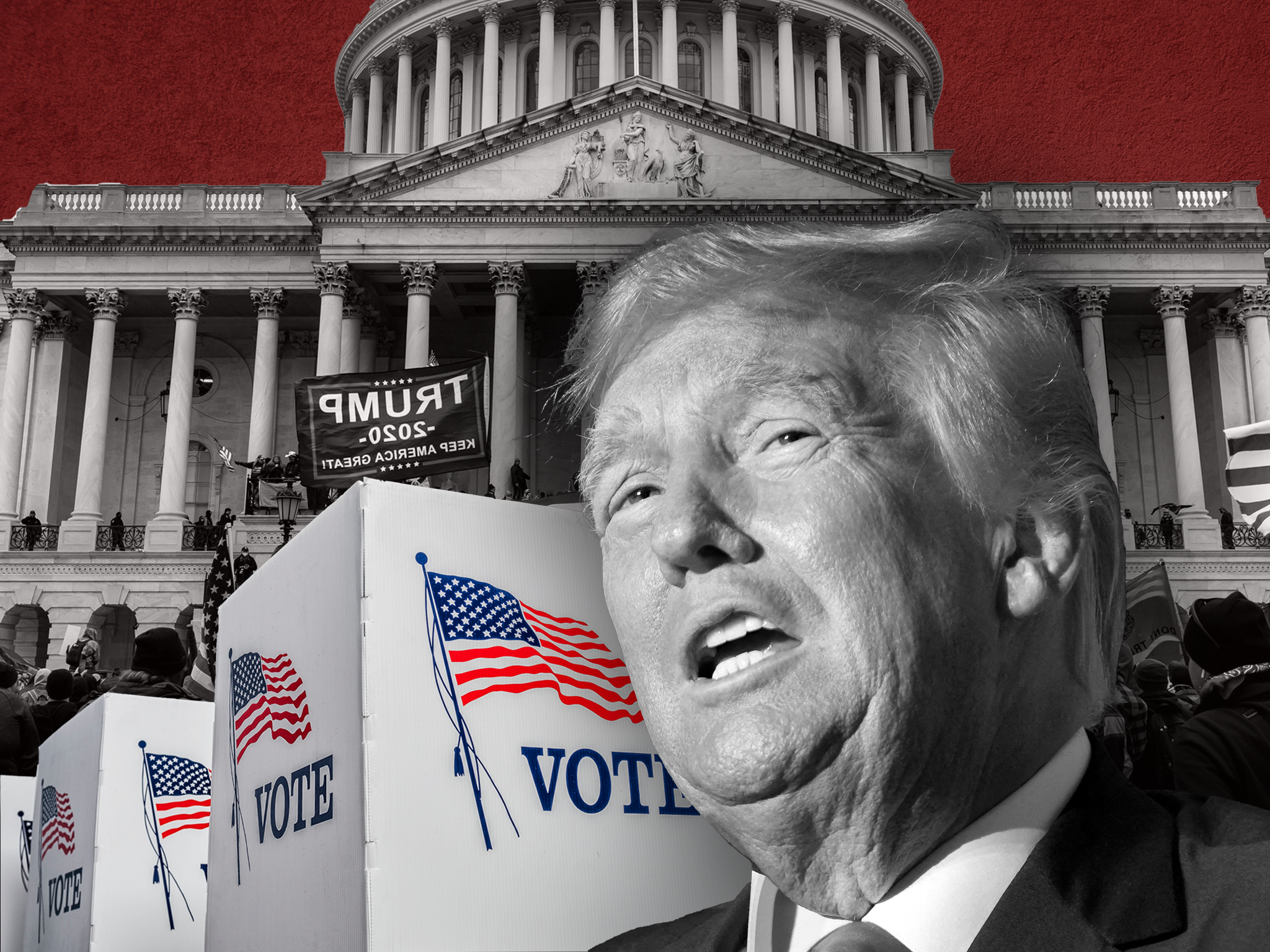 A historic four-count federal indictment outlines Donald Trump's sprawling campaign to overturn the results of the 2020 election, culminating in a mob of his supporters storming the halls of Congress to stop the certification of Joe Biden's election win.
He knew he had lost, but he continued to pursue efforts to remain in power, including a so-called alternate elector scheme to fraudulently certify the results submitted to Congress, according to prosecutors.
Mr Trump has been charged with three criminal conspiracies – including a conspiracy to deprive Americans' right to vote and to have their votes counted, a statute rooted in bedrock civil rights protections enacted in the brutal aftermath of the American Civil War.
A crime of conspiracy against rights invokes Section 241 of Title 18 of US Code, among criminal codes that came from the Enforcement Acts, also known as the Ku Klux Klan Acts. Those laws were designed to protect Americans' newly enshrined rights under the 13th, 14th and 15th Amendments – allowing the federal government to protect the rights of newly enfranchised Black people to vote, hold office, serve on juries and receive equal protection under the law against white supremacist terror.
The legal assault waged by then-President Trump's campaign to invalidate ballots and overturn election results in states that he lost centered on a handful of counties with large populations of Black and Latino voters, a reminder of the very reason Section 241 was established in the first place in 1870.
Section 241 criminalises conspiracies to "injure, oppress, threaten, or intimidate any person" from exercising such rights, which don't necessarily require a successful conspiracy to prosecute. Prosecutors also don't have to prove intentional racist discrimination.
But they do have to prove "intentionality," Sean Morales-Doyle, director of the voting rights and elections programme at the Brennan Center for Justice at the NYU School of Law, told The Independent. "They have to show that this was a conspiracy intended to deprive people of their right to vote," he said.
Mr Trump "has a right, like every American, to speak publicly about the election and even to claim, falsely, that there had been outcome-derivative fraud during the election and that he had won," according to the indictment. He also is entitled to formally challenge the results.
But "each of these conspiracies – built on the widespread mistrust [Mr Trump] was creating through pervasive and destabilising lies about election fraud – targeted a bedrock function of the United States federal government," according to the indictment.
Lawmakers initially approved the statute to prosecute white supremacist violence against Black people exercising their right to vote. But prosecutors have turned to Section 241 to more broadly prosecute threats to such rights, including cases involving voter fraud conspiracies.
Over the last century, prosecutors have used Section 241 to go after a wide range of election interference crimes, many of which are driven by racism, from threatening and intimidating voters to the outright destruction of ballots. The statute also has formed a foundation of civil rights enforcement; Derek Chauvin, the now-former Minneapolis police officer who murdered George Floyd, was federally charged under a related statute for depriving Floyd's constitutional rights.
In 1915, the US Supreme Court upheld an indictment under Section 241 in the case of US v Mosley, which involved county election officials in Oklahoma conspiring to exclude votes from the final count. The justices determined that such a scheme would deprive people of their constitutional right to vote, which is not just limited to being able to physically cast a ballot but having that ballot counted.
Crucially, the case involved county officials refusing to acknowledge the votes of Black voters, a point that barely registers in the decisions surrounding it.
"If you read that case, you'd never be able to tell that it's about race. And there's not a word about race mentioned, but that's really the story underlying it," Mr Morales-Doyle told The Independent.
"And that's really, throughout our nation's history, the battle over our democracy. The battle over the right to vote has not always but pretty consistently also been a fight that has race at its heart," he added. "And that's true now still, and I think it is an overlooked thread underlying much of the story about Trump's attempt to overturn the 2020 election."
The Trump campaign targeted election results in Georgia's Fulton County, where the population is more than 42 per cent Black and Chatham County, where 41 per cent of the population is Black.
Rudy Giuliani and other Trump allies also spread bogus conspiracy theories about corruption and ballot irregularities in the state, allegations that federal law enforcement and state election officials have rejected. Mr Giuliani himself also will not contest making such false statements about two Black election workers in Atlanta who have sued him for defamation after they were subject to relentless abuse fuelled by false claims that they manipulated votes.
"Using that very statute to indict not just a former president but several others, it is a time for us to recognise we cannot allow anyone to lie to us, claim our elections are not free and fair, and then cause folks to be harassed, threatened and possibily even attacked," said Maya Wiley, president of the Leadership Conference on Civil and Human Rights.
The Trump campaign also targeted Michigan's Wayne County, home of Detroit, a city with a population that is roughly 80 per cent Black. The campaign did not challenge results in surrounding suburban counties where Mr Biden won by wide margins.
Same for Wisconsin's Milwaukee County, where the campaign demanded a recount and singled out a county with the largest population of Black voters in the state; roughly 70 per cent of the state's Black population resides in that county.
The campaign also sought to undermine results in Philadelphia County, Pennsylvania, where 43 per cent of the population is Black and 15 per cent Hispanic or Latino.
In Arizona's Maricopa County, ground zero for a conspiracy theory-driven election denial movement fuelled by the Trump campaign, 31 per cent of the population is Hispanic or Latino.
Watch: Donald Trump's third indictment explained
A charge against Mr Trump under Section 241 is among four counts alleging that the former president, along with six unnamed co-conspirators, "pursued unlawful means of discounting legitimate votes and subverting the election results," encompassing a scheme to undermine the outcome of the election and a pressure campaign to throw out legally cast ballots.
That movement launched an ongoing anti-democratic movement defined by election denialism, strong-arming election officials and upending the rules of election administration, and a narrative of political persecution throughout the Republican Party, extending the nation's legacy of voting rights battles into the fragile present.
Earlier this year, Douglass Mackey was found guilty by a federal jury in Brooklyn under Section 241 stemming from a scheme to deprive people of their right to vote in the 2016 presidential election.
Mackey, a far-right Twitter user, routinely amplified Russian troll farm accounts to promote a fraudulent social media campaign designed to suppress Black voter turnout for Hillary Clinton by instructing people to "vote from home" via text message.
He faces up to 10 years in prison.
"We actually do have legal tools available to prosecute these attempts at election subversion, so while this may be somewhat unprecedented, our democracy and our legal system are actually prepared to deal with these kinds of unprecedented situations," Mr Morales-Doyle told The Independent.
"I think the history is important, because we're also not at the end of history here," he said.