Trump accuses judge of Super Tuesday 'interference' after she sets federal trial for March 4 2024
Judge Tanya Chutkan says the seven month interval before the trial gives Mr Trump's team enough time to prepare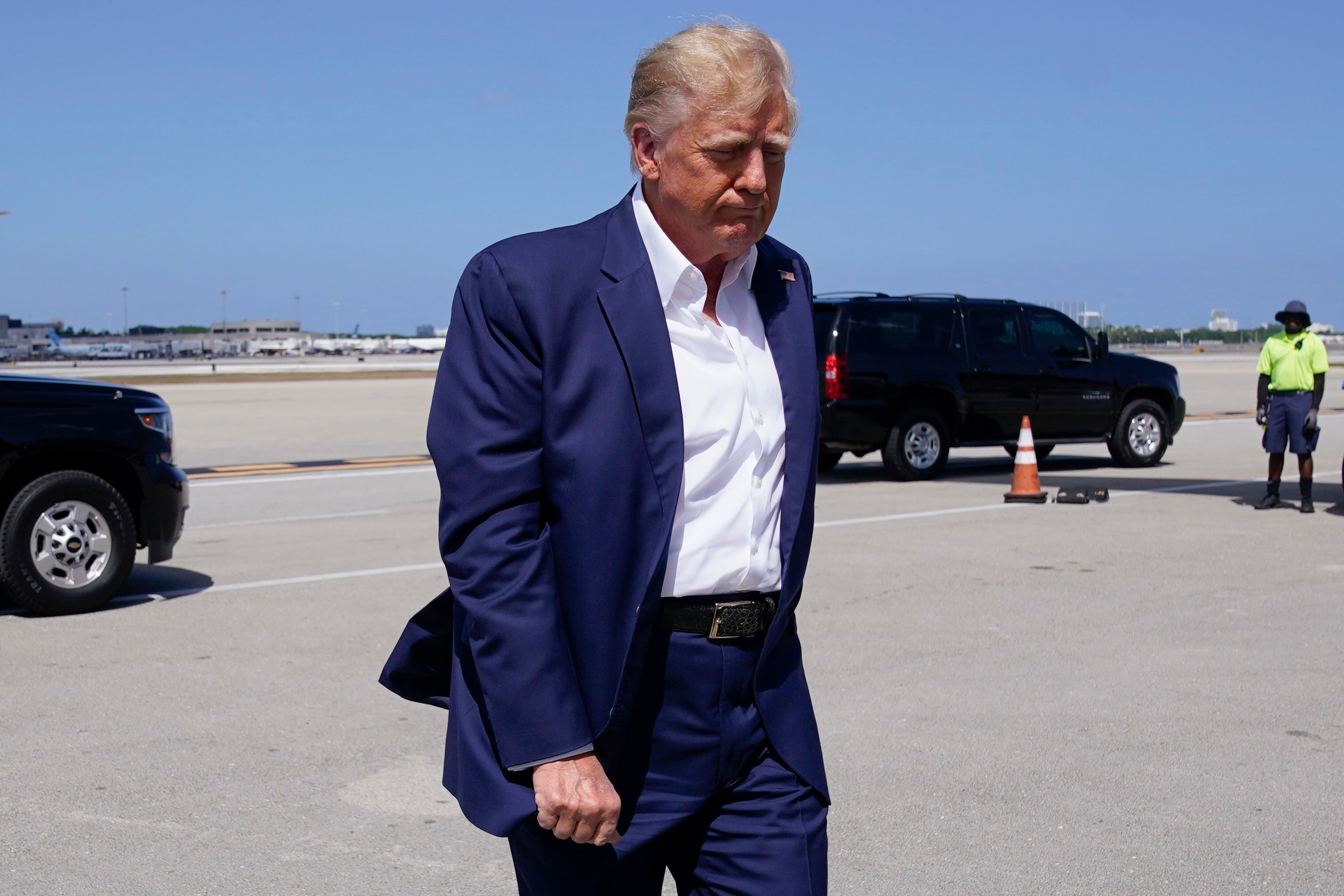 Former president Donald Trump's federal trial for conspiring to overturn his 2020 election defeat has been scheduled to begin on 4 March 2024 despite the ex-president's legal team's push to have the case delayed until nearly two years after the 2024 general election.
Judge Tanya Chutkan on Monday issued a trial schedule that will start on 9 October, when both sides will face a deadline to file any pretrial motions. On 27 December, both sides will file any motions in limine to govern what can be said during Mr Trump's trial, and proposed questions for potential jury members will be due on 15 January 2024.
Jury selection will begin on the 4 March start date — one day before Super Tuesday, the height of presidential primary season.
The former president issued an irate reaction in the form of a series of posts to his Truth Social website, writing that a "biased, Trump Hating Judge" had only given a "two month extension" over the 2 January 2024 trial date initially sought by the government and accusing Judge Chutkan of "election interference".
In a statement attributed to an unnamed "Trump Spokesperson," the ex-president's campaign said the trial schedule ordered by the judge "deprives President Trump of his Constitutional right to a fair trial, a seminal bedrock of America, and continues to expose the corruption of the witch hunts being thrown against President Trump".
In granting a trial date far closer to what the government had wanted than the long delay sought by the defence, the judge — a former defence attorney — said she understood "all too well" the need for Mr Trump's counsel to prepare for trial, but she pointed out that the government's efforts to organise evidence turned over in pre-trial discovery would aid those efforts.
"I take seriously the defence's request that Mr Trump be treated like any other defendant ... but I also want to point out that most defendants do not receive this level of ... organised and summarised discovery," she said.
She added that the prosecution's desired date did not give Mr Trump adequate time to prepare, but said Mr Trump's desired April 2026 start date was "far beyond" what is necessary.
"To try this case five years later risks that witnesses become unavailable or that memories will fade ... the public has a right to a prompt and efficient resolution of this matter," she said, adding later that Mr Trump has "a team of zealous, experienced attorneys" and the resources necessary to mount a defence.
"I have seen many cases unduly delayed because a defendant lacks adequate representation ... this is not the case here — I find that a trial starting on March 4 2024" would give adequate time to prepare.
"A trial start date of March 4 2024 gives Mr Trump seven months, which I believe is sufficient time ... to prepare a defence," she added. "My primary concern ... is the interest of justice."
Earlier this month, a federal grand jury in Washington returned a four-count indictment against the ex-president. The charges — conspiracy to defraud the United States; conspiracy to obstruct an official proceeding; obstruction; and conspiracy against the right to vote — arose out of Special Counsel Jack Smith's investigation into Mr Trump's efforts to remain in office against the will of voters after he lost the 2020 election to Joe Biden.
The former president pleaded not guilty to all charges at his arrangment in early August, at which point Magistrate Judge Moxilla Upadhyaya said Judge Chutkan intended to set a date for the ex-president's trial at today's session.
In court papers requesting a trial starting 2 January 2024, Mr Smith's team said setting such an accelerated schedule "would vindicate the public's strong interest in a speedy trial — an interest guaranteed by the Constitution and federal law in all cases, but of particular significance here, where the defendant, a former president, is charged with conspiring to overturn the legitimate results of the 2020 presidential election, obstruct the certification of the election results, and discount citizens' legitimate votes".
Mr Trump, who in his myriad civil and criminal legal proceedings has exhibited a penchant for doing whatever he can to cause interminable delays, asked for his trial in this case to be scheduled for April 2026 — well after next year's general election.
In a response to the government's proposed schedule, the ex-president's legal team argued that Mr Trump's legal issues — including three other pending criminal cases against him plus multiple civil matters set for trial — preclude holding his trial before that time.
They also argued that the amount of evidence turned over to them as part of the pre-trial discovery process would nessicitate a long delay because it would take an extremely long time to review page-by-page.
But at the outset of Monday's hearing. Judge Chutkan said she said neither the defence nor the government proposals were "acceptable".
She said she could not identify a single case in which the interval between indictment and trial was as short — or as long — as either side had suggested in their proposed schedule.
But regarding Mr Trump's claim that preparing a defence required such a massive amount of time given how long the government had been investigating him, Judge Chutkan rejected that argument.
"Defence argues that they need years ... to finish the government's initial production ... the government responds that characterisation is misleading" because much of what they've turned over is duplicative or was already available to Mr Trump, she noted.
Asked how much discovery Mr Trump had access to before the start of the case, prosecutor Molly Gaston replied that of the 12.8 million pages turned over to Mr Trump, approximately 61 per cent or 7.8 million pages were from "entities associated with the defendant" and were already available to him.
The "other five million pages" included "every grand jury transcript" made available to Mr Trump as well as accompanying exhibits, she said, adding later that the government has already flagged for Mr Trump's team "key documents" in the case, including approximately 47,000 pages such as case agent summaries, agent testimony, and other documents that the government intends to use at trial.
"It's essentially a road map to our case," she said.
Judge Chutkan said the "manner in which the discovery has been organised ... indicates that the government has made considerable effort" to make it easy for Mr Trump's team to review the evidence against him.
Asked why that would not help the defence prepare, Trump attorney John Lauro responded by shouting at the judge and accusing the government of wanting "a show trial" when Mr Trump is entitled to "a fair trial".
"We have to do our job as defence lawyers ... this is a solemn obligation — I have a special obligation to make sure my client is adequately represented ... for a federal prosecutor to suggest we could go trial in four months ... is a violation to the oath to do justice," he said.
"We need adequate time to prepare," he said. "For the government to suggest I can do that in four months is an outrage".
Judge Chutkan, a former defence attorney herself, admonished Mr Lauro to "take the temperature down" and asked Mr Lauro why the government's efforts to produce discovery in a searchable form and flag key documents wouldn't help speed up defence preparations.
"It's not all sitting in a warehouse ... so why won't the manner in which the discovery has been turned over speed up the review process?"
Mr Lauro responded that Mr Trump's legal team has not had access to the documents Mr Trump may have had access to.
When Judge Chutkan pointed out that the information was "not new" to him, he responded by shouting that it was.
"Some of this material are statements created by your client ... that's not brand new information, is it?"
Mr Lauro replied: "Of course it is," drawing a sceptical look from the veteran jurist.
He also drew a raised eyebrow from Judge Chutkan when he told her that "no" documents would be reviewed electronically by him, and continued to shout despite her admonitions while complaining that Mr Trump needed years to prepare.
Judge Chutkan did not appear impressed by his arguments.
"You're not going to get two more years — this case is not going to trial in 2026," she said.
She told the defence counsel that the investigation has been known for two years and the identity of witnesses have also been known for just as long.
"So why would the defence need two years to investigate?" she asked.
She added that a "good defence attorney, knowing his client was under investigation by a grand jury," would have been able to prepare ahead of time.
But Mr Lauro said the case against his client is "enormous and overwhelming" on the facts alone.
"Mr Trump is entitled to a defence that is reasonably prepared," he said.
Judge Chutkan replied that she intends to ensure that Mr Trump gets time to prepare, and again asked Mr Lauro why he needs so much time to review "duplicative" discovery when Mr Trump and his legal team has been aware of much of the evidence.
"I'm sure any able, diligent, zealous defence counsel would not have been sitting on their hands while waiting for indictment ... a lot of this material was in the hands of Mr Trump or his counsel for a significant time before the grand jury was convened," she said. "A lot of this may not be relevant and [reviewing] does not take, in this court's estimation, two years".
"You and I have a very different estimate of the time that is needed ... Mr Trump will be treated with no more or less deference than any other defendant will be treated," she added.
Judge Chutkan also said she does not consider Mr Trump's status as a former president or a presidential candidate to be relevant to the defence request to delay the trial, but Mr Lauro also said the defence would bring a motion as early as this week arguing that the case is being selectively prosecuted to advantage President Joe Biden, as well as motions related to "core first amendment issues" and "presidential immunity".
"All of those are novel issues," he said. 'This is one of the most unique cases, from a legal perspective, ever brought in the history of the United States".
Asked about Mr Lauro's argument about the time to review discovery, Ms Gaston noted that a reason Mr Lauro refused to answer Judge Chutkan's question directly is because modern tools for document review would make it possible for the defence to be prepared well before the 2026 deadline they've asked for.
She also noted that Mr Lauro called the indictment against Mr Trump "a regurgitation" of the House January 6 select committee's report in an interview after Mr Trump was indicted, and said Mr Trump would have long been aware of witness identities because his political action committee has been paying witnesses' legal fees.
Ms Gaston also pointed out that Mr Trump has claimed to have a report previewing any defence he might raise about the conduct of the 2020 election.
"We are not starting fresh in this case," she said. "The thing that all of this shows is the importance of setting a trial date and working backwards from a schedule ... the question before the court today is ... the balance of the defendant's right to prepare ... and the public's interest in a speedy trial here".
"The defendant ... is accused of historic crimes ... there is an incredibly strong public interest in a jury's prompt consideration of those claims in open court," she continued.
"We need to continue to trial ... because the defendant continues to post about the case" on social media, she said, adding that Mr Trump's posts attacking prosecutors, the charges, and the courts potentially prejudice the jury pool.
Mr Trump also faces three other criminal trials next year, all of which will take him off the campaign trail in the thick of the 2024 presidential election season.
In March 2024, he will go on trial in his former home state of New York for allegedly falsifying business records to cover up an affair during the home stretch of the 2016 election.
Two months later, he will be tried in a federal court in Florida on charges of wilfully retaining national defence information, obstruction of justice, and conspiracy.
He is also set to face a jury in Fulton County, Georgia next year on a sweeping racketeering and conspiracy case in which he has been charged alongside 18 other co-defendants.
Judge Chutkan said she is "aware that Mr Trump faces trial in other state and federal criminal cases" and has considered those cases in her decision.
When she announced her ruling, she said she had consulted with the judge overseeing the New York case, and notified him that there might be overlap with his planned trial schedule.
But she also said it would not be appropriate to consider the ex-president's "personal or professional" obligations in setting a trial schedule because there is also a "societal interest" in ensuring that defendants receive speedy trials.
Join our commenting forum
Join thought-provoking conversations, follow other Independent readers and see their replies