Who is Fani Willis, the Georgia prosecutor who could take down Trump
A district attorney with a long history of targeting organised crime gangs has the former president in her sights, Alex Woodward reports
Wednesday 06 September 2023 10:40 EDT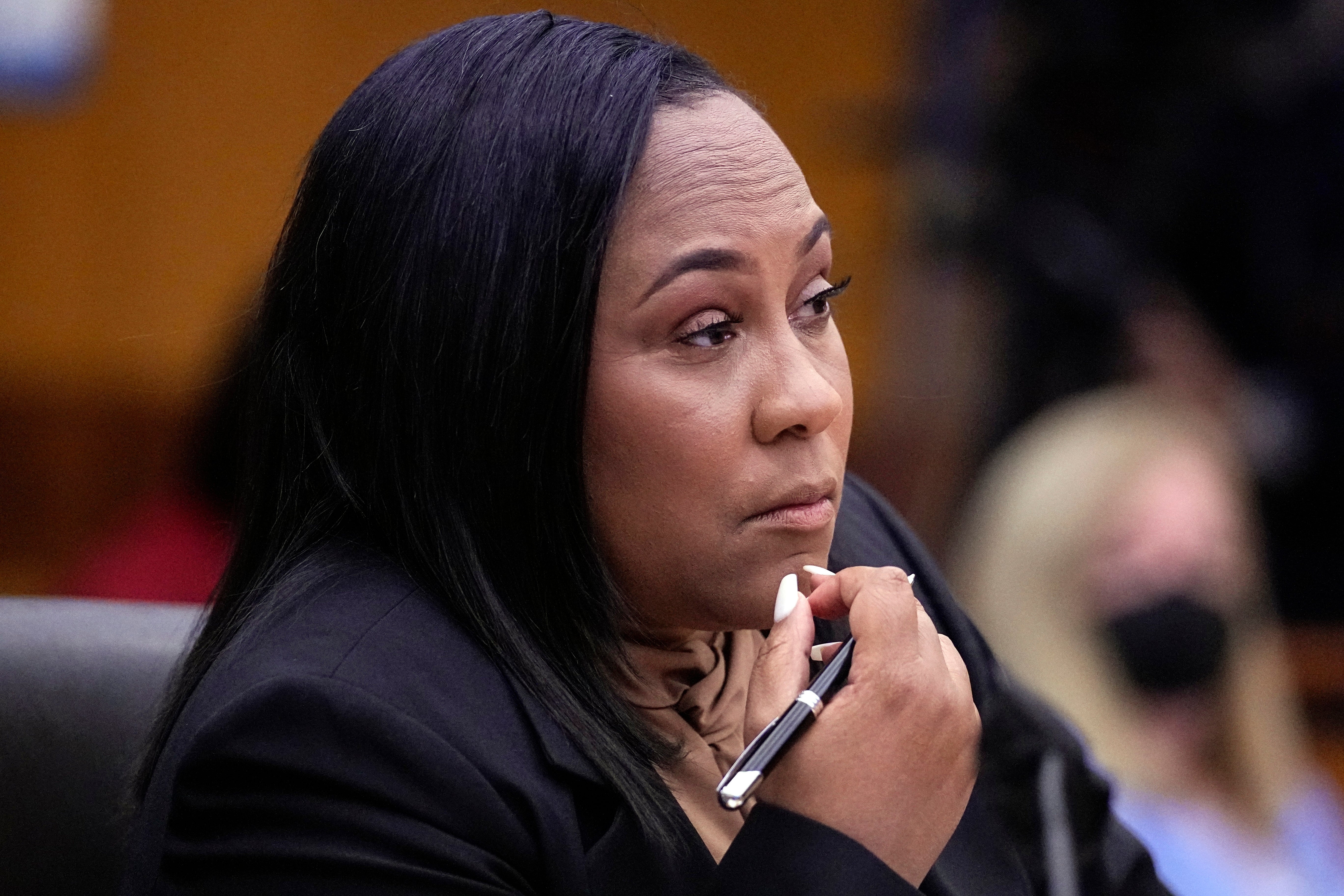 Her first day as the chief prosecutor for Fulton County came with news that then-President Donald Trump attempted to pressure Georgia's top election officials to reverse his loss in the state during the 2020 presidential election.
A phone call between Mr Trump and Georgia's Secretary of State Brad Raffensperger was published by The Washington Post late at night on 3 January, 2021.
Hours later, Fani Willis would walk into her first day on the job as Fulton County's district attorney, an office that is now spearheading a criminal investigation into Mr Trump, with the phone call serving as a central damning piece of evidence against him.
For more than two years, her office has been investigating efforts to overturn election results in the state and the baseless allegations of widespread election fraud that fuelled them, adding to a long list of investigations and other legal consequences facing Mr Trump and others who rejected 2020 results.
On 14 August, a grand jury voted to charge the former president and 18 of his allies with 48 counts related to their alleged "criminal enterprise" to overturn election results in Georgia.
On 31 August, Mr Trump pleaded not guilty to the charges and waived his arraignment – a move that means he can now avoid what would have been his first televised court hearing slated for 6 September.
Days earlier, Mr Trump was indicted on four counts in a separate federal probe led by US Department of Justice special counsel Jack Smith into the former president's efforts to overturn the 2020 election.
The closely watched case on the state level against the former president resulted in racketeering charges similar to those that Ms Willis has made a career out of bringing against dozens of others.
Fani Willis announces arrest warrants for Trump and 18 co-defendants
An anti-racketeering RICO statute – typically used to prosecute members of the Mafia and break up organised crime – has been used by her office in indictments against more than two dozen people connected to a sprawling Atlanta hip-hop empire, 38 alleged gang members, and 25 educators accused of cheating Atlanta's public school system.
Evidence in the case includes Mr Trump's infamous phone call, a breach of voting machines by a group of Trump-connected operatives, and a multi-state effort fuelled by conspiracy theories and legally dubious arguments to replace Georgia electors with a slate of Trump loyalists to certify his election in Congress.
The case also investigates the harassment of two Georgia election officials by a group of Trump-connected operatives and the baseless allegations of voter fraud and manipulation, a case that is separately at the center of a long-running defamation lawsuit.
"It doesn't matter if you're rich, poor, Black, white, Democrat or Republican," Ms Willis told CNN last year. "If you violated the law, you're going to be charged."
'Get out of my county'
Ms Willis graduated from Howard University in 1992 and Emory University School of Law in 1996. She began her career in the Fulton County District Attorney's office in 2001, with roles in nearly every division in the agency, and serving as lead prosecutor in more than 100 jury trials.
She is the first Black woman elected to lead the count's district attorney's office.
Last year, her office charged rappers Young Thug and Gunna and 26 others in a sprawling, 65-count RICO case following an 88-page grand-jury indictment characterising their YSL group as a "criminal street gang" behind 182 instances of gang activity and criminal conspiracies.
Her office also led RICO indictments against 12 alleged members of the Bloods gang, including the rapper YFN Lucci, and 26 alleged members of the Drug Rich gang, connected to a gang string of robberies and home invasions across Atlanta.
"I have some legal advice: Don't confess to crimes on rap lyrics if you do not want them used," she told reporters at a press conference last year. "Or at least get out of my county."
In a controversial case from 2014, she served as the lead prosecutor in a RICO case involving 35 Atlanta public school educators tied to an infamous cheating scandal, ultimately resulting in racketeering convictions against 11 of 12 people accused of manipulating students' standardised test scores.
As the county's chief prosecutor, she has expanded her office's gang unit and lobbied for passage of a statewide measure that would impose mandatory minimum sentences for repeat offenders and increase the power of the Georgia Bureau of Investigation in an effort to crack down on gang violence.
Key points from Trump's infamous Georgia call
Following RICO charges against alleged members of the Drug Rich gang, accused of a series of high-profile robberies and shootings involving Atlanta's wealthy, Ms Willis told reporters: "If you thought Fulton was a good county to bring your crime to, to bring your violence to, you are wrong and you are going to suffer consequences."
The Trump investigation
Over the last two years, the Fulton County district attorney's office has helmed a criminal probe into whether Mr Trump and his allies illegally interfered with the 2020 election in the state, which several recounts have confirmed President Joe Biden won definitively against Mr Trump.
In January 2022, Ms Willis convened a special grand jury, a 26-member panel given subpoena power and investigative authority to interview witnesses and ultimately deliver a report, as per state law, that includes charging recommendations.
The grand jury does not have authority to issue an indictment. It is up to Ms Willis to determine whether to charge Mr Trump and others connected to her case.
Her office sent letters to people connected to the so-called "alternate electors" scheme, including Georgia lawmakers and the chair of the Georgia Republican Party, and more than a dozen others who signed "unofficial electoral certificates" to subvert the Electoral College process and pledge the state's votes for Mr Trump, who lost in Georgia.
Also central to the investigation is Mr Trump's call on 2 January, 2021, which he made days before a joint session of Congress convened to certify Mr Biden's victory, while those faithful to Mr Trump made last-ditch efforts to pressure then-Vice President Mike Pence to reject the election's outcome, or stormed the US Capitol in an antidemocratic show of force that has led to hundreds of federal prosecutions, including more than a dozen on treason-related charges.
A list of grand jury witnesses included former White House chief of staff Mark Meadows, US Senator Lindsey Graham and former Senator Kelly Loeffler, and five members of Mr Trump's legal team, including Rudy Giuliani, Jenna Ellis and "fake elector" architect John Eastman, among several others.
The grand jury investigation also looked into a phone call on 13 November, 2020 from Senator Graham to Mr Raffensberger, as well as Mr Trump's own remarks to a rally crowd months after he left the White House in which he appeared to publicly brag that he had asked Georgia's Governor Brian Kemp to "help us out" and re-do the election.
In all, the special grand jury heard from roughly 75 witnesses before dissolving in January.
As a judge heard arguments on 24 January whether to publicly release the grand jury's report, Ms Willis said that a decision from her office on whether to bring criminal charges was "imminent".
In a series of Truth Social posts during the hearing, Mr Trump continued to lie about the results of the 2020 election, defended his "perfect" phone call to Georgia officials, and baselessly alleged widespread vote manipulation.
Judge Robert McBurney granted a partial release of the special grand jury's report, which includes its introduction and conclusion and a section in which jury members expressed concerns that some witnesses may have lied under oath.
The recommendations to Ms Willis include "a roster of who should (or should not) be indicted, and for what, in relation to the conduct (and aftermath) of the 2020 general election in Georgia."
A partially released report shows that the jury unanimously agreed that "no widespread fraud took place" in Georgia's election following interviews with election officials, analysis and poll workers.
It also includes a recommendation to Ms Willis's office to seek indictments for "one or more" witnesses who likely committed perjury, and it will ultimately be up to her office to "seek indictments where she finds sufficient cause". The publicly released filing does not include witness names, names of people recommended for indictments, or other recommended charges.
Asked on 13 February how she feels about the judge's decision to publicly release parts of the document, Ms Willis smiled and told reporters: "I'm pleased with it."
The grand jury and sweeping criminal charges
A grand jury was impaneled to hear the case on 11 July.
On 14 August, jurors voted to indict Mr Trump and 18 others – including his former White House chief of staff, several Trump-allied attorneys, and the so-called "fake" electors who joined a scheme to subvert the outcome.
The indictment alleges 40 separate crimes and 161 different acts connected to an alleged criminal conspiracy.
All 19 defendants in the indictment are charged under the RICO statute. Mr Trump is also charged with 12 other crimes.
Meadows, Giuliani, Trump-connected attorneys Sidney Powell, John Eastman, Kenneth Chesebro and Jenna Ellis, former Justice Department official Jeffrey Clark, several Trump aides, and a current state senator and several people connected to the "alternate" Georgia electors plot are among those facing a range of criminal charges.
"I make decisions in this office based on the facts in the law," Ms Willis said during a late-night press conference hours after the indictment was unsealed in court. "The law is completely nonpartisan. That's how decisions are made in every case to date."
Mr Trump and his co-defendants were ordered to surrender to Fulton County officials by noon on 25 August. All 19 received mug shots in addition to being processed and booked.
An arraignment date was set for 6 September. On 31 August, Mr Trump pleaded not guilty to the charges waived his arraignment meaning he will no longer appear in court. A handful of his codefendants have also waived their arraignment. It remains to be seen whether the others will follow suit.
What Trump has said about the investigation
The former president has repeatedly characterised the multiple investigations against him as part of a politically motivated "hoax" and an attempt to "steal" the 2024 election from him, turning an allegation he now faces in two criminal indictments against his opponents and portraying himself as a victim of political persecution.
He has characterised Ms Willis as a "racist" making a "fake case" against him to "interfere" with his election prospects.
Following the Georgia indictment, he lashed out at the prosecutor on his Truth Social platform and in fundraising messages through his campaign while continuing his bogus, repeatedly debunked narrative that the 2020 presidential election was "rigged" and "stolen" from him.
This story was first published in February and has been updated with developments
Ariana Baio contributed to this report.