Biden commemorates Senator Feinstein as 'pioneering' and 'a true trailblazer'
The late senator passed away on Friday at age 90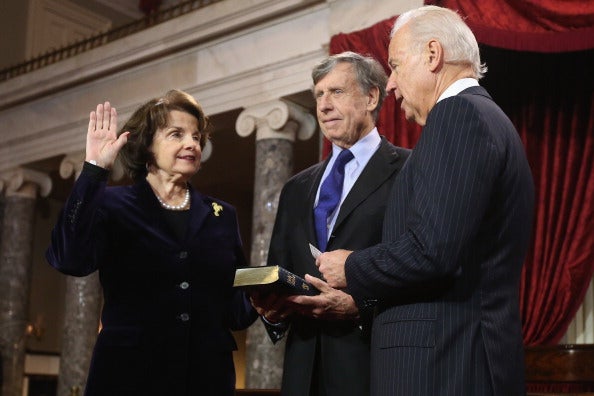 President Joe Biden on Friday commemorated the late California senator Dianne Feinstein as a "historic figure, "a trailblazer for women," and "a great friend" following her death at age 90.
Speaking at a retirement ceremony for the outgoing Chairman of the Joint Chiefs of Staff, General Mark Milley, Mr Biden said the late senator "made her mark in everything from national security, to the environment. to gun safety, to protecting civil liberties".
"The country is going to miss her dearly," he said, adding later that he'd have more to say about her later on Friday.
Mr Biden, who served alongside Feinstein in the Senate from 1993 to when he became vice president in 2009, recalled in a statement how she'd "showed enormous poise and courage in the wake of tragedy" when she rose to national prominence after the 1978 assassinations of San Francisco Mayor George Moscone and City Supervisor Harvey Milk catapulted her into the mayor's office, and said the late senator became "a powerful voice for American values".
"Serving in the Senate together for more than 15 years, I had a front row seat to what Dianne was able to accomplish," he said, adding that her recruited her to serve on the upper chamber's judiciary committee because he "knew what she was made of" and "wanted her on our team".
Mr Biden also praised Feinstein for her role in fighting for stronger gun laws, including the 1994 assault weapons ban, calling her work to move that legislation through the senate "no better example of her skillful legislating and sheer force of will".
"Dianne made her mark on everything from national security to the environment to protecting civil liberties. She's made history in so many ways, and our country will benefit from her legacy for generations," he said.
"Often the only woman in the room, Dianne was a role model for so many Americans – a job she took seriously by mentoring countless public servants, many of whom now serve in my Administration. She had an immense impact on younger female leaders for whom she generously opened doors. Dianne was tough, sharp, always prepared, and never pulled a punch, but she was also a kind and loyal friend, and that's what Jill and I will miss the most".
He added that he and Ms Biden are taking comfort in the fact that Feinstein is "is reunited again with her beloved," her late husband Richard Blum, who passed away last year.
"May God Bless Dianne Feinstein," he said.
Join our commenting forum
Join thought-provoking conversations, follow other Independent readers and see their replies