Tennessee votes to silence lawmaker who protested inaction on gun laws – again
Justin Jones was part of a group of lawmakers expelled from the Tennessee House for joining anti-gun violence protests. He was just silenced again on the statehouse floor, Josh Marcus reports
Tuesday 29 August 2023 18:58 EDT
Comments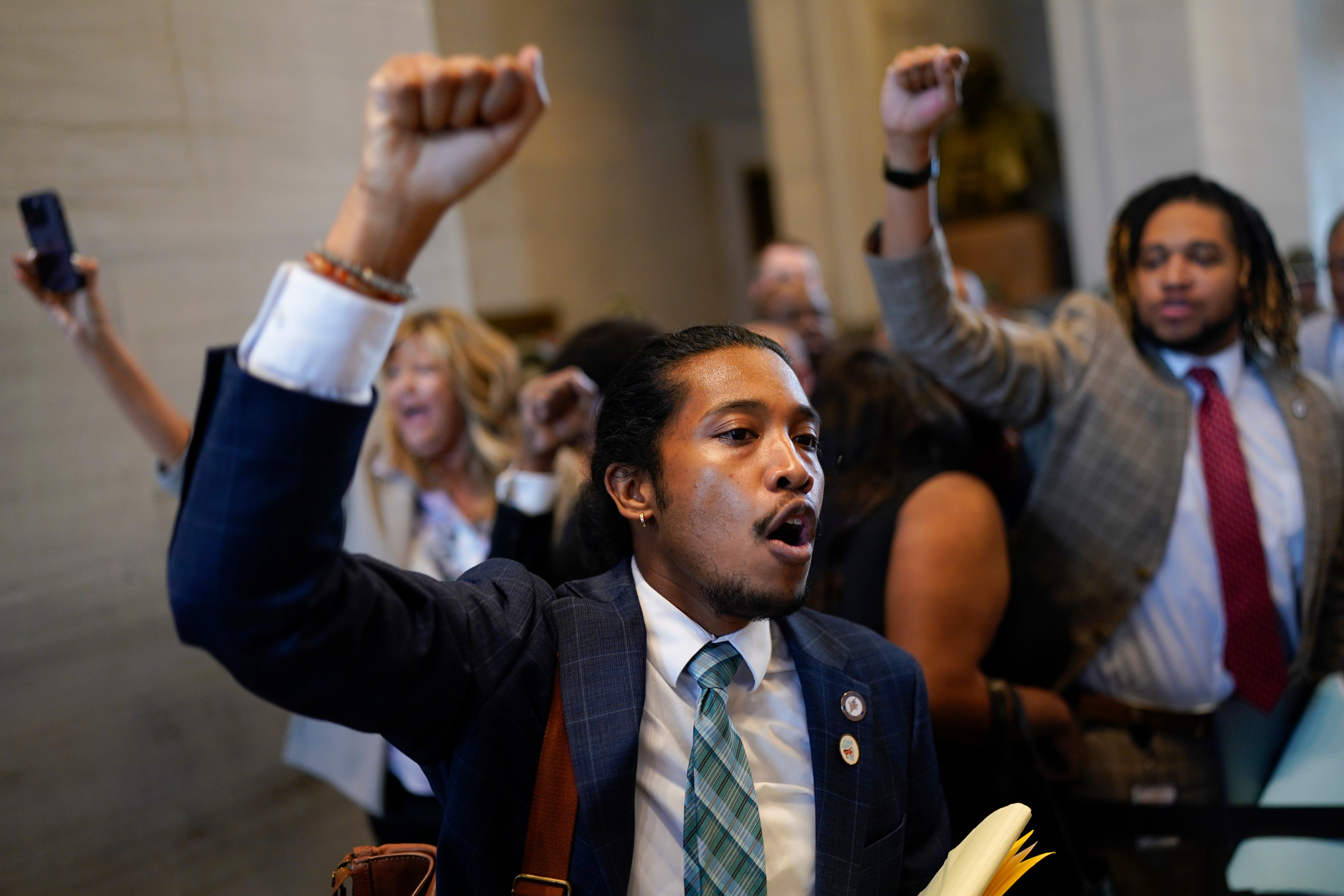 History is repeating itself in Tennessee.
In April, state representative Justin Jones, an outspoken young Democrat from Nashville, was expelled from the legislature for speaking out with two fellow lawmakers alongside protesters against the Republican majority's inaction on gun violence, following a devastating school shooting in March where three children were killed at a Christian elementary school.
This month, Mr Jones, along with fellow expelled colleague Rep Justin Pearson, won special elections and were sent back to the Tennessee House, right in time for a special session called to address public safety. The process began again.
On Monday, Mr Jones expressed his doubts about a bill under consideration that would put armed police officers in public schools, even on campuses which hadn't adopted such measures by choice.
As The Independent has reported, such "school resource officers" (SRO) have been shown by research to have little impact on detering mass shootings, and actually fuel racial disparities in which students are punished.
"SROs have not been shown to reduce instances of mass shootings," Mr Jones said, arguing, "We need to pay our teachers better, we don't need more police in our schools."
"Representative Jones, you are off the bill again," fired back House Speaker Cameron Sexton, one of the leaders of the original process to expel the so-called "Tennessee Three."
The Republican leader declared Mr Jones out of order and in violation of new house leaders, triggering a vote on whether to silence the Democrat from further legislative debate. The move passed 70-20 on party lines.
Mr Jones railed against the decision, calling it another instance of the House leadership focusing on bare-knuckle politics instead of making Tennessee safety.
GOP Silences 'Tennessee Three' Democrat Rep. Justin Jones
"Their priorities are out of order," he wrote on X, the social media platform previously known as Twitter, after the vote. "Their leadership is out of order. The House is out of order."
There were other parallels as well.
Much like the first time Mr Jones and his allies spoke out, the Tennessee House ended its special session on Tuesday without making any major changes to firearms laws in the state, leaving in place the same status quo that prompted the Tennessee Three to take to the House floor and chant alongside protesters assembled in the galleries back in April.
Now, as then, survivors of the March Covenant shooting left the process feeling unheard.
"We held a special session following the extraordinary tragedy of a mass shooting that took place at the Covenant School, and we took no meaningful action," Shoop Neumann, the mother of a child who survived the shooting, told The Nashville Tennessean. "The divisiveness we have all witnessed makes us long for a unified community. We need legislators on both sides of the aisle to be able to have respectful, thoughtful debate regarding potential solutions to end gun violence."
As the paper reported, the session ended with little major change, with legislators only agreeing to modest funding increases for state mental health workers and gun safety PSAs.
Much like the first Tennessee Three episode, the special session also saw Republican lawmakers order state capitol police officers to clear out the House's viewing gallery, after crowds began chanting "fascists" and "racists" when Rep Jones was silenced.
The second silencing vote caps off what's been an unprecedented session of the Tennessee legislature.
Earlier this year, observers of state politics said they had never seen legislators act so aggressively towards colleagues for speaking out.
Carrie Russell, a lecturer in political science and expert on Southern politics at Nashville's Vanderbilt University, told The Independent the original silencing votes were an "exercise of power solely for power's sake" with a ruthlessness akin to "a pack of dogs refusing to stop biting."
She noted that in the rare instances anyone is removed from office in Tennessee or any other state, it's usually after a legislator has been convicted of a serious crime.
"No laws – local, state or federal – were broken here," she said of the original protest where three Democratic lawmakers – Reps Justin Jones, Gloria Johnson, and Justin Pearson – spoke from the House floor and joined in chants with protesters who had entered the capitol building.
'Tennessee Three' receive hero's welcome in state capitol from anti-gun protesters
"They were well within their constitutional rights to speak out during the House recess, per the state and federal constitution."
"We will work towards ensuring every one of those seats is replaced by someone who has a true desire to listen to their constituents over firearm association lobbyists," she added. "We will be back in January," Ms Neumann said in her interview with The Tennessean.
Mr Jones had an even more pointed message after the vote.
"It's time for a new Speaker," he wrote on X.
Join our commenting forum
Join thought-provoking conversations, follow other Independent readers and see their replies