Exclusive: Zooey Zephyr responds to her political silencing and Montana's attacks on trans children: 'I show up with my head held high'
Wave of anti-trans bills won't stop Montana representative, or the state's LGBTQ+ community, from moving forward, Zooey Zephyr tells Josh Marcus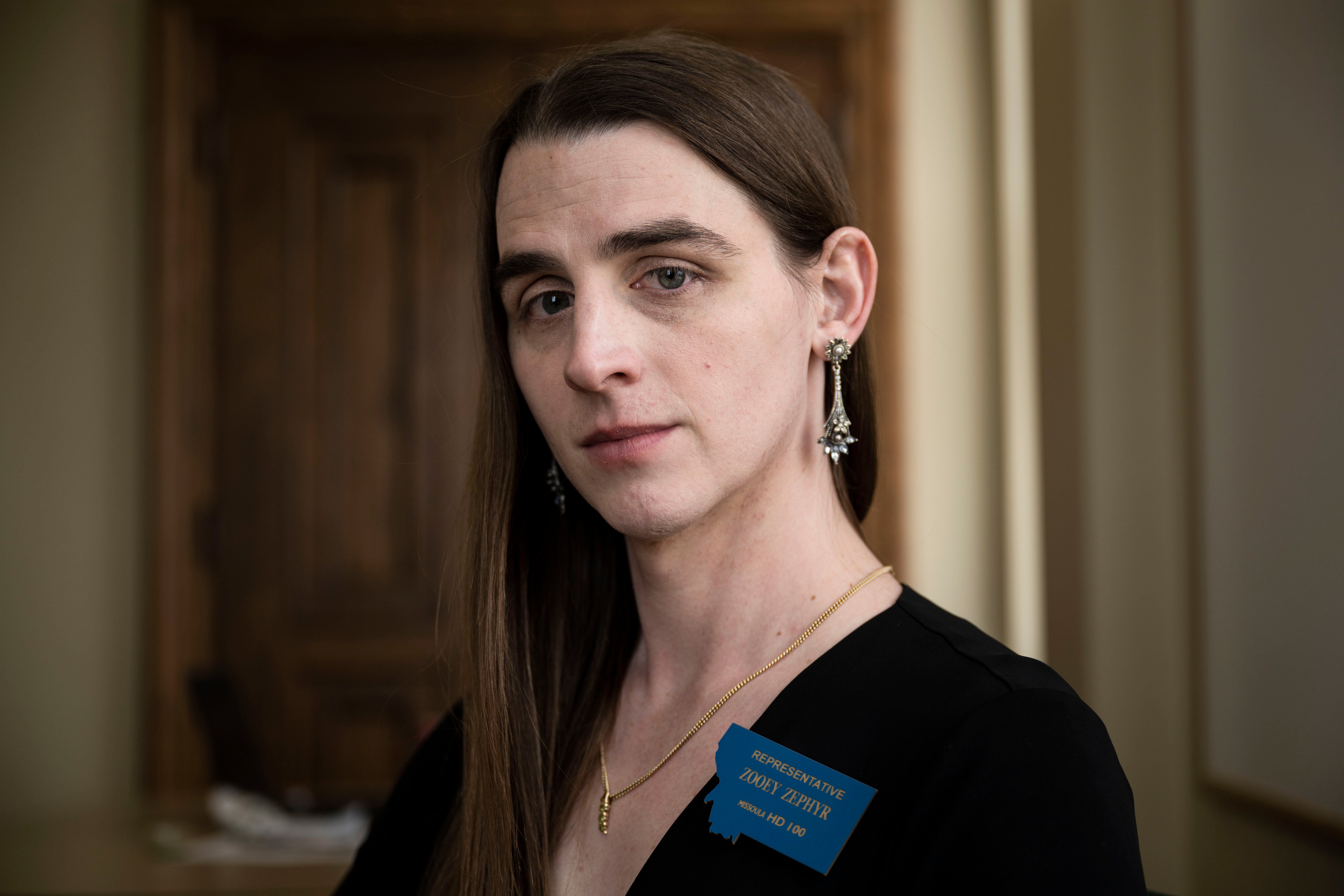 Despite being barred from the floor of the Montana House of Representatives for speaking out against a gender-affirming healthcare ban; despite being intentionally misgendered by colleagues; despite Republican colleagues falsely claiming she led a violent riot; despite her supporters being arrested by riot police for protesting peacefully; despite anonymous strangers calling in fake threats about her and her girlfriend to police in the hopes of unleashing a lethal SWAT team; despite Montana legislators passing a suite of bills targeting transgender people; despite the fact that the legislative session is now over and the Republican lawmakers at the front of this crusade hold a supermajority in the state legislature, Zooey Zephyr – the state lawmaker at the centre of the resistance to Montana's swirling anti-LGBTQ+ campaign-slash-battle over democracy – hasn't lost hope.
The Missoula Democrat told The Independent on Wednesday she's more fired up than ever.
"I am determined," she said.
"I think the people of Montana and more broadly the country saw the extent to which the far-right in this country will throw away our democratic principles to achieve their ideological goals. We saw the way that our communities looked to the actions of this legislature and said that's not OK. We need to stand up for democracy. I feel hope and determination to go back to my community after this legislative session."
For Montana's LBGTQ+ community, the stakes of this last legislative session, which ended on Tuesday, couldn't be higher. Republican lawmakers passed a set of bills banning gender-affirming care, drag performances, and writing the very existence of trans, non-binary, and intersex people out of the state code.
As Shawn Reagor of the Montana Human Rights Network told The Independent, "These bills are aimed at impacting every aspect of life."
"They go from how we are born to how we're identified in our death," he added. "They are deeply concerning."
In the face of this onslaught of bills, activists and lawmakers alike in Montana leapt into action, including Rep Zephyr, the first transgender lawmaker in state history.
In late April, she pointedly told her GOP colleagues that if they passed the gender-affirming healthcare ban for youth, they would have "blood on their hands," as such treatments can be a lifeline for young LGBTQ+ people struggling to find themselves.
Her supporters joined the fight too, packing the capitol viewing gallery and chanting, "Let her speak!" once House Republicans started refusing to let Rep Zephyr participate in floor debate.
The combination of the two resulted in her eventual expulsion from the House floor, forcing the representative to work from a hallway, where family members of Republican lawmakers heckled her and tried to steal her seat.
The exile mirrored developments in other states like Tennessee, where a group of Democratic lawmakers who joined in an anti-gun violence protest at the capitol were stripped of their seats in a move observers said was totally unprecedented in state history.
Even after the censure vote, Rep Zephyr said she wasn't deterred.
"I show up every day to represent my constituents and the people who sent me to be their voice in government," she said. "That means when I show up, I show up with my head held high, ready to do the work for the people who sent me here. I'm not bothered by any misgenderings or targeted attacks or the like. I go in and there are people who voted for my censure that when I saw them in the hallway, I was lobbying them on bills."
With the session now closed, Rep Zephyr said she's going to take this spirit of action and carry it forward, travelling around the state and meeting with organisers and community members in the coming months. She said a conversation with former state senator Bryce Bennett, Montana's first openly gay legislator, inspired her to think of her time work as a way of finding "the room that my voice can do the most good in."
Montana's legislature meets in full every other year, so for now that room is somewhere out in the community, or out on the media airwaves, not at the capitol, at least until Rep Zephyr seeks re-election for 2025.
"The work begins, as all work does, at the community level," she said. "It's why I'll be going around the state talking to people."
The Democrat said she hopes those paying attention to Montana understand that while Republicans around the country may be getting bolder about silencing their critics, the right has a long history of trying to making certain groups into bogeymen. But with enough visibility, activism, and a refusal to give in to hate, those groups can shift the culture from demonising them to recognising their full humanity.
"I think the right is trying to create a bogeymen out of trans people in the same way they tried to create bogeymen out of gay people in the 1990s," she said. "What they will find is the same thing that they found when they attacked gay people in the 1990s. Trans people are not bogeymen. We are a part of your communities. We are your neighbours. We are your colleagues. We are your friends. You are never far from a trans person or someone who cares deeply about us. That's true whether your are in Memphis or Miles City, Montana, whether you are in a coffee shop, an office, or the governor's mansion."
The battle for societal acceptance doesn't move according to a legislative calendar, and for Representative Zooey Zephyr, the work of making Montana a safe, democratic place for LGBTQ+ people to live and thrive continues apace. She hopes everyone in the state and beyond feels empowered to raise their voice, even if the odds are stacked against them.
"Everyone in our communities can stand up themselves and work to make this state of Montana and this country a place we can be proud to call home."
Join our commenting forum
Join thought-provoking conversations, follow other Independent readers and see their replies