Trump made life hell for two Black women election workers. He will have to answer for it in court
Conspiracy theories and false claims fuelled racist threats and harassment towards Ruby Freeman and Shaye Moss. Their story is central to a massive criminal case against the former president, Alex Woodward reports
Friday 18 August 2023 05:35 EDT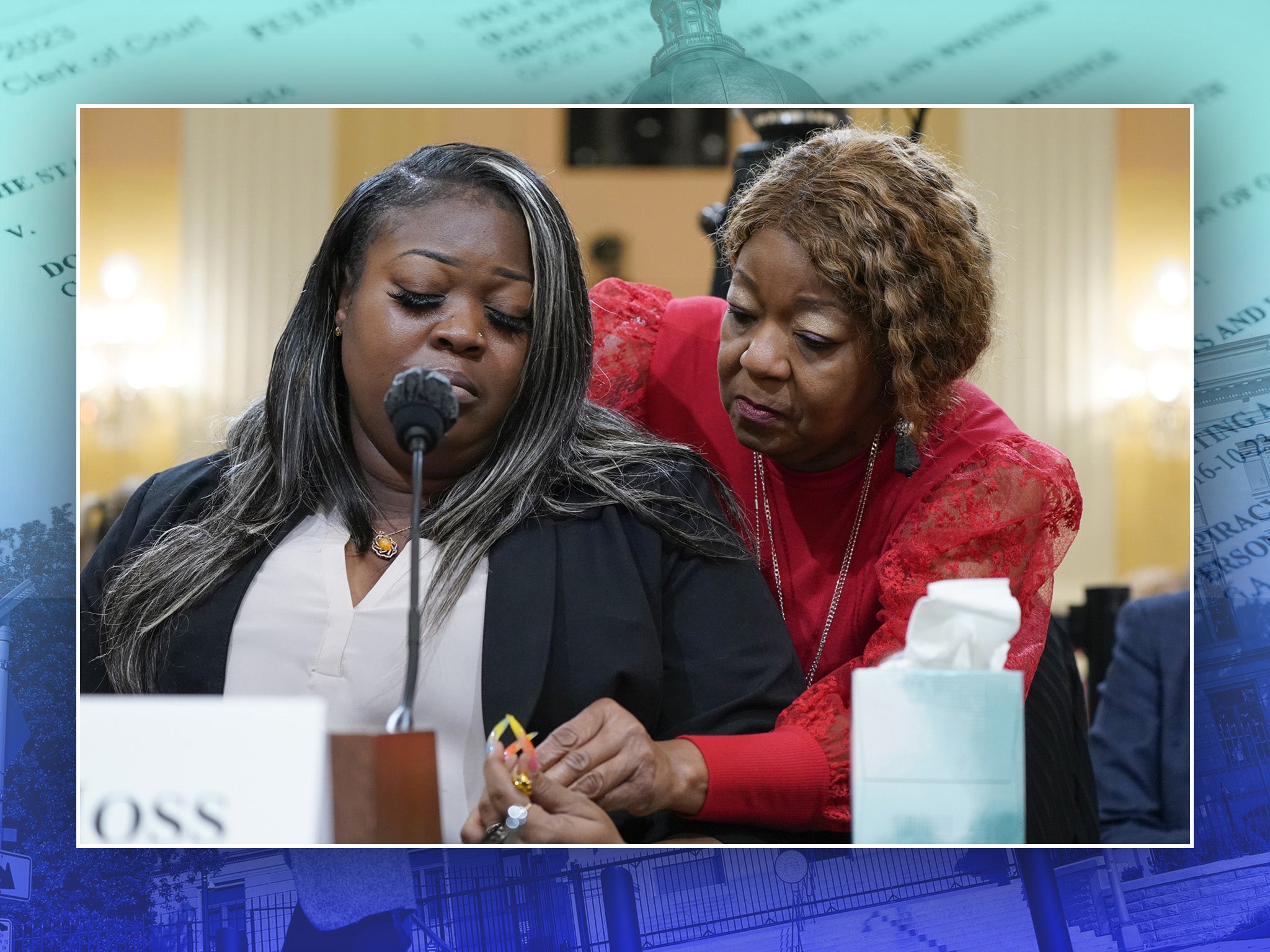 They were compared to drug dealers. They were flooded with racist abuse. The sitting president of the United States accused them of rampant fraud. People showed up at their homes. They were bullied, harassed, and forced to change their appearances and go into hiding.
The lives of two Black women in Georgia were turned upside down following an avalanche of threats and abuse over bogus conspiracy theories surrounding their work helping run the state's elections.
A pressure campaign fuelled by false and inflammatory statements against Ruby Freeman and her daughter Shaye Moss implicates Donald Trump, Rudy Giuliani and several Trump allies at the centre of a sweeping criminal indictment charging 19 people – including the former president – for crimes allegedly committed while he was in office.
All are charged under a sweeping anti-racketeering statute, but the charging document alleges 40 separate crimes and 161 different acts alleging that the defendants "knowingly and willfully joined a conspiracy to unlawfully change the outcome of the election" to ensure Donald Trump remained in power.
The indictment is the fullest accounting yet of an alleged effort among Mr Trump and his allies to coerce officials into a fraudulent scheme to subvert the votes of millions of Americans. But several defendants in the case are accused of baselessly alleging the women committed election crimes – bogus claims repeated to state lawmakers in an alleged effort to persuade them to unlawfully change the outcome of Georgia's elections.
They also travelled from out of state to harass Ms Freeman, "intimidate her, and solicit her to falsely confess to election crimes that she did not commit," according to the indictment.
"The indictment returned by the Fulton County grand jury this week serves as further evidence that election workers Ms Freeman and Ms Moss – while doing their jobs and serving their community – were targeted as part of a broad, coordinated conspiracy to undermine the results of the 2020 presidential election," attorney Von DuBose said in a statement to The Independent.
A harassment campaign at their doorstep
Then-President Trump falsely declared victory in Georgia on election night while election workers continued to process and tally up thousands of ballots. Mr Trump and his allies then focused their attention on ballot processing in Fulton County, where nearly all staff members at the county's elections department are Black.
Working out of Atlanta's State Farm Arena, the women's actions were scrutinised by right-wing activists on surveillance video. They were accused of pulling ballots out of "suitcases," a claim that spun out into a conspiracy theory that votes for Joe Biden were separately hauled into the vote count to manipulate the results. Those "suitcases" were bags from which ballots had been sealed and stored.
At a state legislative hearing on Zoom on 10 December, 2020, Mr Giuliani accused the women of "quite obviously surreptitiously passing around USB ports as if they're vials of heroin or cocaine" to "infiltrate" voting machines. He accused them of "surreptitious, illegal activity" and suggested police search their homes "for evidence".
'I've lost my name, I've lost my reputation': Voting official givers testimony at Jan 6 hearings
Five days later, Stephen Lee showed up at Ms Freeman's house. She refused to let him in. Mr Lee, now among 18 defendants along with Mr Trump in the sprawling conspiracy case in Georgia, told police that he was a pastor who is "working with some folks who are trying to help Ruby out, and also get to some truth of what's going on."
He enlisted the help of Harrison Floyd, a director with Black Voices for Trump who was fielding calls from attorneys involved with a spurious legal battle to challenge election results in battleground states that Mr Trump lost.
Mr Floyd recruited Trevian Kutti, a Chicago-based publicist who had previously represented Kanye West. She showed up at Ms Freeman's house at 8.30pm on 4 January, two days before a joint session of Congress convened to certify the results of the election.
Two days before Ms Kutti arrived in Cobb County, Mr Trump called Georgia's Secretary of State Brad Raffensperger urging him to "find" enough votes to secure his victory in the state, despite three counts that verified Mr Biden's decisive victory in the state.
Mr Trump mentioned Ms Freeman's name 18 times on the call. He claimed that the women pulled out "what looked to be suitcases or trunks" that were "stuffed with votes" with a "minimum" of "18,000 ballots, all for Biden."
He called Ms Freeman "a professional vote scammer."
"There is nowhere I feel safe. Nowhere. Do you know how it feels to have the president of the United States to target you?" Ms Freeman later told a House select committee investigating the events surrounding January 6. "The president of the United States is supposed to represent every American, not target one. But he targeted me … a small business owner, a mother, a proud American citizen, who stepped up to help Fulton County run an election in the middle of the pandemic.
On the night of 3 January, 2021, Mr Floyd repeatedly tried calling and texting Ms Freeman, according to the indictment. When she arrived at Ms Freeman's home, Ms Kutti told a neighbour she was a crisis manager there to "help" Ms Freeman, the indictment states.
She then tried calling Ms Freeman and told her she was in danger and could "help" her. According to a police report, Ms Kutti said she was sent to Ms Freeman's home "by a high-profile individual" and suggested Ms Freeman was in danger and had only 48 hours to "get ahead of the issue" before an unnamed threat showed up at her home.
An officer suggested they should move that conversation to a police precinct, where she spoke with Ms Freeman for more than an hour. Mr Floyd joined the meeting by phone, telling Ms Freeman "that she needed protection and purported to offer her help," according to the indictment.
Mr Floyd, Ms Kutti and Mr Lee called one another 10 times that day, according to the indictment.
"You are a loose end for a party that needs to tidy up," Ms Kutti allegedly told Ms Freeman.
Mr Floyd later said they were hoping to negotiate immunity for Ms Freeman. But Ms Freeman was not guilty of anything, let alone willing to admit guilt to something that never happened.
They are all charged under Georgia's RICO statute and face felony counts of solicitation of false statements and writings and influencing witnesses.
'A lot of them were racist. A lot of them were hateful'
Ms Moss started a full-time role with the Fulton County Department of Registration & Elections in 2017, handling voter applications, requests for mail-in ballots, and helping process the vote count on Election Day. She loved her job.
Her mother, a retired local government worker at a centre coordinating 911 emergency calls for the county, had opened a small business selling fashion accessories.
Following a June primary election frustrated by the Covid-19 pandemic and technical difficulties, election workers had bolstered preparations for the major fall election. Ms Moss asked her mother to help. She signed up as a temporary worker.
By 10pm that night, after roughly 18 hours of work, with only a handful of election workers remaining at the State Farm arena, workers began packing up and sealing remaining absentee ballots into large plastic boxes for overnight storage until they could return the following morning.
With heightened scrutiny on the results, Mr Raffensperger and state elections director Chris Harvey called on Fulton County elections director Richard Barron to keep counting ballots. Under that order, Ms Moss pulled out the containers and election workers resumed the count under surveillance from an independent elections monitor and a state investigator, according to officials.
But Trump campaign attorneys later accused the women of committing fraud, triggering a right-wing media campaign against them, including segments on Fox News, One America News and The Gateway Pundit, which published a story identifying Ms Freeman alongside photos labelling her a "crook".
The coverage ignited a firestorm of racist and hateful messages towards Ms Moss that turned her life "upside down," she told the House select committee last year.
Election worker gives emotional testimony about threats by Trump supporters
"I don't do nothing anymore. I don't want to go anywhere," she said. "I don't go to the grocery store at all. I haven't been anywhere at all. I've gained about 60 pounds … I second guess everything that I do. It's affected my life in a major way, in every way, all because of lies."
She said that her Facebook Messenger app was loaded up with death threats and abuse "telling me I'll be in jail with my mother, saying things like, 'Be glad it's 2020 and not 1920.'"
"A lot of them were racist. A lot of them were hateful," she said.
By 4 December, 2020, Ms Freeman had received about "300 emails, 75 text messages, a large amount of phone calls and multiple Facebook posts," according to a police incident report.
"I should not be here," she said in a taped deposition to the committee last year. "I signed up as an election worker because I believe in our democracy. I signed up to support my daughter, Shaye, whose entire professional career has been devoted to making sure that Fulton County elections are fair and that every vote is counted."
The women fled their homes on advice from FBI agents who suggested they remain in hiding until at least Inauguration Day.
Donald Trump indicted for fourth time
"I felt horrible. I felt like it was all my fault," said Ms Moss, describing a wave of regret she felt asking her mother to work alongside her on Election Day.
"I could have done anything else, but that's what I decided to do, and now they're lying and spreading rumours and lies and attacking my mom," she said. "I felt bad for my mom and I felt horrible for picking this job and being the one that always wants to help ... I just felt like it was my fault for putting my family in this situation."
Ms Freeman – known as "Lady Ruby," a name emblazoned on a jacket she later refused to wear in public – told the committee that she spent the year that followed looking over her shoulder.
"I get nervous when I bump into someone I know in the grocery store who says my name – I'm worried about who's listening," she said. "I get nervous when I have to give my name for food orders. I'm always concerned of who's around me."
She lost her name, her reputation and her sense of security, she said, "all because a group of people starting with No 45 and his ally Rudy Giuliani decided to scapegoat me and my daughter."
They were far from alone. Georgia elections official Gabriel Sterling told the committee that the "straw that broke the camel's back" as the state was inundated with conspiracy theories and abuse was a threat against a contractor for a voting machines company accusing him of "treason" attached to a "slowly twisting GIF of a noose".
"I lost it. I just got irate," Mr Sterling said. "That's what prompted me to do what I did – I lost my temper, but it seemed necessary to do at the time."
In December 2020, he urged Mr Trump and his allies pushing voter fraud conspiracy theories to condemn growing threats of violence and abuse, "or someone's going to get hurt, someone's going to get shot, someone's going to get killed."
Threats to election workers and public officials are surging
Election disinformation and conspiracy theories fuelling political attacks against election administration have made election work unsustainable, according to annual surveys of election workers.
In the wake of the 2020 election, hundreds of election workers and administrators faced "alarming" levels of abuse, largely from baseless voter fraud conspiracy theories stemming from Mr Trump's campaign, according to reporting from the Brennan Center for Justice at NYU Law.
Threats to election workers and public officials have continued to surge, migrating from once-fringe corners of online spaces into daily life on- and offline, inflamed by conspiracy theories and increasingly volatile political rhetoric.
Results from the Brennan Center's latest survey finds that 12 per cent of local election officials started their service after the 2020 cycle and another 11 per cent are unlikely to serve in the 2024 cycle, a turnover rate equivalent to one to two election officials leaving office every day since the 2020 election.
Republican threats to voting rights using baseless allegations of voter fraud are not necessarily new, but Mr Trump "unleashed something new, and far scarier," according to the Brennan Center.
"Unlike Republicans' previous vague warnings about potential voter fraud, the Big Lie named names. It cast election officials as masterminds in a made-up crime against the state," according to the report. "The wave of threats won't magically disappear. What Trump set loose, many subsidiary politicians have rushed in to exploit."
Nearly three in four election workers feel that threats against them have increased in recent years, and more than half are concerned that threats, harassment and intimidation will harm their ability to recruit and retain workers, according to the report. More than half are concerned for the safety of their colleagues, while roughly 30 per cent reported personally being abused, harassed or threatened because of their job.
More than half of election workers who responded to the survey are worried about politicians interfering in their work, and roughly one in nine are concerned about pressure to certify election results in favour of a specific candidate or party in future elections.
And nearly three-quarters of respondents don't believe their current budgets can handle concerns about election security and administration over the next five years, while an overwhelming majority believe their local and state or federal governments are failing to support them.
'A major milestone for justice'
More than two years after Ms Freeman and Ms Moss were bombarded with abuse, Georgia's State Election Board completed its investigation into what amounted to bogus claims of election fraud at the State Farm Arena, finding that the claims were "unsubstantiated and found to have no merit."
"False claims and knowingly false allegations made against these election workers have done tremendous harm," Mr Raffensperger said in a statement following the report. "Election workers deserve our praise for being on the front lines."
The women have sued the outlets and individuals that published false claims about them – including Mr Giuliani, who admitted in a court filing from his attorney that he made false statements that amounted to defamation.
Attorneys for Ms Freeman and Ms Moss said the filing from Mr Giuliani amounts to a "major milestone in their fight for justice."