Is American child care about to get a lot worse?
While Congress struggles to fund basic government functions, the biggest-ever investment in child care in US history is coming to an end, Alex Woodward reports
Friday 29 September 2023 17:43 EDT
Comments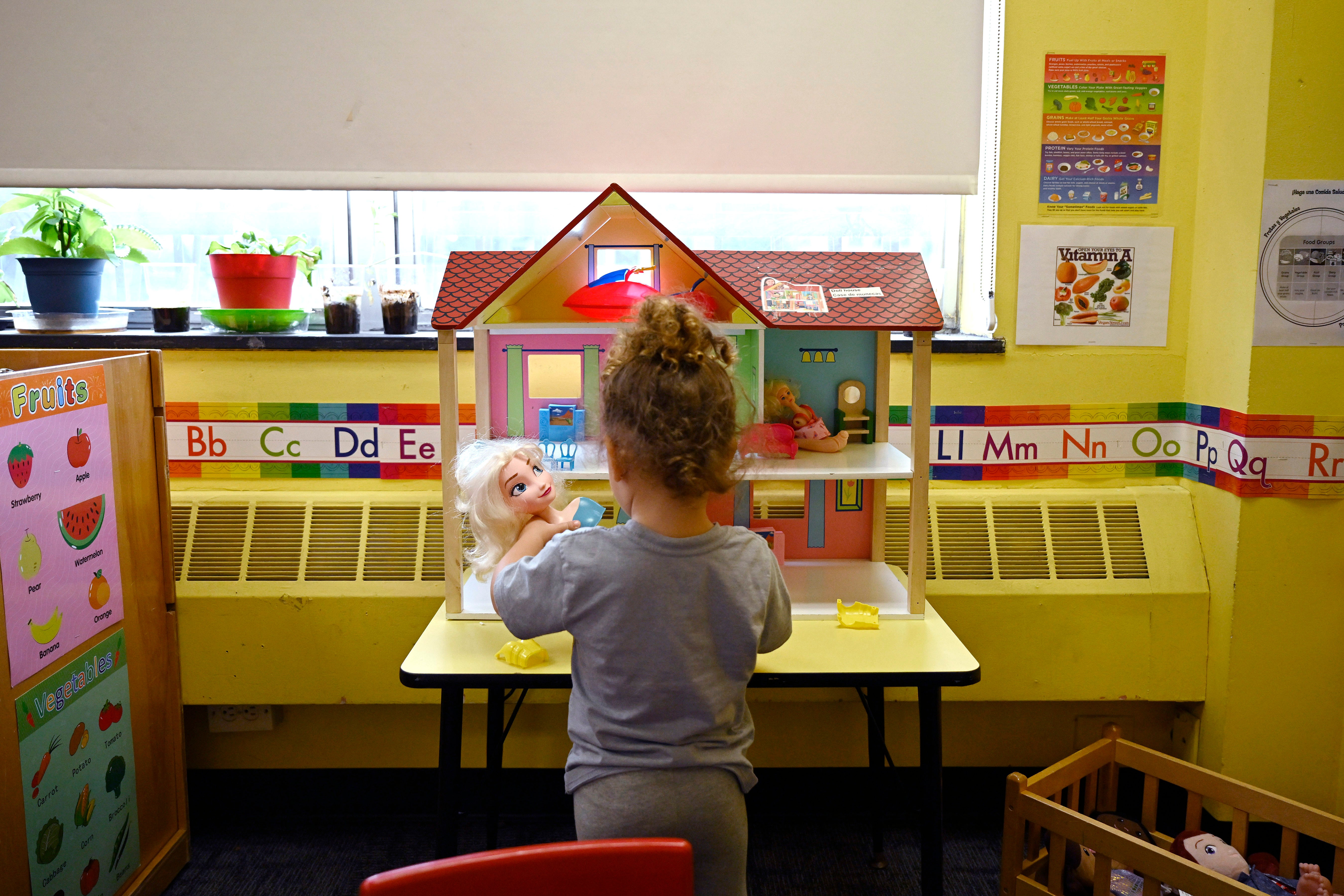 Millions of families with children are bracing for the loss of billions of dollars in federal funding for child care. Advocates fear it will create a chaotic ripple effect across the country.
The approach of the "childcare cliff" from the expiration of pandemic-era funds has magnified fears of a worst-case scenario for the nation's already fragile childcare system.
And if Congress fails to avert a government shutdown, thousands of lower-income families also could lose access to a critical early development programme. A government shutdown could impact Head Start programmes for 10,000 children, according to the White House.
Congress is not only staring at a deadline to fund the government, lawmakers are also facing the expiration of the $24bn Child Care Stabilization Program, part of President Joe Biden's landmark American Rescue Plan, which marked the single largest investment in child care in US history as part of administration-wide efforts to lift families out of poverty and reduce childcare costs.
The end of that funding – among the last of the critical pandemic-era lifelines to expire – could force the closure of more than 70,000 child care programmes in the coming months, impacting care for more than 3 million children, according to one analysis from progressive think tank The Century Foundation.
Those impacts are likely to snowball, and the economic impacts could be widespread, with families losing $9bn a year in lost earnings as parents are forced to leave the workforce or cut their hours, according to the report.
Notably, that report outlines a doomsday scenario for American childcare that sceptical analysts have not totally embraced. Many states – including several led by GOP lawmakers – have sought to boost access and affordability over the course of the pandemic, potentially softening a blow as those federal funds dry up over the coming months.
Still, the historic investments in childcare "provided a glimpse of what is possible with significant federal funding for child care and must be maintained," according to a sweeping report from the Senate's Health, Education, Labor and Pensions Committee, chaired by Senators Patty Murray and Bernie Sanders, who warned that the expiration of funds could push the nation's child care system "closer to the brink of collapse."
One piece of legislation could avert a crisis. The Child Care Stabilization Act has support from Democratic members of Congress and the White House, but the bill faces dim prospects of passing a Republican-controlled House, where far-right members are struggling to fund basic government functions, let alone tackle large-scale investments in American society.
And with the end of the Covid-19 emergency, GOP lawmakers have resisted any return to pandemic-era spending.
The bill introduced by Senators Murray and Sanders with US Rep Katherine Clark "is an important step forward, and we applaud their leadership in driving Congress to provide the funds necessary to improve access to child care in this country," White House press secretary Karine Jean-Pierre said in a statement shared with The Independent.
"Families need a strong, stable and affordable child care system. Without it, we will jeopardise the gains that have brought the share of women in the workforce to a record high," she added.
Ask any family in America and you will hear about the pains of finding and sustaining safe and affordable child care in the US. Costs for both parents and providers are surging and in short supply, leaving care simply out of the question for many families.
The cost of childcare – which typically runs families more than $10,000 each year, on average, but is likely much higher in certain parts of the country – rose 6 per cent over the previous year, nearly double the rate of inflation, according to the US Department of Labor.
Childcare centres are also legally required to adhere to strict adult-to-child ratios, adding to high labour costs and keeping wages low. The hourly median wage for childcare providers is only $13.71, according to the US Bureau of Labor Statistics.
Absent federal aid or other tax relief for families with children, those costs are likely to keep creeping up. The Century Foundation's report found that 43 per cent of childcare centres and 37 per cent of home-based providers expected to have to raise their rates once pandemic-era federal funding expires.
The report found that 34 per cent of childcare programmes would have closed during the pandemic without federal aid.
Those billions of dollars in pandemic-era aid not only kept US child care afloat, they allowed the industry to both recover and grow, according to a 2023 report from Child Care Aware of America.
One provider in Texas said the stabilisation grants were a "miracle" that helped hire more employees and increase wages. Another in Los Angeles that serves lower-income families that qualify for state subsidies is at risk of closure without federal aid.
And in New York, where state and local officials have pumped tens of millions of dollars into childcare services, analysts and workers have pointed to stubbornly low wages that put them at risk without federal support.
"Childcare businesses are going to be in a terrible position of having to either raise the rates that parents are paying for childcare even higher, making it even more out of reach for families; or reduce the wages of their childcare teachers, meaning that more childcare teachers are likely to leave the field," the organisation's CEO Susan Perry told Mother Jones. "If teachers aren't in classrooms, then classrooms can't be open."
Head Start is a free, federally funded early childhood development programme offered to infants, toddlers and preschoolers from low-income households.
It also supports children in foster care, children who face housing instability, and children with physical and developmental delays, among other needs.
"No matter the length, a federal shutdown has the potential to unleash a wave of uncertainty and hardship on the children and their families who depend on Early Head Start and Head Start as well as further decimate the workforce that cares for them," according to National Head Start Association executive director Yasmina Vinci.
"The looming threat of a shutdown pushes programs to the edge, forcing families who rely on Head Start for their children's learning and care of the children so they can work and/or go to school into a difficult position," she added.
If a shutdown drags on for days or weeks, the likelihood of classroom closures could "increase drastically," she said.
"All the while Congress has the ability to pass a simple, straightforward, bipartisan continuing resolution to enable further debate without harm to children and families," according to Ms Vinci.
One in five women reported that children in their household were unable to attend childcare because their programmes or centres were "closed, unavailable, unaffordable, or because they were concerned about their child's safety," according to a National Women's Law Center analysis of US Census Bureau survey results among households with children under 12 years old.
Those figures were more acute among Black women and disabled women, who were nearly two times more likely than white men to report that their children could not attend care, the report found.
Disabled women were also two times more likely to report that their children could not attend care compared to nondisabled white men, according to the report.
"This data further underscores that women, and particularly women of color, will bear the brunt of the economic impacts as child care programs close or raise their rates after critical federal funding expires at the end of the month," according to Melissa Boteach, vice president of income security and child care/early learning for the National Women's Law Center.
"This funding has been essential to pay childcare educators and keep care affordable for families," she added. "Congress must prevent this looming economic crisis by passing $16 billion a year in emergency child care funding, which will help keep the child care sector afloat."
Some states already are seeing the effects of those diminishing federal funds. In June, Wisconsin's GOP-controlled state legislatures reduced federal stabilization grants from $20m a month to $10m. Roughly 86 per cent of programme directors and owners are now considering raising fees, 47 per cent of early educators are considering leaving the field, and 32 per cent of programmes are considering closing altogether, according to the Wisconsin Early Childhood Association.
Governor Tony Evers urged state lawmakers back to the capitol for a special session to prevent the "looming collapse" of the state's child care services, which they rejected.
A letter from 1,000 national childcare organisations urged members of Congress to pass legislation protecting funding for child care "to avert a devastating decrease in the supply of care that would disrupt both families and our economy."
"There was a child care crisis even before the pandemic – and failing to extend these critical investments from the American Rescue Plan will push child care even further out of reach for millions of families and jeopardize our strong economic recovery," Senator Murray said in a statement announcing the legislation.
"This is an urgent economic priority at every level: child care is what allows parents to go to work, businesses to hire workers, and it's an investment in our kids' futures," she added.
Join our commenting forum
Join thought-provoking conversations, follow other Independent readers and see their replies