Biden news: Former VP talks about losing son Beau with 9/11 families and arm bumps Pence after rearranging schedule to sidestep Trump
Follow the latest updates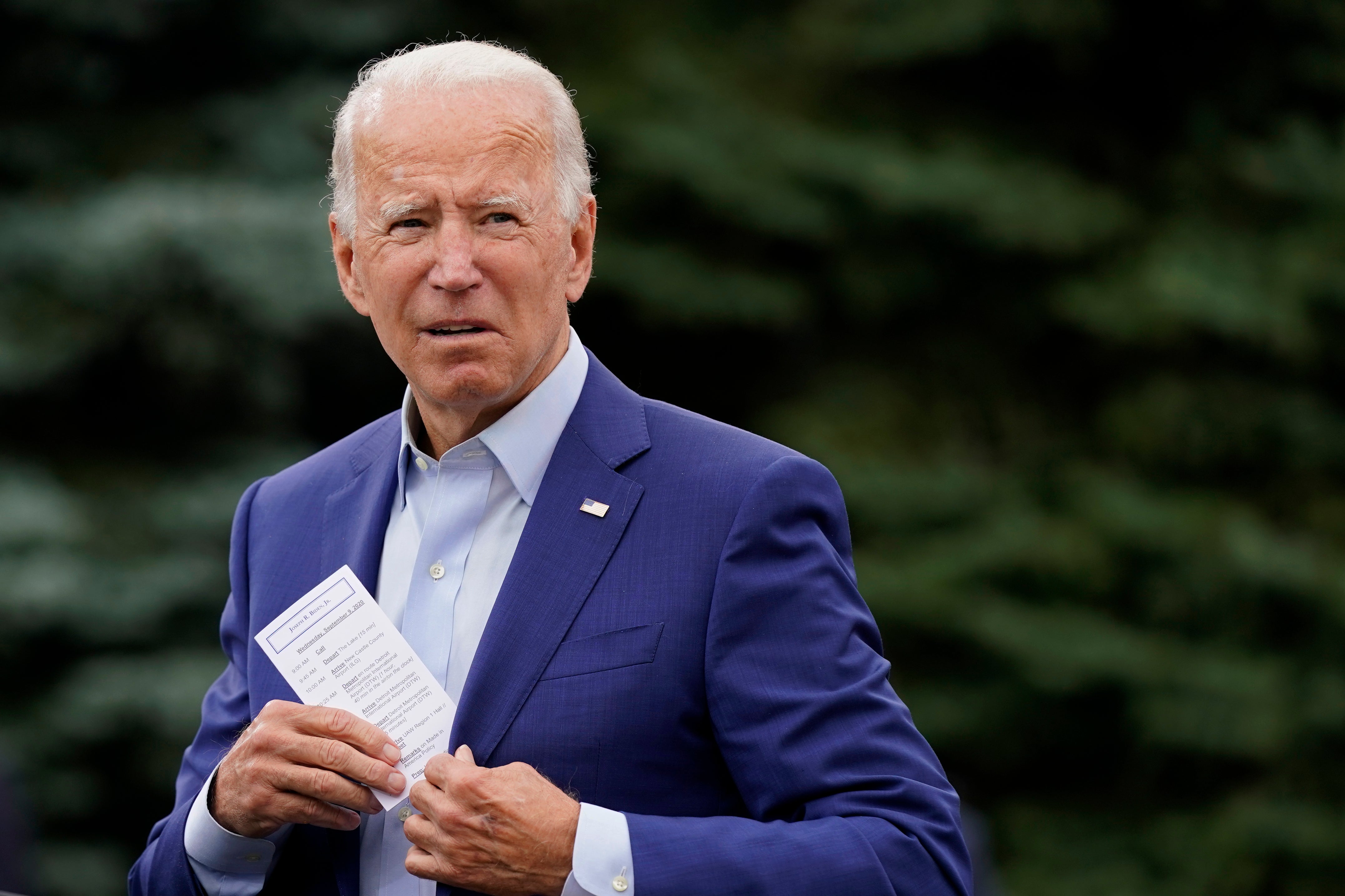 Joe Biden spoke about losing his son Beau as the Democratic presidential nominee met families of 9/11 victims on Friday morning. "You know, I lost mine," he said as was handed a photo a 9/11 victim. "[He] never goes away".
The venom of the presidential campaign was briefly paused for the anniversary of the terror attacks, with Mr Biden and Vice President Mike Pence bumping elbows at memorial services in Shanksville.  
The ceasefire didn't last long. Following the service, the VP delivered beers to volunteer firefighters in the town as allegations from Donald Trump resurfaced online claiming Mr Biden took drugs during his Democratic primary debates against Bernie Sanders.
The president has suggested his opponent get drug tests, prompting Mr Biden to hope he doesn't "get baited" by Trump during the upcoming presidential debates.
A Democrat running against Qanon supporter Marjorie Taylor Greene, meanwhile, suddenly dropped out of the Georgia race for "personal reasons". Kevin Van Ausdal said he was deeply saddened, but didn't go into depth as to why beyond "personal and family reasons".
Please allow a moment for our liveblog to load. 
1599856621
Democrats want trillions. Republican offer billions.
And we'd just be happy with one of those six packs of beer Biden was handing out earlier today.
After the Senate killed the Republican's $300 billion coronavirus relief package, Trump today lamented the Democrats call for $2.2 trillion.
Untangle this latest pretzel from the president.
Justin Vallejo
11 September 2020 21:37
1599855332
FURTHER READING: Trump baselessly accuses Biden of using performance enhancing drugs in primary debates
The Independent's Richard Hall goes deeper into Donald Trump's claims that Joe Biden used drugs during the Democratic debate with Bernie Sanders.
It is the second time in a month the president has made the claim, without providing any evidence 
Justin Vallejo
11 September 2020 21:15
1599852266
BREAKING: Democrat running against QAnon supporter Marjorie Taylor Greene suddenly drops out of Georgia race for 'personal reasons'
Democratic candidate Kevin Van Ausdal, who was running against QAnon supporter Marjorie Taylor Greene, has announced he would be dropping out of the Georgia congressional race due to "personal reasons".  
"I am resigning from my race against Marjorie Taylor Greene," Mr Van Ausdal said in a statement on Friday. "I am deeply saddened by the personal and family reasons that prevent me from continuing on as a candidate for Georgia's 14th Congressional District." 
Follow the story as it unfolds.
The latest breaking news, comment and features from The Independent.
Justin Vallejo
11 September 2020 20:24
1599851028
Biden delivers a sixer of beers to 9/11 memorial
Volunteers at a fire station in Pennsylvania would rather have a beer with Joe Biden.
"I keep my promises," Biden said handing over a six-pack to firefighters.
Their choice of who to have a beer with is clear… choice of beer notwithstanding. We would have recommended figuratively any beer other than Bud Light. Anything other than Fosters. Outside that, however, literally any other beer than Bud Light.
Justin Vallejo
11 September 2020 20:03
1599848732
Trump's allegations of Biden drug use doing the rounds on Twitter
Donald Trump repeated his allegation that Joe Biden used performance enhancing drugs during the Democratic primary debates.
"There's probably, possibly drugs involved, that's what I hear. I don't know how you can go from being so bad where you can't even get out a sentence, I mean you saw some of those debates with the large number of people on the stage, he was, I used to say how is it possible that he can even go forward," he said.
Trump made the comments on Fox News on Thursday, but they began to circulate on Friday after Vox journalist Aaron Rupar made one of his signature clips of the president's most bombastic statements.
This vector of attack dates back to mid(ish)-August when the president began calling for drug tests ahead of the presidential debates.
In an Oval Office interview with Washington Examiner, Trump said there was "no way" the improvement in Biden's performances during the primaries could have been natural.
"Frankly, his best performance was against Bernie. We're going to call for a drug test, by the way, because his best performance was against Bernie. It wasn't that he was Winston Churchill because he wasn't, but it was a normal, boring debate. You know, nothing amazing happened. And we are going to call for a drug test because there's no way — you can't do that," Trum said.
He continued that Biden was "close to incompetent" during the debates but was normal against Sanders.
"He didn't know where he was. And all of a sudden, he was not good, he was normal, and I don't understand how. I don't know if there is or not, but somebody said to me, 'He must be on drugs.' I don't know if that's true or not, but I'm asking for a drug test. Both candidates. Me, too. I take an aspirin a day."
The Trump campaign was quick to amplify the suggestion, posting a poll on Twitter that currently has 86 per cent of people saying Biden should take a drug test before debating Trump. Trump. 
Justin Vallejo
11 September 2020 19:25
1599848672
Chuck Taylors are the new pants suit
For Indy/Life, Chelsea Ritschel walks a mile, from a Milwaukee campaign stop to the viral response, in Kamala Harris's shoes.
Democratic vice presidential nominee says she has 'whole collection of Chuck Taylors'
Justin Vallejo
11 September 2020 19:24
1599847172
Trump, struggling to define Biden, steps up Harris attacks
Donald Trump barely mentioned Tim Kaine when he was the Democratic vice presidential nominee in 2016. But four years later, the president has plenty to say about Kamala Harris.
Trump said this week that "nobody likes" Harris, feeding into a standard of likability that is applied to women in leadership far more often than men. He told voters in North Carolina it would be "an insult to our country" if Harris became the first female president. And Trump and his allies repeatedly mispronounce Harris' first name, a pattern her supporters say amounts to a deliberate effort to portray the daughter of immigrants as someone who does not belong at the top ranks of politics.
Trump is focusing on Harris as he has sometimes struggled to land on a consistent, coherent attack against Biden, who has built a reputation as a bipartisan deal maker rather than a progressive ideologue. And the racism and sexism underlying Trump's critique of the first Black woman and person of Asian descent on a major party ticket are part of an aggressive strategy to appeal to white suburban voters.
For her part, Harris has been sharp in her criticism of Trump, but has largely limited her comments to the president's job performance. Campaigning in Miami on Thursday, she called Trump "reckless" for downplaying the potential toll of the coronavirus while privately describing it as "deadly stuff."
Tim Murtaugh, communications director for the Trump campaign, made clear that Biden, not Harris, would remain their main focus. But he leaned into the argument that Harris was one of the radical forces now steering the nominee.
"Kamala Harris and her voting record helps make the case against Joe Biden," Murtaugh said.
The strategy could be risky for Trump. Black voters already overwhelmingly support Biden and sustained criticism of Harris could fuel their enthusiasm to show up in November, potentially swaying the election in states such as North Carolina, Florida, Pennsylvania and Michigan. A Harris spokeswoman declined to comment on Trump's latest attacks.
It's also unusual for an incumbent president to attack their opponent's running mate. Doing so would typically be seen as punching down.
"You know who's further left than Crazy Bernie? Kamala. Kamala. Kamala," Trump said, mispronouncing and stretching out each syllable of her name each time he said it in North Carolina.
Justin Vallejo
11 September 2020 18:59
1599845767
Biden releases official statement on 9/11
"Nineteen years ago, our nation was tested by an unspeakable act of cowardice and hate. Nearly 3,000 lives were cut short: a once-unthinkable toll which tore open the hearts of Americans in every corner of the country," he said.
Justin Vallejo
11 September 2020 18:36
1599843932
POLARIZED: Why this New Hampshire independent voter is supporting a third party candidate — again
Penguinpyro wouldn't describe himself as an "avid" gamer. He says "obsessive" is a better description.
In this day and age where video gamers have built communities and developed major followings on live streaming platforms, Penguinpyro is the "streamer" persona for Adam W, an independent voter in New Hampshire who spoke to The Independent's Chris Riotta about his top concerns and priorities ahead of the November election. 
'I would rather 'waste my vote', as many would say, than pretend I support someone else'
Justin Vallejo
11 September 2020 18:05
1599842477
Biden was for Trump's travel ban from China from the start, spokesperson says
The Biden campaign's press secretary TJ Ducklo appeared on Fox News last night to say Joe Biden backed the president's travel ban from China in the early days of the coronavirus pandemic.
"Well, let's get a few things straight, the vice president was not against the travel ban, first of all," Mr Ducklo said.
When host Bret Bair asked for clarification that Biden was for closing travel from China, Mr Ducklo responded: "Joe Biden has been clear, and I can send you the fact-checks, if they're helpful, Bret, Joe Biden has been clear that he was not against that travel ban at the time."
Bret Baier presses TJ Ducklo, national press secretary for the Biden campaign, on whether Joe Biden supported the travel ban on China and if the candidate re...
The Trump campaign has harped on about Biden's response to Trump's China travel ban, saying he called it "hysterical xenophobia".
There is a war of semantics between the two campaigns on this.  
Biden didn't directly call the travel ban itself xenophobic, but did call Trump's response to the virus hysterical xenophobia. Given that Trump's response included that travel ban, it's unclear which part of Trump's coronavirus response is considered to be xenophobic and which part Biden clearly supported at the time.
That same day, Biden was at a campaign stop in Iowa, where he said this:  
"The American people need to have a president who they can trust what he says about it [coronavirus], that he's going to act rationally about it. In moments like this, this is where credibility of a president is most needed as he explains what we should and should not do. This is no time for Donald Trump's record of hysteria and xenophobia - hysterical xenophobia - and fearmongering to lead the way instead of science."
The Trump War Room has, of course, preserved the clip of this:
Joe Biden opposed the China travel restrictions wisely put in place by President Trump in January – restrictions that health experts credit with slowing the ...
The next day, on 1 February, Biden repeated the sentiment with the tweet: "We need to lead the way with science — not Donald Trump's record of hysteria, xenophobia, and fear-mongering".
On 12 March, Biden said  after the World Health Organisation declared Covid-19 a pandemic that "downplaying it, being overly dismissive or spreading misinformation is only going to hurt us and further advantage the spread of the disease".
"But neither should we panic or fall back on xenophobia, labelling Covid-19 a foreign virus does not displace accountability for the misjudgment that have been taken thus far by the Trump administration," he said.
Democratic presidential candidate Joe Biden on Thursday called for a sweeping national response to the coronavirus outbreak and chided President Donald Trump...
None of these instances were directed clearly at the travel ban. However, on 18 March, Biden repeated his message in direct response to a Trump tweet explicitly about the travel ban. Which is, again, ambiguous.  
"Stop the xenophobic fear-mongering. Be honest. Take responsibility. Do your job."
So as a fact check on whether Biden called the China travel ban "xenophobic", or if he did or did not support the China travel ban from the start, this would be rated as either/or mostly true and/or mostly false. 
Whichever side of that fence that falls on is a matter for Jedi mind trick: Both or neither could be true, from a certain point of view.
Justin Vallejo
11 September 2020 17:41
Join our commenting forum
Join thought-provoking conversations, follow other Independent readers and see their replies