White House unveils $105bn budget request for Israel and Ukraine aid
White House budget director warns Congress members: 'The world is watching'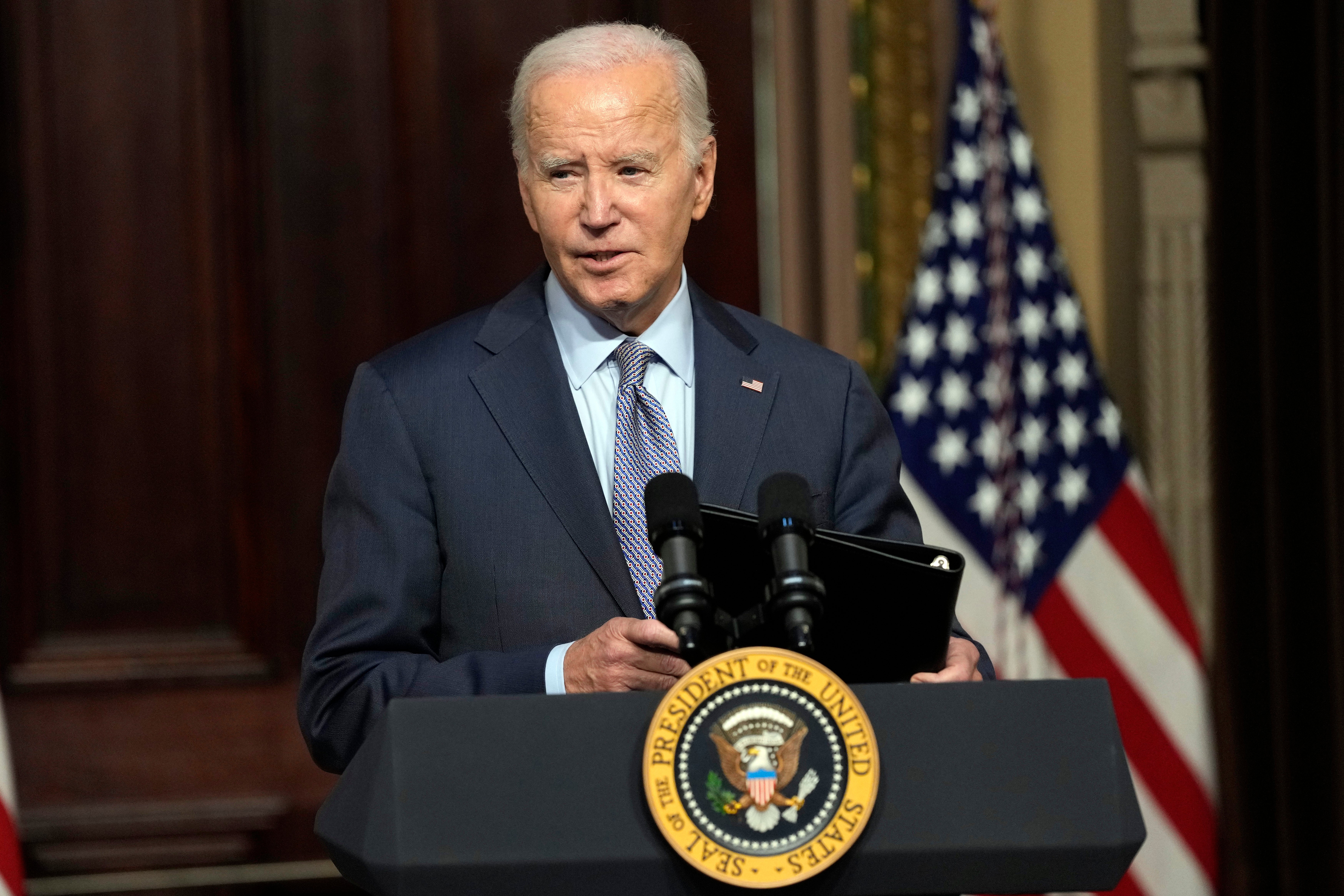 The White House has formally asked Congress to approve more than $105 billion in supplemental funding for defence aid to Ukraine and Israel as well as security along the US-Mexico border, citing the urgency of addressing security needs for the close American allies.
In a letter to House Speaker Pro Tempore Patrick McHenry, Office of Management and Budget Director Shalanda Young urged action on President Joe Biden's request.
"The world is watching and the American people rightly expect their leaders to come together and deliver on these priorities. ... I urge Congress to address them as part of a comprehensive, bipartisan agreement in the weeks ahead," she wrote.
The supplemental funding package was alluded to in an Oval Office address by Mr Biden late Thursday and comes just days after the president made a wartime visit to Israel for meetings with Prime Minister Benjamin Netanyahu and his war cabinet.
The president's decision to pair funding for Israel with more funds for Ukraine's defence against Russia — along with Mexico border security funding, refugee assistance and other hot-button programmes — is a bet that lawmakers won't risk the political fallout that could come from opposing a bill to fund Israel while it is at war with the militant group Hamas.
Yet it's not clear whether Congress is capable of enacting legislation as the House of Representatives still lacks a speaker following the ouster of Representative Kevin McCarthy after he allowed the government to remain open by letting the stopgap funding bill pass the House last month.
That legislation expires in less than a month, and until the House elects a new speaker it cannot take up legislation to fund the federal government or to fund defence aid for Ukraine and Israel.
Ms Young, the White House budget director, told reporters on Friday that the Biden administration "looks forward to continued engagement with members of both parties to reach a comprehensive bipartisan agreement to fund the government and invest in critical national priorities."
She added that the supplemental request "reflects how under President Biden's leadership, the US has rallied the world building a coalition of more than 50 countries to respond to Putin's brutal invasion of Ukraine."
"And now we are coming to the aid of our ally Israel," she said.
Continuing, Ms Young said the president's proposal would "expand production lines, strengthen the American economy, keep us safe and create new American jobs" with more than $50 billion allocated for "ensuring our military continues to be the most ready, capable and best equipped fighting force the world has ever seen."
She added that the budget request would also address "global humanitarian impacts" of both the Israel-Gaza conflict and Russia's war on Ukraine, as well as provide resources to compete with China by funding global development and to bolster border security with "an additional 1,300 Border Patrol agents, 375 immigration judge teams, and 1,600 asylum officers" and "over 100 cutting edge detection machines to help detect fentanyl at our Southwest border."
Ms Young also noted that the GOP-led House had previously refused to act on a $4 billion request the administration made for border security funding in August, even while Republicans have railed against the administration for what they describe as allowing an open border between the US and Mexico.
"We will not be lectured by those who refuse to act," she said. "As we said repeatedly, Congress needs to take action to provide sufficient resources for the border."
Join our commenting forum
Join thought-provoking conversations, follow other Independent readers and see their replies