'Messy, chaos, s***': Nearly two thirds of Americans are 'exhausted' by politics
At a time of increasing political polarisation, 55 per cent of Americans say they are angry with the US political system
Mike Pence makes NFL analogy when asked about poll deficit to Donald Trump
The US still has more than a year to go before the 2024 presidential election, but more than half of Americans say they're already exhausted and angry when thinking about the nation's politics.
In a comprehensive study of 8,480 adults, the Pew Research Center found that a majority of Americans have little confidence in the current or future US political system and have mostly negative things to say about US politics.
When asked to describe the US political system in one word, respondents gave suggestions like "Chaos", "Divisive", "Corrupt", "Messy", "S***" and "Disgusting".
The grim feeling toward US politics has no bounds – across all political parties and branches of government, the public is deeply unhappy.
Although Pew's study did not find a "single focal point for the public's dissatisfaction", several common themes seemed to be the increasingly polarising environment, the role of money in politics, the two-party system and indelible political positions.
Pew's study found that, overwhelmingly, Americans believe Republicans and Democrats are more focused on fighting each other than solving problems.
The sentiment seems relevant as it reflects current issues – Congress being unable to find common ground to avoid a government shutdown and ex-president Donald Trump pointing the finger at Democrats for his legal woes.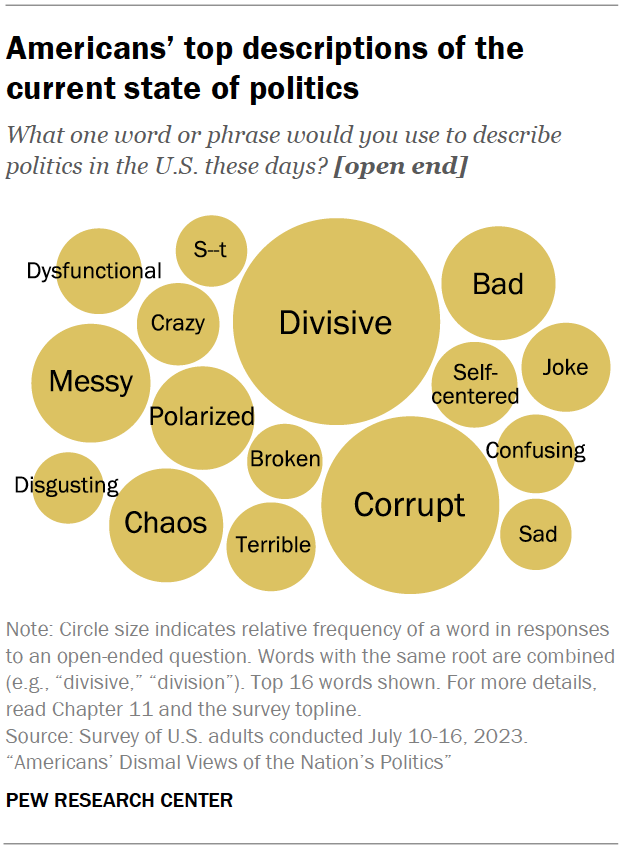 Lack of bipartisanship has led to the largest percentage of Americans expressing unfavorable views toward both parties in three decades worth of polling at 28 per cent.
Constant bickering between political rivals – whether about what they're wearing on the Senate floor or who can bring up legislation first – may be contributing to Americans' negative viewpoints of the political system.
It also may be why 63 per cent of Americans are itching for different candidates to enter the mix.
Looking to the 2024 presidential election, US voters want more choices. More than half are "dissatisfied" with the candidate options.
Often, the candidates seeking prominent positions of power like governor, senator or president are known politicians with years of experience.
The average term in office for a senator was 11 years while the average for a representative was eight years. In the Senate, the average age was  65 years old – much older than the average American. Approximately 87 per cent of Pew's respondents favour term limits in Congress, across party lines.
Similarly, aging politicians are a sore sport for many US voters who have called on the government to enact age limits. Pew found that 79 per cent of respondents favour a maximum age for elected officials. About 74 per cent believe the Supreme Court should have age limits as well.
While the general outlook seems to skew negatively, there is some hope.
Slightly more than half (57 per cent) of Americans believe voting can help change the US's future.
Join our commenting forum
Join thought-provoking conversations, follow other Independent readers and see their replies