American voters just sent a clear message on abortion. The impact could be global
Abortion rights were on the ballot in Ohio and Virginia during the US's off-year elections on Tuesday. Pro-choice campaigners tell Maya Oppenheim that the 'wins are positive overtures that we can take heart from'
Wednesday 08 November 2023 15:43 EST
Comments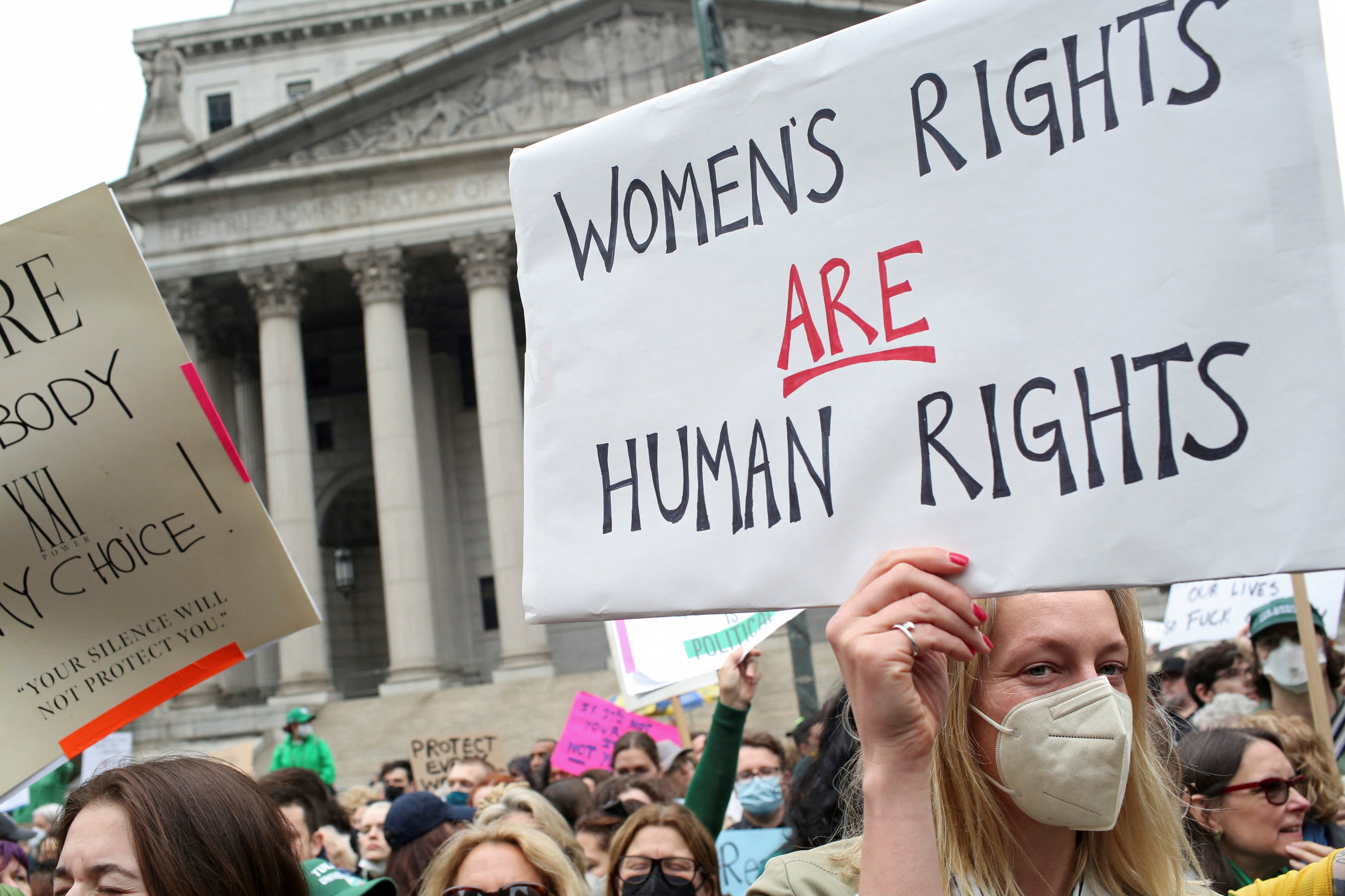 The world was left reeling in June last year when millions of women across America lost their legal right to an abortion.
And since that fateful day that the US Supreme Court overturnedRoe v Wade– the landmark decision that legalised abortion nationwide in 1973 – the landscape for reproductive rights has changed beyond recognition.
Some 21 states have either enacted abortion bans or restrictions earlier in pregnancy than the benchmark that Roe established – many of them also barring exceptions in the case of rape or incest.
As a result, tens of thousands of women are estimated to have been forced to endure the rigmarole of travelling to a different state to access an abortion.
Meanwhile, across the Atlantic, campaigners have voiced fears that the war being waged on reproductive rights in America has also emboldened anti-abortion activists in the UK. In the immediate aftermath of the US Supreme Court decision, campaigners and academics told The Independent that US funding received by UK anti-abortion groups was likely to "ramp up" in light of Roe's dismantling.
But in the US, pro-choice lawyers, campaigners and politicians have fervently and ferociously fought abortion bans.
And, on Tuesday night, they secured a major win for anyone who believes women and people with wombs should have the right to choose.
Off-year elections took place across America, with abortion rights on the ballot in several key battleground states.
In Ohio, voters overwhelmingly opted to enshrine the right to reproductive choice, including safeguards for abortions, into the state constitution.
Over 400 miles away in Virginia, Democrats held on to control of the state Senate and then seized back power of the lower House of Delegates. The party's win in the lower chamber is now likely to destroy Republican Governor Glenn Youngkin's plans for a 15-week abortion ban which had sparked outrage among pro-choice supporters. Now, Virginia is the only state left in the south of the country which does not gravely curb pregnancy terminations.
Clare Murphy, chief executive of the British Pregnancy Advisory Service, a leading UK abortion provider, told The Independent that the "decisive victories for abortion rights" in Ohio and Virginia "send a clear signal that the fight for reproductive choice will dominate" political discourse.
"It's a fight that will continue across both sides of the Atlantic, as women continue to face prosecution in the UK for ending a pregnancy," she added. "As police investigations and prosecutions rise at an alarming rate, no woman should face prison for ending a pregnancy in the UK."
Ms Murphy called for politicians in both the US and the UK "to act now to ensure safe, swift abortion care is provided to any woman" whom requires it "without fear" of the consequences.
"Around seven in ten Americans are in favour of abortions being legal in the first three months of pregnancy," Kerry Abel, chair of Abortion Rights, a UK campaign group, said, adding that Tuesday's votes were "wins".
"Anti-choice votes are out of step with the public. The wins are positive overtures that we can take heart from. Roe v Wade has emboldened the anti-choice activists here in the UK and we will campaign against any rollback to abortion rights in the UK," she said.
The data is unambiguous: banning abortions does not stop them. On the contrary, it drives women to have dangerous, clandestine, backstreet abortions.
After all, abortion rates are similar in nations where pregnancy terminations are restricted to those in countries where they are legal. Abortion is a life and death issue. Doctors Without Borders estimates seven million women and girls are either injured or disabled every year as a result of dangerous abortions.
Meanwhile, 29,000 women and girls die as a consequence of unsafe abortions each year.
While the news in Virginia and Ohio will buoy and hearten many in the US, it is important not to forget that around four in 10 women of reproductive age are living in a place in the world where abortion remains either illegal or restricted.
Join our commenting forum
Join thought-provoking conversations, follow other Independent readers and see their replies