Utah man arrested for posing as doctor and selling fake Covid cure after three years on the run
He falsely claimed that his silver drug 'can isolate and eliminate the virus'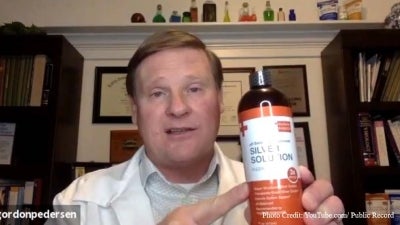 A man in Utah has been arrested after allegedly posing as a doctor and making at least $2m by selling a fake cure for Covid-19.
He evaded arrest for almost three years.
Gordon Hunter Pedersen, 63, who lives in Cedar Hills, Utah, was arrested last week on Wednesday after he was charged in 2020 with seven felonies, including mail and wire fraud, selling of misbranded drugs with intent to defraud and mislead, the US attorney's office in the state said on Monday.
He allegedly sold a "structural alkaline silver" online and claimed that the drug "resonates or vibrates at a frequency that destroys the membrane of the (COVID-19) virus, making the virus incapable" of infecting humans, court documents said.
He posed to his customers as an "anti-ageing medical doctor" with PhD degrees in immunology and naturopathic medicine, it said.
A warrant for Mr Padersen was issued in August 2020 when he failed to appear in a court for the indictment, leading to a three-year manhunt.
The arrest in the case comes a month after he was spotted on surveillance camera footage at a gas station around 40 miles south of Salt Lake City.
Mr Padersen promoted his fake cure through YouTube videos, Facebook posts, podcasts and websites, wearing a white lab coat with "Dr" monogrammed on it.
"There is no drug that man has made that can do the same," he said in his podcast interview in March 2020.
"If you have the silver in you, when the virus arrives, the silver can isolate and eliminate the virus," he added.
He maintained that his silver product can destroy Covid-19 virus in an interview with federal agents but acknowledged that his credentials were exaggerated.
He had been promoting a cure for diseases such as arthritis, diabetes and pneumonia, since 2014.
But he substantially profited between January and April 2020 when he made approximately $2m in sales from the company he co-owned, My Doctor Suggests, according to court records.
The US District Court for Utah filed a restraining order against Mr Pedersen to stop him from selling the products by labelling them cure-alls, the Justice Department said at that time.
Following three years of evading authorities, Mr Pedersen was identified by a Food and Drug Administration special agent on 5 July, while he was in a vehicle registered under his wife's name, Julia Currey, according to prosecutors.
The agent tracked the vehicle to a gas station, where Mr Pedersen was captured on a surveillance camera, as stated by prosecutors.
His indictment was part of a task force created by attorney general Merric Garland in 2021 to prosecute businesses and entities that tried to "profit unlawfully from the pandemic.
His lawyer is yet to comment on the development.