Mother of 'Soldiers of Christ' cult members also charged with murder of woman found in car trunk
Mihee Lee, 54, was charged with felony murder false imprisonment, concealing the death of another, tampering with evidence, and false statements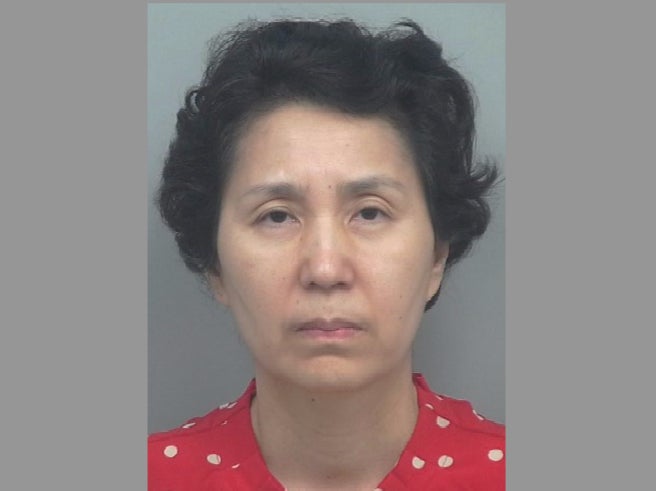 The mother of three "Soldiers of Christ" members, who were arrested in Duluth, Georgia after a decomposed body was found in the trunk of a car, has also been charged with murder.
Mihee Lee, 54, was arrested on 11 October and charged with felony murder, false imprisonment, concealing the death of another, tampering with evidence, and false statements, police said. Ms Lee was charged in connection to the death of a South Korean woman, who has been identified by police as 33-year-old Seehe Cho.
Cho's remains were found in the trunk of a car outside of Jeju Sauna, a Korean spa, in Duluth in September.
Ms Lee's arrest comes one month after a group of five adults and one minor was arrested following Cho's death. Upon their arrest, they described themselves to police as "belonging to Soldiers of Christ." Little is known about the "Soldiers of Christ," but Gwinnett County Police have been referring to the cult-like group as a "religious organization."
Ms Lee is the mother of Juoonhyum Lee, 22, Joonho Lee, 26, and the 15-year-old suspect, who were all arrested on 14 September. That same day, Eric Hyun, 26, Hyunji Lee, 25, and Gawon Lee, 26 were also arrested and charged with murder, among other charges, in connection with Cho's death.
One day later, police announced that the five adults and one minor were also facing multiple criminal street gang charges. The 15 September police news release said: "Georgia law describes Criminal Street Gang as, 'any organization, association, or group of three or more persons associated in fact, whether formal or informal, which engages in criminal gang activity.'"
Cho weighed a mere 70 pounds when she died, police said, and said evidence suggested that she had been starved and beaten for weeks. After the initial round of arrests last month, Gwinnett County Police Sgt Michele Pihera told NewsNation: "We believe that most of these injuries, and most of what she went through, was a result of the initiation into the Soldiers of Christ."
She added that police believed the victim had traveled to the United States in mid-June in order to join a "religious organisation."
"We don't know how far-reaching this organisation is," she added. "It's very possible that it was only taking place in the home in Lawrenceville."
Although little is known about the organisation, Mr Hyun's lawyer told CNN that he believes the 26-year-old was also a victim of the "Lee family and their religious extremism." He said that Mr Hyun and Cho were attempting to leave the group, and had he not tried to flee, "he would have also died."
Mr Hyun was previously in the hospital with injuries — it's not clear if those injuries were related to the alleged torture his client faced. "Eric can barely walk," his attorney told the outlet.
Mr Hyun's trip to the hospital is actually what led to the discovery of the decomposed body.
Investigators had said that the 26-year-old parked a silver Jaguar sedan outside of Jeju Sauna on 12 September before calling a family member to pick him up.
That family member then drove the 26-year-old to an Atlanta area hospital "due to unrelated injuries."
While he was in the hospital, Mr Hyun asked his relative to retrieve something for him from the car; that's when the family member noticed "what appeared to be a deceased body in the trunk," prompting the relative to call 911. This 911 report launched an investigation.