A college dean working on a cure for cancer was killed while hiking. Her former students say her legacy is bigger than her death
Honoree Fleming was found dead on a rail trail about a mile from campus
Friday 13 October 2023 19:51 EDT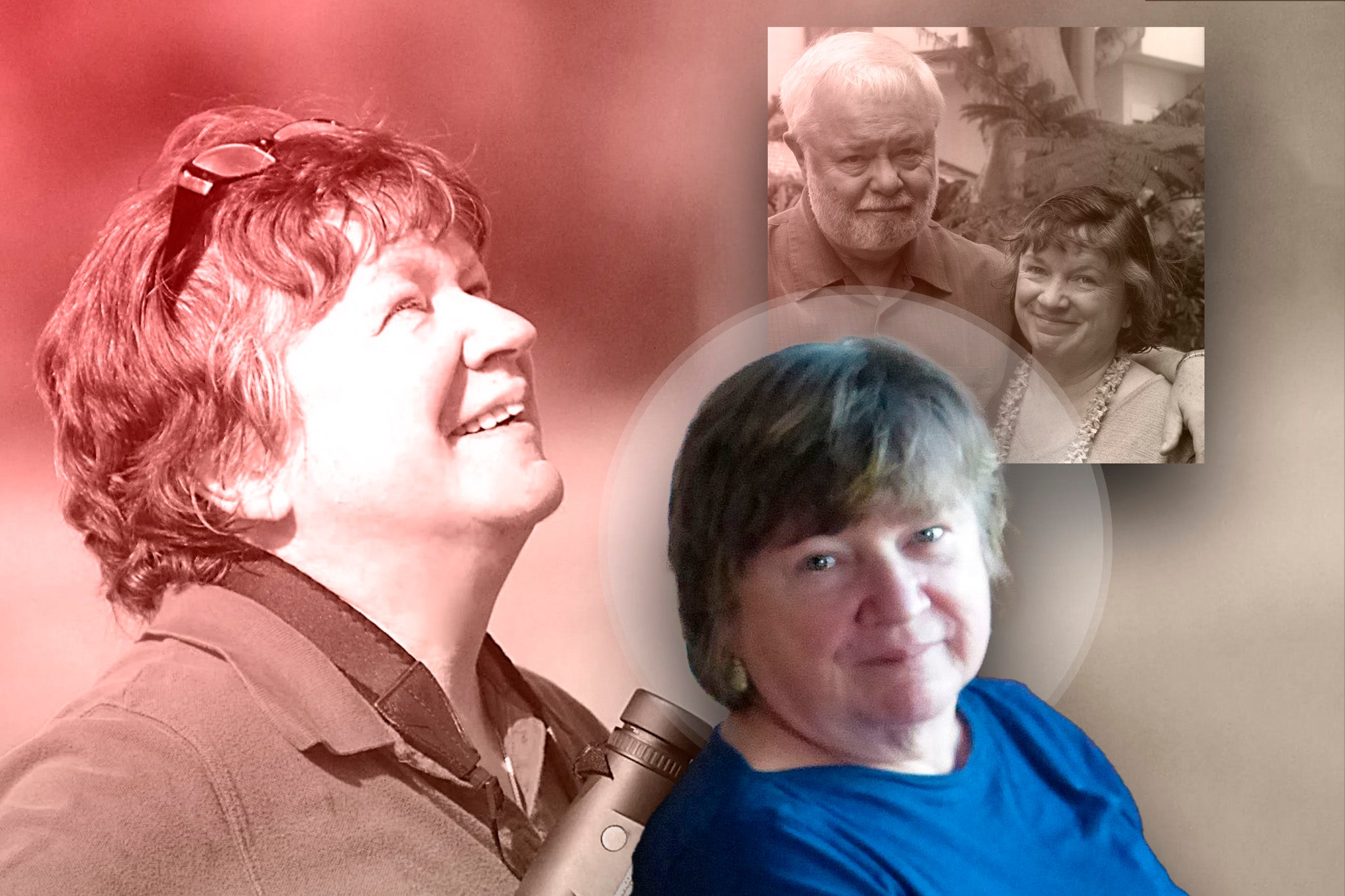 A former college dean who dedicated years of her life to researching a cure for cancer was gunned down on a walking trail near campus last week and her killer is still on the loose, leaving a Vermont town on edge.
Those who knew Honoree Fleming, and even some who did not, were left shocked and heartbroken by her tragic passing, evident by the hundreds of tributes on social media.
The retired Castleton dean of education, 77, was found dead on 5 October on a rail trail about a mile from campus, police said. She had been shot in the head and her death was ruled a homicide.
Fleming's brutal murder made headlines across the country, and police released a sketch of a man wanted for questioning after witnesses described someone acting odd on the trail that day.
Few details have been released about the killing, but many who knew Fleming have instead decided to share their favourite moments of her and how the accomplished scientist impacted their lives.
"She should be remembered not by the way she died, but for the beautiful person she was and the legacy she leaves behind," Linda Coulombe, a former student of Fleming's, told The Independent.
"She should be remembered for her multitudes of accomplishments and the lives she touched along the way."
Ms Coulombe is an alumna of Trinity College, where Fleming worked prior to becoming the dean of education at Castleton State College, which is now known as Vermont State University Castleton Campus.
"I had the privilege of being touched by her professional kindness which altered my life," she said. "She molded me into the woman I am today. I just wish she knew that – I wish she knew the impact she had on so many women."
Ms Coulombe explained that she was one of the many underprivileged students Fleming took under her wing and mentored. She was a first-generation college student and would later become the first lawyer in her family.
"She was kind and patient and empathic and I carry that with me," Ms Coulombe said. "I think the best way to honor her is to remember how she treated others and to live like her. To ask how would Honoree act?"
The former student said she believes the beloved dean might have even been sympathetic to her killer.
"She did not deserve to die like this, her family did not deserve this," she said. "But you know, I bet she would have been empathetic to whoever did this. She would forgive him. That's just the kind of person she was."
Joe Mark, a former academic dean at Castleton told local Vermont paper, the VTDigger that Fleming had a particular interest in supporting students who weren't given a lot of privilege in life, like Ms Coulombe. He hired Fleming as an associate academic dean in 2002.
"Her intelligence coupled with her empathy and caring were sort of what made her remarkable," he said.
Fleming's empathy played a big role in Ms Coulombe's life and shaped her years following college. She recalled struggling with what she now knows was imposter syndrome and how Fleming built her up as she sat in her office crying.
She went on to graduate with her degree in sciences in 2000 and worked in the field for years before a career change led her to becoming a lawyer.
"Looking back, she played a part in that," she said. "I would not be where I am now if it were not for her. She really was a role model for so many women over the years."
Anne Slonaker, a Castleton professor who was hired by Fleming, told the VTDigger that Fleming served as a model to many first-generation college students and women who sometimes questioned whether they could establish a career in higher education.
"We talked about imposter syndrome in higher ed," Slonaker said. "But I think Honoree helped them to understand what they could do with their lives."
Susannah Gravel was another first-generation student who was mentored by Fleming at Castleton, and was left devastated by her murder.
"I went to her for help, and she immediately dropped what she was doing and took care of everything, saving me time, frustration, and money," Ms Gravel shared in a Facebook tribute to Fleming.
"She wasn't like any other administrative person I have ever met in my life. I am forever grateful that she was there and helped me get to where I am today. She was why I didn't leave Castleton and continued believing that going to college was the right choice. That's why I'm so heartbroken today to hear that this unnecessary death was hers. — feeling devastated."
Fleming grew up poor in New York City, the youngest of four children, and was raised by her mother who came from an impoverished family in Ireland, according to her husband Ron Powers' 2017 book No One Cares About Crazy People: The Chaos and Heartbreak of Mental Health in America. Her father had died of alcoholism.
Fleming and her siblings went on to earn degrees in higher education and in 1975, a year before meeting her husband, she earned a doctorate in biophysics from the University of Chicago, according to his book.
She married the Pulitzer Prize-winning and New York Times best-selling author Ron Powers, who co-authored Flags Of Our Fathers. He won the Pulitzer Prize in 1973 for criticism as a television-radio columnist for the Chicago Sun-Times.
The couple had two sons and moved to Vermont, where Fleming taught biochemistry at Middlebury College, and then to the now-defunct Trinity College in Burlington. In 2012, she retired as dean of education at what was then called Castleton State College.
Fleming was killed just a few days before they were to celebrate their 45th wedding anniversary.
"Those of you who knew her know that she was beautifully named. I have never known a more sterling heart and soul than hers. She has taken far more than half my own heart and soul with her," Powers wrote following the shocking news of her death.
Fleming started on the hike at around 4pm from the pavilion area at the college campus and was walking south towards Poultney, just a few miles from the New York state border.
Her husband later wrote that the rail trail was one of her favourite walks.
On Monday, before the sketch was released, Powers wrote that his grief counselor, who has been a liaison between him and the police, said the first people to come upon Honoree's body were two rail trail walkers, a middle-aged husband and wife.
"The woman ran for help. The man stayed with Honoree. She was clearly dead, but he stayed with her anyway. He knelt beside her and, I gather, tried to communicate to her that she was not alone," Powers wrote.
"I have not met this man, this couple. I don't know their names. The counselor believes that it would be unwise to meet them in these first few heartbreak-drenched days. But I will meet them. Dean and I will meet them. And we will say our thanks."
Fleming's death is not the only tragedy to strike the family.
In 2005, their son Kevin died by suicide after struggling with schizophrenia for three years. Their surviving son, Dean, was also diagnosed with schizophrenia and has been undergoing treatment, according to Powers' book.
He wrote on Facebook about how he missed his mother's home-cooked meals, her wise counsel, and her laughter. He also wrote about the sacrifices she made for the family, like driving the siblings to activities and buying recycled clothing to save money.
"I miss making her coffee. I miss how she always stocked egg nog or food or coffee or orange juice. I miss her delicious meals. I miss seeing her sitting on her bed with Maggie. I miss her guidance and counsel during this life changing event. I miss knowing that I could count on her to be my buddy at home. Every time I went to a music festival I would call mom every day to check in on her and the dogs. I love you mom thanks for your beautiful sunrise on your first morning in Heaven."
Powers did not respond to a request for an interview, but has continued to post on Facebook since her death, reminding the community of Fleming's "goodness and spiritual beauty and achievements in the world of science far exceed all the words I have written in my life."
On Tuesday, he recalled the time she spent after retiring "organizing her cell photographs and lab notes into papers" at their home in Castleton.
She "composed and finished her decades-long cycle of lab investigations at our kitchen table," Powers wrote. "I grew fondly accustomed to walking into the kitchen in the mornings (I was the late riser) to find Honoree in her red bathrobe, a neglected [cup] of coffee at her elbow, typing away."
Powers said Fleming had faced sexism throughout her career and that she was "a consummate and visionary 'lady scientist' in a world that still does not recognize the worth and achievements of lady scientists," he wrote.
After retiring from Castleton in 2012, Fleming returned to her work in cellular biology, which began when she was a research associate at New York City's Icahn School of Medicine at Mt Sinai in the 1980s.
"One of the first things she did was to dig out her research and begin working on it again," Joe Mark, the former academic dean at Castleton, said.
Earlier this year, just months before her murder, Fleming published an article on cell differentiation in the open-access journal Advances in Bioscience and Biotechnology.
"She was always a very dedicated scientist and always cared deeply about rigorous scientific research," he said.