Police release sketch of person of interest in murder of Vermont college dean killed on trail
Honoree Fleming, 77, a retired dean of education, was found dead Thursday on her favorite trail near the Vermont State University campus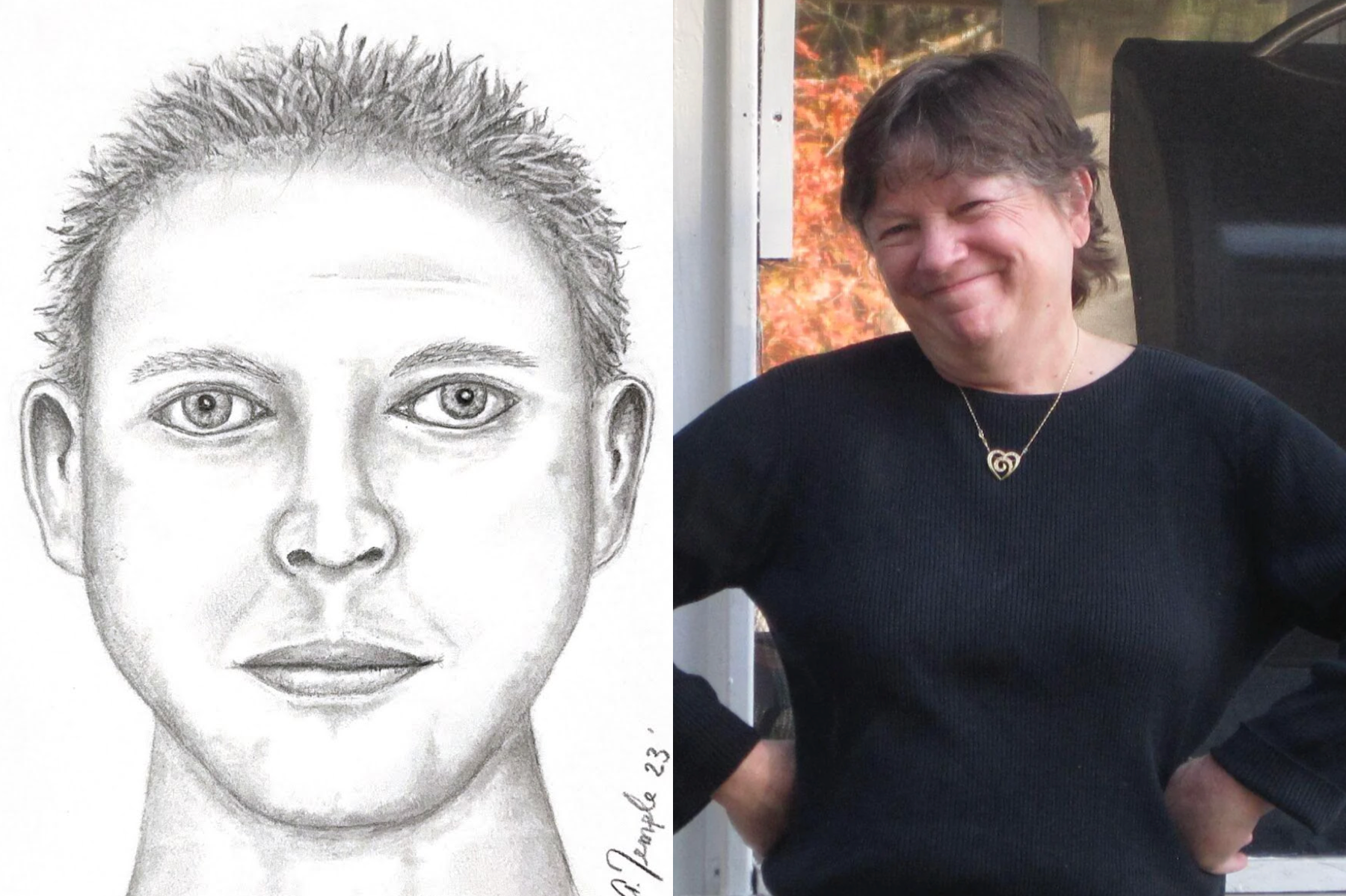 Police have released a sketch of a person of interest wanted for questioning in the murder of a beloved former college dean who was killed while hiking on her favorite trail near the Vermont State University campus.
Honoree Fleming, 77, a retired dean of education, was found dead on 5 October. She died from a gunshot wound to the head and her death has been ruled a homicide.
On Wednesday, a composite sketch was created from witnesses' accounts of a man they saw on the trail before they came across Fleming's body while they were hiking, Captain Scott Dunlap, commander of the Vermont State Police major crime unit, announced during a press briefing.
"We've had witnesses that came across him acting very strangely, oddly," Dunlap said, but did not give additional details. More than one person saw the man but Dunlap would not say how many.
The police captain called the sketch their "best lead" yet, as no suspects have been identified nearly a week after the shooting.
"It's somebody that we want to talk to in regards to her death," Dunlap added.
The man was described as being a 5-foot-10 (1.78-meter) white male with short, red hair, who appeared to be in his 20s. He was wearing a dark gray T-shirt and carrying a black backpack, and is considered armed and dangerous, police said.
Fleming's husband, award-winning author Ron Powers, has been posting updates on his Facebook page as he tries to process his grief.
"Those of you who knew her know that she was beautifully named. I have never known a more sterling heart and soul than hers. She has taken far more than half my own heart and soul with her," Mr Powers wrote following the shocking news of her death.
Ms Fleming started on the hike at around 4pm from the pavilion area at the college campus and was walking south towards Poultney, just a few miles from the New York state border.
Her husband later wrote that the rail trail was one of her favourite walks.
On Monday, before the sketch was released, Mr Powers wrote that his grief counselor, who has been a liaison between himself and the police, said the first people to come upon Honoree's body were two rail trail walkers, a middle-aged husband and wife.
"The woman ran for help. The man stayed with Honoree. She was clearly dead, but he stayed with her anyway. He knelt beside her and, I gather, tried to communicate to her that she was not alone," Mr Powers wrote.
"I have not met this man, this couple. I don't know their names. The counselor believes that it would be unwise to meet them in these first few heartbreak-drenched days. But I will meet them. Dean and I will meet them. And we will say our thanks."
The crime has shaken the small college town of Castleton as police warn the public to remain vigilant and said they don't yet know if the shooting was random or targeted.
Students and residents in Castleton were being told to lock their doors and stick together.
"Just be vigilant and you know if you see something say something. Please report it," Dunlap said Wednesday.
Fleming was a retired dean and professor of education at what was called Castleton State College and is now the Vermont State University Castleton Campus.
She was married to the Pulitzer Prize-winning and New York Times best-selling author Ron Powers, who co-authored "Flags Of Our Fathers." He won the Pulitzer Prize in 1973 for criticism as a television-radio columnist for the Chicago Sun-Times.
She died just a few days before the couple was due to celebrate their 45th wedding anniversary.
The Vermont State University Castleton Campus wrote a statement on Facebook which said in part: "Our hearts go out to the members of our community who taught with Honoree and had her as a beloved teacher during their time at Castleton. Our deepest sympathies go to her husband, Ron, family, and friends."
Before becoming a dean of education at VSU, Ms Fleming had also been a faculty member at Trinity College, Middlebury College, and the Icahn School of Medicine at Mount Sinai, the college wrote.
"This is an unbelievable tragedy for the Castleton campus and for all of Vermont State University," it continued. "Honoree will be deeply missed."
Castleton, in west-central Vermont, is about 5 miles east of the Vermont-New York border in an area known for scenic mountain views and slate and marble quarries. The university, founded in 1787 was closed last week for fall break. Students were excused from classes when it reopened Monday, and classes resumed Tuesday.