'Draped in unmitigated evil': Teenager will spend rest of life in jail for murder of parents and siblings
Mason Sisk was just 14 when he shot each of his family members through the head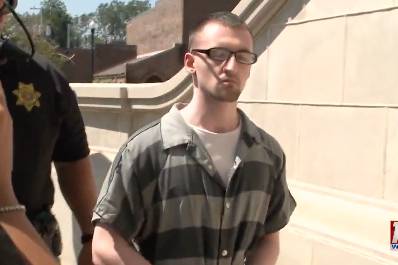 An Alabama teenager was sentenced to life in prison for murdering his parents and three younger siblings as a judge said the crime was "draped in unmitigated evil."
Mason Sisk, who was just 14 when he shot each of his family members through the head, was unmoved by the sentencing in Limestone County, reported WHNT.
Sisk did not face the death penalty because of his age at the time he committed the crime in September 2019.
Handing down the sentence of life without parole, Limestone County Circuit Judge Chad Wise said that Sisk's crime was "ghastly, disturbing, and draped in unmitigated evil" and deserved the utmost punishment.
A jury in the case deliberated for only two hours before finding 18-year-old Sisk guilty of the murder of his father John Sisk, 38, adoptive mother Mary Sisk, 35, and half-siblings Kane, six, Rorrie, four, and Colson, six months.
"I've prosecuted a lot of people in my career, and I can tell you that out of all of those people, only four out of five people scare the hell out of me and he's at the top of my list." Limestone County District Attorney Brian Jones said in a statement.
"Mason Sisk is clearly one of the most dangerous people who will ever be sentenced in Limestone County. With this sentence today, Judge Wise has ensured that Mason Sisk will NEVER threaten another child's safety and wellbeing."
Prosecutors said that Sisk stole the murder weapon from a family friend and then confessed the crime to his then-girlfriend.
He also claimed he wanted to become a contract killer after bragging that he killed his family in four seconds.
Sisk explained his motivation for the murder to investigators in a taped conversation obtained by The Associated Press.
"Yeah, they argue a lot, and I got fed up with it," Sisk told authorities, according to the news organisation. "And the kids were going through a lot."
Authorities also stated that Sisk had previously tried to fatally poison his stepmother by putting peanut butter in her coffee, which she was severely allergic to.