Texas women detailed agonising pregnancies after being denied abortions. The state blames doctors
Four women relived their traumas during two days of harrowing courtroom testimony against the state's anti-abortion law. Texas attorneys questioned them about their age, doctors, and whether state officials personally told them they couldn't get an abortion, Alex Woodward reports
Thursday 20 July 2023 20:25 EDT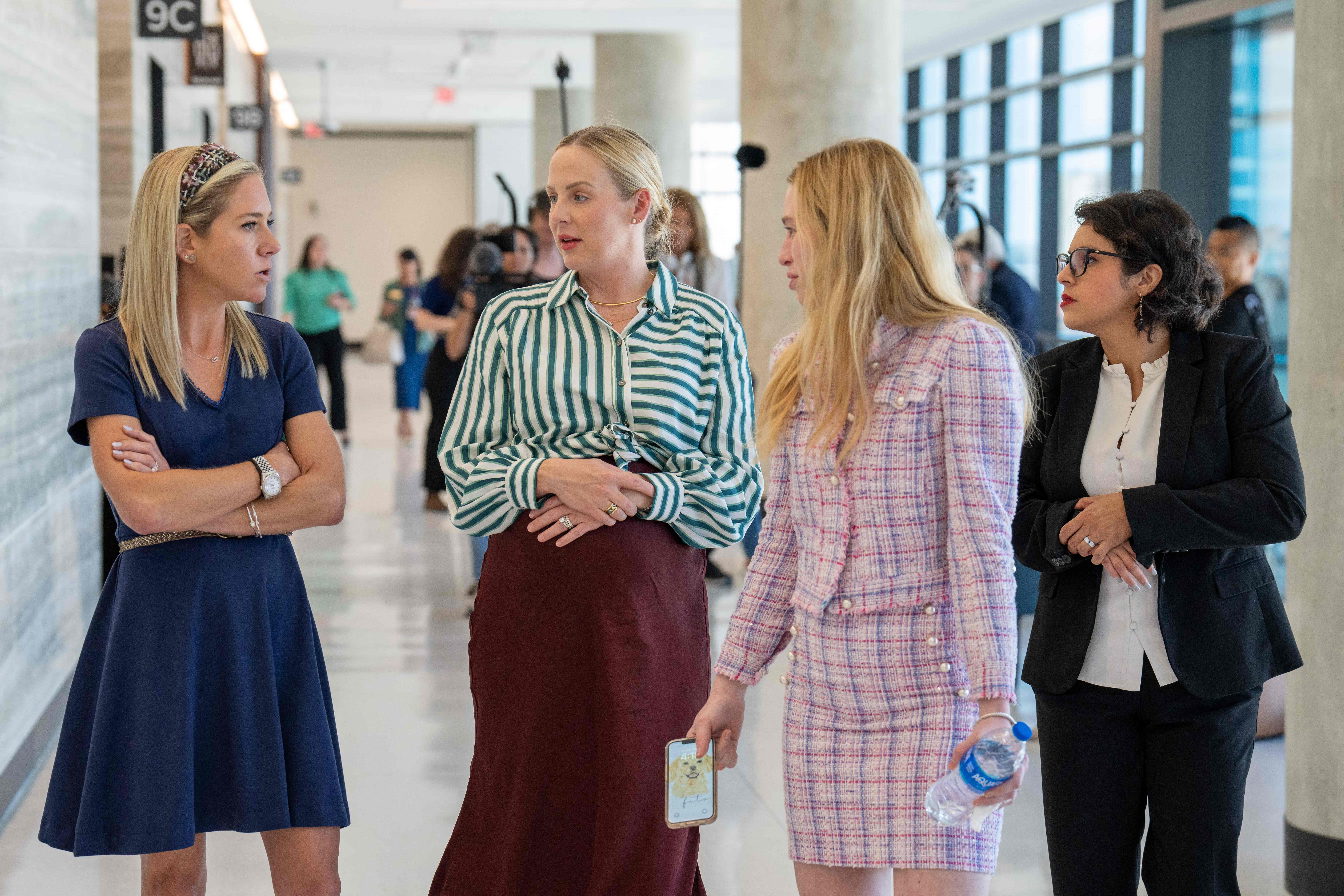 Dr Austin Dennard, an obstetrician-gynecologist in Texas, immediately knew something was "catastrophically wrong".
Last year, she learned during her own 11-week ultrasound appointment that the baby she was carrying had anencephaly, a fatal birth defect in which an infant's skull is not fully formed. The condition also poses a significant risk to the health and life of the mother.
In her harrowing testimony in the second day of a historic court hearing in Austin, Dr Dennard joined other plaintiffs in a landmark lawsuit who relived their traumatic pregnancies and the state's failure to care for them under far-reaching anti-abortion laws that have effectively banned most abortions in the state.
"I felt like my pregnancy was not my own, that it belonged to the state because I no longer had a choice of what I could do," she told the court on 20 July. "I felt abandoned. I couldn't believe that after spending my entire life in the state, being a sixth generation Texan, practicing medicine in the state, that the state had completely turned their back on me."
Texas law makes only vague exceptions for abortion care in circumstances to protect the life of the patient, sparking widespread confusion among providers and hospitals fearing legal blowback or severe criminal penalties. Healthcare providers in the state found in violation of those laws could lose their medical license, face tens of thousands of dollars in fines, or receive a sentence of life in prison.
A lawsuit from 13 women who were denied abortions in Texas urges the state to clarify those exceptions.
"My only choice was to continue the pregnancy, putting my life at risk and my mental and emotional health at risk for a fetus that was never going to survive," Dr Dennard said.
Dr Dennard not only was forced to leave her home state to receive abortion care but had to send one of her own patients on the same harrowing journey. They are now both plaintiffs in the case.
She is among the first women in the country since 1973 to testify in court about the impact of anti-abortion laws on their pregnancies.
In all, four plaintiffs testified in a Travis County courtroom through tears, describing their agony, isolation and heartbreak as they recounted life-threatening complications and, in one plaintiff's case, the death of a child she was forced to carry to term.
Judge Jessica Mangrum, who was elected to the bench in 2020, is presiding over the case. She is expected to deliver a ruling in the coming weeks.
"What possible interest could the state have in forcing a patient to go through [what the plaintiffs] endured?" Molly Duane, an attorney for the Center for Reproductive Rights, which filed the lawsuit on behalf of the plaintiffs, said during her closing arguments
Attorneys for the state, however, have sought to put the blame on their providers who allegedly interpreted the law incorrectly. Attorneys representing the plaintiffs have argued that doctors have merely been guided by the state's own laws that threatened to revoke their medical licenses or imprison them.
In cross-examination, an attorney for Texas asked Dr Dennard about her age and whether she was considered at a higher risk for pregnancy complications.
She then asked whether she would have been "considered geriatric" due to her age.
Texas Attorney General Ken Paxton – who is currently suspended while facing an impeachment trial over accusations of bribery and abuse of power – is named as a defendant. Attorneys for the state asked plaintiffs whether Mr Paxton or other state officials personally told them they could not get an abortion.
"You know," Dr Dennard replied on the witness stand. "I didn't think to ask him."
The state's expert witness, Dr Ingrid Skop, who is affiliated with the anti-abortion Charlotte Lozier Institute, said that doctors "have known they could intervene."
"They should not have waited until women were on the verge of death and going to the ICU to intervene," she added.
Ms Duane noted during a press briefing on 20 July that the state's expert witness also has not provided an abortion in Texas since passage of the state's anti-abortion law.
Abortion rights advocates and providers fear that abortion restrictions in the state have fueled a spike in infant mortality, as women are forced to carry nonviable pregnancies to term.
Last year, 2,200 infants died in the state, marking an increase of 11.5 per cent, or 227 deaths, over the previous year, according to Texas Department of Health data reviewed by CNN.
That spike reversed what was a nearly decade-long decline, as the rates of infant deaths fell by nearly 15 per cent between 2014 and 2021.
"The views of the defense expert do not represent the views of the majority of OBGYNs in this state or this country," Dr Damla Karsan, a Houston-based obstetrician who joined the lawsuit.
"It's infuriating. It's so dismissive and really insulting," she told reporters during a briefing on Thursday following the court hearing.
After the US Supreme Court overturned the precedent affirmed by Roe v Wade nearly 50 years ago, more than a dozen states – mostly throughout the entire US South – have outlawed most abortions, upending access to care for millions of Americans who are forced to travel outside their states in an already-fractured and patchwork system for abortion care across the country.
Anti-abortion laws in Texas have "paralyzed" health providers from being able to properly counsel and advise their patients, Dr Dennard added.
"We're truly doing the best that we can with the situation that has been given to us," she said.