Russian mercenaries' revolt undermines Putin and could lead to further challenges to his rule
For the first time in his more than 20-year rule, President Vladimir Putin's power appeared to hang in the balance this weekend
Russian mercenaries' revolt undermines Putin and could lead to further challenges to his rule
Show all 6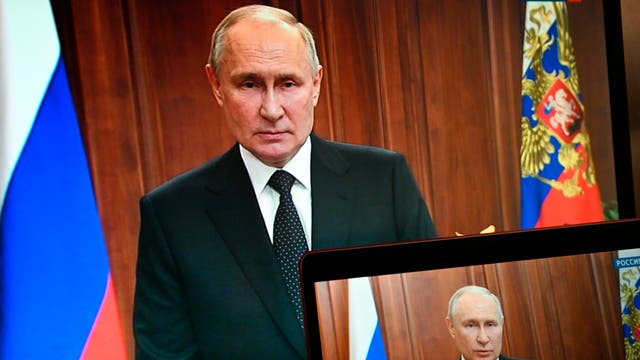 For the first time in his more than 20-year rule, President Vladimir Putin's power appeared to hang in the balance this weekend.
And even though the rebellious Russian mercenary forces who descended on Moscow have turned back, Putin will struggle to project the image of a man in total control that he once did. That could set the stage for further challenges to his rule at home and could weaken Russia's hand in the war in Ukraine.
With spectacular ease and a stated aim of ousting Russia's defense minister, Yevgeny Prigozhin's Wagner troops swept into Rostov-on-Don, a city of 1.1 million people, and seized the military headquarters there. They then continued hundreds of kilometers (miles) north on a lightning march toward the capital without meeting any serious resistance.
Some were even cheered — a sign that Prigozhin's positioning of himself as an enemy of a corrupt and incompetent elite resonated and a detail that will not be lost on those surrounding Putin in the coming days.
"This whole episode has sowed really profound anxiety across Russia's elites," said Nigel Gould-Davies, a senior fellow for Russia and Eurasia at the Institute for Strategic Studies. The mutiny by the Russian leader's one-time protégé "severely shake confidence in Putin among those around him who matter."
For several tense hours, the Kremlin seemed powerless as Wagner convoys rolled through Russia, smashing occasional roadblocks and shooting down aircraft sent by the military in a desperate attempt to stop them.
With the bulk of Russian forces tied up in the fighting in Ukraine, authorities rushed a motley collection of troops and police to protect Moscow, dug up roads and even blew up bridges to slow down the onslaught.
Russian Defense Minister Sergei Shoigu and General Staff chief Gen. Valery Gerasimov vanished from public view on that decisive day, amplifying the sense of weakness and lack of control.
In a televised address to the nation broadcast early Saturday, a somber-looking Putin accused Prigozhin of betrayal and compared the situation to the collapse of the Russian empire in 1917.
But hours later, the Russian leader granted Prigozhin amnesty — on condition that he goes into exile in Belarus.
While the Kremlin tried to cast the deal as a wise move that helped avoid a looming bloodbath, it was a remarkable compromise for a man who has relentlessly suppressed any sign of dissent and sometimes violently silenced foes daring to criticize him.
The quick pardon for Prigozhin stood in contrast to the Kremlin's methodical crackdown on dissidents and critics of the war in Ukraine, who have faced prosecution, forced exile or even violent deaths. For many in Putin's Russia, his handling of the revolt was a sign of unforgivable weakness.
"Prigozhin demonstrated that it's possible to capture a city of a million people with impunity, put demands to the country's leadership, refuse to obey its orders and mount military marches on Moscow while killing Russian soldiers on the way," said Viktor Alksnis, a retired Soviet air force colonel and current hardliner who expresses views shared by many Russian hawks, who have been increasingly critical of Putin's rule and his handling of the war in Ukraine. "Russia has moved a step closer to its final and irreparable collapse."
The blow to Putin comes on top of repeated Russian failures in his 16-month war in Ukraine.
Gould-Davies noted that the mutiny has destabilized the military and badly hurt troop morale, opening new opportunities to Ukraine, now in the initial stages of its counteroffensive.
"This is Russians killing Russians on Russian territory while Russia is trying to contain a Ukrainian counteroffensive," Gould-Davies observed. "This is this is not what Russia wants in wartime."
While the deal with Prigozhin could bring some Wagner troops under the control of the Defense Ministry — a demand that the mercenary leader had previously rejected, precipitating the conflict — it's a small compensation for the huge damage to the government authority that the crisis has inflicted.
Kirill Rogov, a political analyst who has long studied Putin's politics, observed that the problem was of the Russian president's own making: He tolerated Prigozhin's feud with the top military leaders as part of his strategy to shift blame for the military blunders in Ukraine and play members of the elite against one another in an apparent belief that he could fully control Prigozhin.
"Golem's creator always thinks that he can be stopped and he makes him look increasingly convincing in order to scare others," Rogov wrote in a commentary.
Putin did stop Prigozhin in the end — but at a steep price.
___
Associated Press writer Danica Kirka in London contributed to this report.
___
Follow AP coverage of the war in Ukraine at https://apnews.com/hub/russia-ukraine-war