Iran frees five wrongfully detained Americans as part of Biden-brokered deal
The Biden administration has brokered a deal to exchange five Iranians held in the US for five wrongfully detained Americans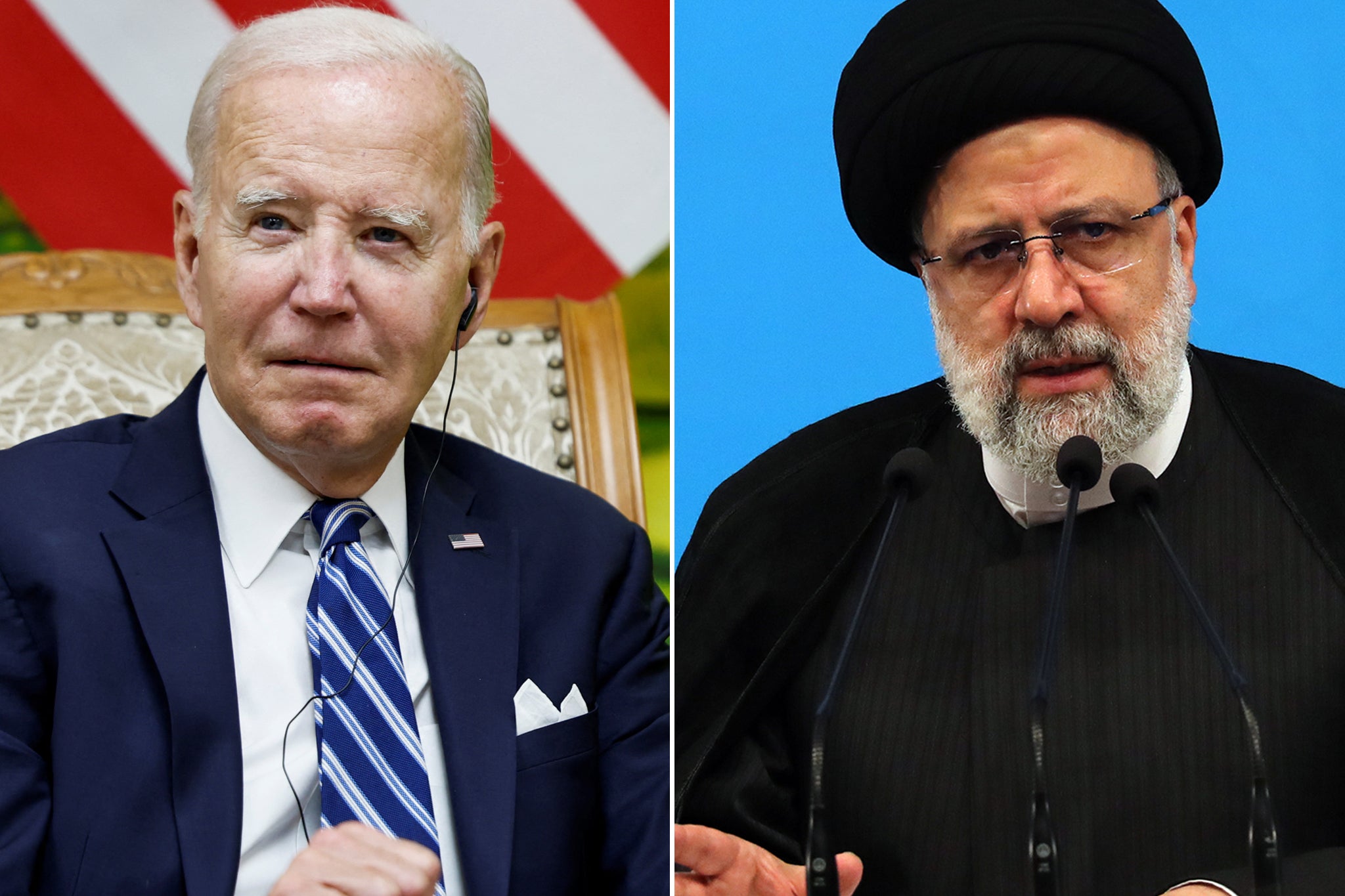 Five US citizens who have spent years being wrongfully detained in Iran have been released from custody and are heading home, President Joe Biden has said.
In a statement, Mr Biden said the five "innocent Americans who were imprisoned in Iran" were "finally coming home" and will "soon be reunited with their loved ones—after enduring years of agony, uncertainty, and suffering".
The president thanked the leaders of Qatar and Oman for helping facilitate the prisoner release deal "over many months of difficult and principled American diplomacy" and said the Iranian government must still "give a full account" of what happened to Robert Levinson, an ex-FBI and DEA investigator who disappeared in Iran while working for the CIA in 2007.
"The Levinson family deserves answers," said Mr Biden, who added that the US government would be levying sanctions on ex-Iranian president Mahmoud Ahmadinejad and the Iranian Ministry of Intelligence under a US law which bears Mr Levinson's name. He also warned US nationals against travelling to Iran, citing a State Department warning that Americans there are at high risk of arbitrary arrest and detention.
"We will continue to impose costs on Iran for their provocative actions in the region. And as we welcome home our fellow citizens, I once more remind all Americans of the serious risks of traveling to Iran. American passport holders should not travel there," he said.
Separately, Secretary of State Antony Blinken hailed the release of the five — plus two relatives who are also US citizens — and said he and Mr Biden "have no higher priority than the safety and security of U.S. citizens at home and abroad".
"Under President Biden's leadership, we have now secured the release of more than 30 wrongfully detained Americans around the world. I am grateful to everyone from the State Department and across the government who worked tirelessly to bring home our U.S. citizens. We will not rest until we have brought home every wrongfully detained American," he said.
An official briefed on the situation said on Monday that the quintet of newly released detainees were en route to the Qatari capital of Doha on a Qatari aircraft that departed from Tehran earlier in the day.
National Security Council spokesperson John Kirby told CNN that administration officials would not "breathe easy" until the five former detainees were back on US soil with their families, but he said the Qatari plane carrying the American quintet was expected to land in Doha by 10.30 am Eastern Time, after which all five would be heading back to the US.
"Big day, big development and we're obviously all very, very happy," he said.
Iranian foreign ministry spokesman Nasser Kanaani said the release "will hopefully be completed" alongside the other elements of the deal during a press conference on state-run Press TV on Monday.
Three of the formerly wrongfully detained Americans — Emad Shargi, Morad Tahbaz, and Siamak Namazi — have been held in Iranian custody for more than five years. The names of the remaining two US nationals who are now heading home have not been publicly released by the US government due to privacy considerations.
The release of the five Americans is part of a multi-pronged agreement negotiated with the aid of Qatari officials, under which the US is also freeing several Iranian nationals who have been in custody on charges relating to sanctions violations.
The US has also agreed to allow South Korean officials to transfer $6bn in Iranian-owned funds that have been frozen in that country's banks to restricted accounts in Qatar by way of Swiss financial institutions.
The funds have reportedly come from petroleum sales made during the Trump administration pursuant to a programme allowing Iran to sell some oil with proceeds going to humanitarian relief purposes. American officials have said the funds, which have been transferred to Qatar, will be used only for humanitarian purchases under monitoring by the US Treasury Department.
The prisoner swap agreement came after more than half a year of talks between American and Iranian officials in Doha, with Iran taking a visible first step to implementing the deal last month by moving four of the five wrongfully detained Americans to house arrest.
One of the former detainees, Siamak Namazi, made an emotional plea to President Joe Biden in a March interview with CNN.
At the time, Mr Namazi told Mr Biden to "liberty of innocent Americans above politics" by working to secure the release of him and other wrongfully detained US nationals, even if doing so would draw ire from Republicans who generally criticise any talks with the Iranian government.
The US and Iran have not had diplomatic relations since 7 April 1980, following the November 1979 takeover of the US Embassy in Tehran by Iranian militants who held 52 US diplomats working there as hostages for 444 days.
During the Obama administration, the US helped broker a deal for Iran to suspend much of its' nuclear weapons programme in exchange for limited sanctions relief, but then-president Donald Trump withdrew the US from that agreement under pressure from Republicans in Congress.
Mr Kirby, the White House spokesperson, said the prisoner swap agreement did not represent any thawing of relations between Tehran and Washington, and was not linked to any other diplomatic goal other than the return of the five Americans who are now heading home.
"In this case, our focus was squarely on these Americans and those families that are waiting for them," he said.
Senator Robert Menendez, the New Jersey Democrat who chairs the upper chamber's foreign relations panel, told The Independent late Monday that the Biden administration's latest deal to free American hostages raises questions about how the Congress could act to prevent US nationals from putting themselves in harm's way with foreign travel against government advice.
"We're gonna have to stop Americans from traveling to certain countries where they can be held hostage — Russia, Iran, North Korea — because otherwise then we end up being in a ransom situation. And the price is too high," he said.
Join our commenting forum
Join thought-provoking conversations, follow other Independent readers and see their replies