Why isn't the assassination attempt on Donald Trump bigger news?
Other assassination attempts that failed by a long shot have received scant coverage, too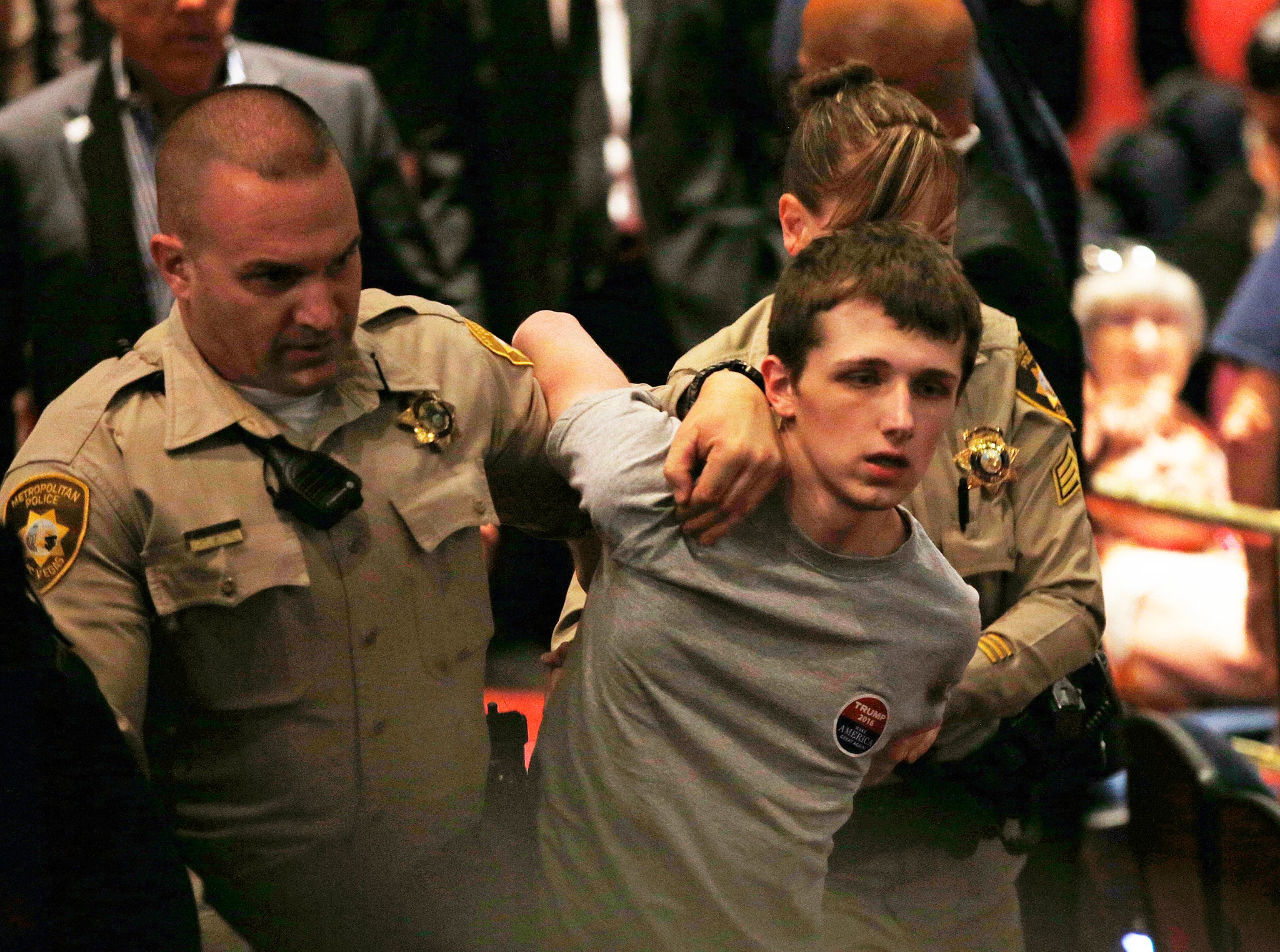 The No. 1 trending question related to Donald Trump on Google right now is "Who tried to shoot Trump?" Which means a lot of people don't know the answer. Which is probably because the assassination attempt on the presumptive Republican presidential nominee hasn't been covered as a major news story.
The answer, authorities say, is Michael Steven Sandford, a 20-year-old British citizen who was in the United States illegally after overstaying his visa.
Sandford allegedly tried to pull a gun from the holster of a police officer at a Trump rally in Las Vegas on Saturday. He was arrested and later told the Secret Service that he had driven to the event from California and had been planning to kill the candidate for a year, according to a criminal complaint filed Monday in U.S. District Court in Nevada.
Other assassination attempts that failed by a long shot have received scant coverage, too. A previous, would-be Obama assassin, James McVay, also hatched a plot that involved swiping a police officer's gun. After stabbing a 75-year-old-woman to death in South Dakota and stealing her car, McVay drove to Wisconsin, where he planned to ambush a cop and take his firearm, according to statements he made to police after his arrest in July 2011. McVay said he planned to continue on through Chicago and Indianapolis and eventually kill the president on a golf range in Washington. But he was apprehended near Madison, Wis. CNN covered McVay's arrest and scheme, but some other national news outlets, including The Washington Post and New York Times, appear to have skipped the story altogether.
Trump almost shot at rally
McVay was sentenced to death in 2014 for killing the South Dakota woman and hanged himself in his prison cell five months later.
From Trump's perspective, Sandford doesn't fit neatly into his campaign narrative. The billionaire has positioned himself as a staunch defender of the Second Amendment, so he certainly won't use the failed assassination attempt to push for gun control. Sandford is an illegal immigrant — and Trump is all about deporting illegal aliens — but the candidate's focus is on building a wall to keep out Mexicans and barring foreign Muslims from entering the United States. A Briton who overstayed his visa isn't a very good poster boy for the cause.
If Trump wanted to make this episode big news, he could do it. He's proven his ability to set the agenda over and over again. But he doesn't seem interested, and the media doesn't either. Indeed, to both sides, that could simply be because they don't want to give a poorly conceived assassination plot more attention than it's due.
But some on the right see a double-standard at play. The conservative news site Hot Air posed a hypothetical on Tuesday:
Can you imagine the coverage we'd be seeing if someone had attempted to shoot Hillary Clinton? The same could be said if it had happened with Barack Obama in the summer of 2008. Questions would be debated on air for weeks on end about the evil lurking in the hearts of men and why someone would be so desperate to prevent the election of the first black or female president. But when someone plots for more than a year to kill Trump, travels across the country to find an opportunity and then launches his attempt, it creates barely a ripple in the media pond.
Then there's this common sentiment from Trump supporters:
Glenn Beck, a prominent conservative commentator who opposes Trump, was recently suspended for a week by SiriusXM after Brad Thor, who writes political thrillers, made comments on Beck's radio program that some listeners interpreted as a call for Trump to be assassinated.
"If Congress won't remove him from office, what patriot will step up and do that — if, if, he oversteps his mandate as president?" Thor said.
In pictures: US Elections 2016
Show all 15
Thor and Beck both said later that the remark was not about assassinating Trump.
But for anyone already convinced that the media hates Trump, the coverage of Sandford's assassination attempt (or lack thereof) will probably only strengthen their belief.
Copyright: Washington Post
Join our commenting forum
Join thought-provoking conversations, follow other Independent readers and see their replies