How a chance department store encounter led to Donald Trump's ultimate disgrace
Nearly three decades after E Jean Carroll claims Donald Trump raped her in a dressing room, the pair faced off in court. Andrew Feinberg explains the case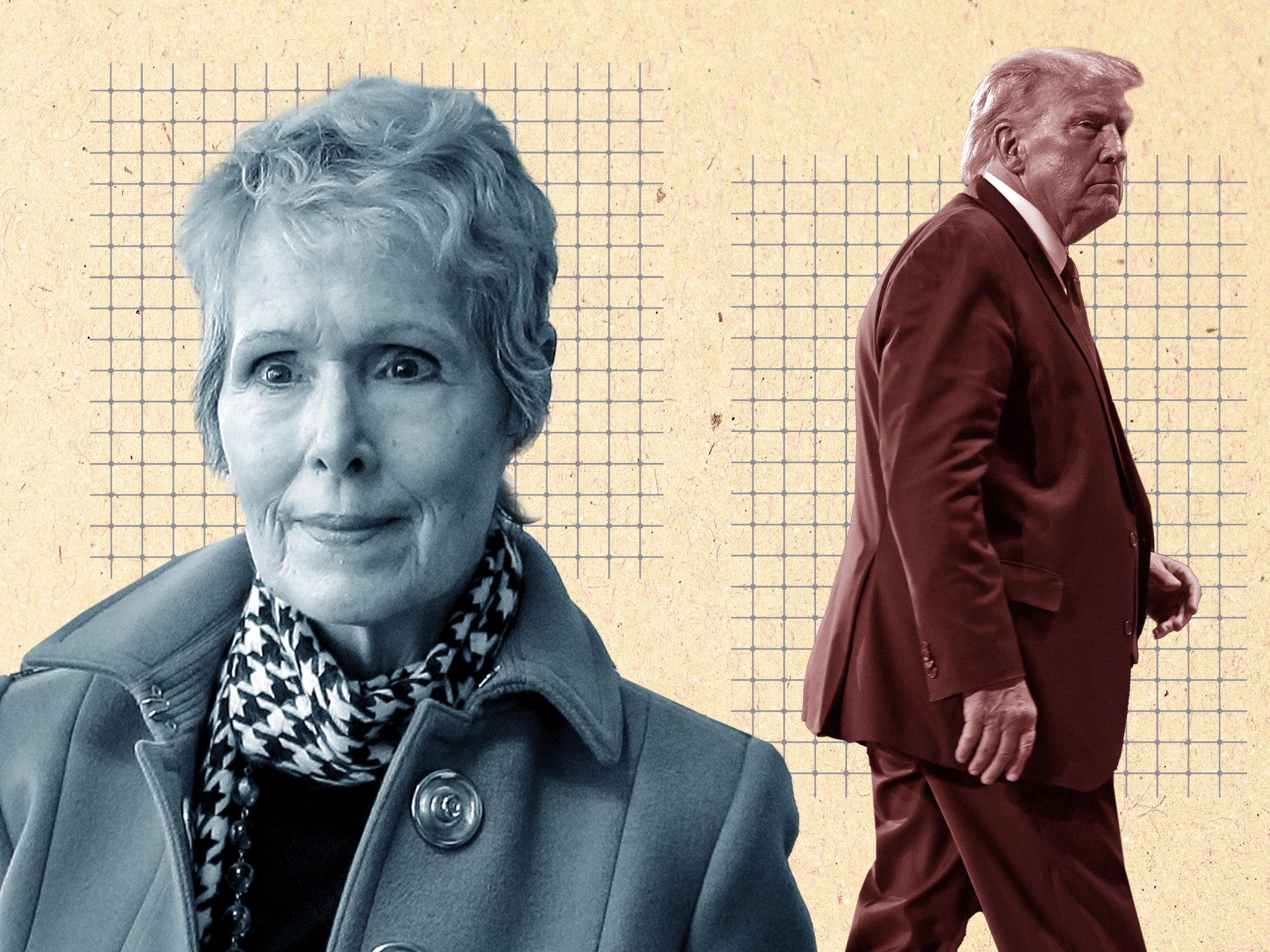 Decades after she was allegedly raped by a New York real estate mogul who would go on to be the 45th President of the United States, E Jean Carroll has had her day in court.
Ms Carroll, a writer and former advice columnist for Elle magazine, was the plaintiff in a pair of civil lawsuits against former president Donald Trump.
One of those lawsuits was presented in a New York City federal courtroom under the supervision of US District Judge Lewis Kaplan. The proceedings began on 25 April, with closing arguments beginning on 8 May. On 9 May, the jury in the civil case returned a verdict that Mr Trump was liable for sexually abusing Ms Carroll, but not raping her, and awarded the writer a total of $5m in damages, which includes a defamation claim.
The jurors in the trial remained anonymous on Judge Kaplan's orders due to the risk of threats, intimidation or outright violence against anyone seen as an enemy by Mr Trump and his supporters.
Ms Carroll claimed during her testimony that Mr Trump raped her in a dressing room at the Bergdorf Goodman department store in Manhattan in the mid-1990s.
The magazine columnist spoke out about the allegations for the first time in 2019 when Mr Trump was president.
After he denied the allegations and accused her of lying in a bid to bolster sales of her forthcoming book, she filed a defamation lawsuit against him in November 2019. That suit stalled in the courts for years and is yet to make it to trial.
Then, last year, New York lawmakers passed the state's Adult Survivors Act, giving sexual abuse victims a one-year window to sue attackers for assaults that took place years ago.
That law paved the way for Ms Carroll to file a second lawsuit against the former president in November accusing him of both raping her and then defaming her years later by denying the assault took place.
That second lawsuit – seeking damages and a retraction of his denial – has now played out in a New York court.
What Carroll said about the alleged dressing room rape
The allegations against Mr Trump were first laid out in an excerpt from her book What Do We Need Men For? A Modest Proposal, that ran in New York magazine in June 2019.
In the book excerpt, she said she was shopping at a Bergdorf-Goodman in New York when Mr Trump approached her and struck up a conversation. He asked her for help picking out a gift for a woman.
She then alleged that he took her to the lingerie section of the store and asked her to try on an item for him in a dressing room before pinning her up against a wall and sexually assaulting her for three minutes.
At the time, Ms Carroll said the emergence of the #MeToo movement in late 2017 motivated her to tell her story publicly.
Mr Trump addressed the allegations days later when pressed on them by reporters at the White House.
He claimed he had "never met her" and denied raping her by telling the White House press corps that Ms Carrol was "not [his] type".
He also accused her of lying to boost sales of her memoir.
"She is trying to sell a new book – that should indicate her motivation," the then-president said, adding that her book "should be sold in the fiction section".
Ms Carroll pushed back on his claims, sharing a photo of herself and Mr Trump together with his then-wife Ivana Trump and her then-husband John Johnson at an NBC party in 1987 to show they had met.
In her 2019 defamation suit against Mr Trump, she alleged his denials had caused her "to suffer reputational, emotional, and professional harm" and said she was suing "to obtain redress for those injuries and to demonstrate that even a man as powerful as Trump can be held accountable under the rule of law".
Ms Carroll took the stand on 26 April, testifying that she and Mr Trump were shopping around the department store at the time when he asked her to try on a piece of lingerie that he was looking to purchase – a blue bodysuit.
"He was having a good time, and so was I," Ms Carroll said, adding that the two were harmlessly flirting with one another.
As the two reached the dressing room, Ms Carroll said Mr Trump "shut the door and shoved me up against the wall."
"I was confused. I laughed," Ms Carroll said.
She said she pushed Mr Trump back but he "thurst" her into the wall again.
From there, Ms Carroll described how Mr Trump pulled down her tights and inserted his fingers into her vagina.
"It was extremely painful," Ms Carroll recalled emotionally. "It was a horrible feeling. He put his hand inside me and curled his finger. As I sit here today, I can still feel it."
When asked if she screamed for help or told Mr Trump to stop, Ms Carroll said, "I'm not a screamer. I'm a fighter."
Ms Carroll alleges Mr Trump then inserted his penis and began to rape her.
"I wonder why I walked in there, to get in that situation... I'm proud to say I got out of there," Ms Carroll.
After the assault, Ms Carroll said she left the department store quickly and called her friend, Lisa Birnbach. Later on, Ms Carroll would tell Carol Martin, an anchorwoman at ABC, about the assault, but did not confide in many others.
Ms Carroll said she felt "very stupid" for going into the dressing room. She described how the alleged rape left her "unable to ever have a romantic life again".
Later on, Ms Carroll elaborated on her inability to form and maintain romantic relationships saying that because she was allegedly raped by Mr Trump after flirting with him, it hindered her ability to engage with men.
Justice Department involvement delayed the defamation suit
Although a Clinton-era Supreme Court case, Jones v Clinton, allows presidents to be sued for conduct that occurred before the start of their time in the White House, Mr Trump's legal team asked the Department of Justice to aid in his defence of the 2019 case.
The department filed papers seeking to shield him from liability on the grounds that he was acting in an official capacity as president when he made the allegedly defamatory statements about Ms Carroll. But Judge Kaplan rejected those arguments and said the suit could proceed. An attempt by Mr Trump to appeal that decision failed in September 2021 as well.
His legal team took up another approach in February of last year when they moved to countersue Ms Carroll.
Judge Kaplan blocked that bid in a scathing decision on 11 March 2022, in which he slammed Mr Trump's continuing attempts to delay the case as "futile" and in "bad faith".
"The defendant's litigation tactics, whatever their intent, have delayed the case to an extent that readily could have been far less," Judge Kaplan wrote. "Granting leave to amend without considering the futility of the proposed amendment needlessly would make a regrettable situation worse by opening new avenues for significant further delay".
Letting Mr Trump countersue "would make a regrettable situation worse," the judge added.
Carroll sued Trump for alleged rape
Last year, New York Governor Kathy Hochul signed into law the Adult Survivors Act, which created a one-year suspension of statutes of limitations for rape and other civil claims arising from allegations of sexual misconduct.
The law allows sexual assault survivors to sue their attackers regardless of when the alleged assault may have taken place.
In November 2022, shortly after the bill signing, Ms Carroll filed a second lawsuit against Mr Trump for rape.
The new case accused him of battery – and also added a new defamation claim based on recent posts in which he called her a "con job".
Judge Kaplan rejected Trump's last-minute delay bid
After Mr Trump's lawyers made an 11th-hour attempt to once again postpone the long-delayed civil trial on the grounds that publicity surrounding his recent indictment necessitated a "cooling-off" period to ensure an impartial jury, Judge Kaplan said the one-month delay Mr Trump's attorneys had asked for would have no impact on the potential jury pool in the case, which was tried in the US District Court for the Southern District of New York.
"There is no reason to assume that a sufficient number of fair and impartial jurors cannot be found on April 25, 2023 or that it would be materially easier to find such jurors on May 23, 2023," he said.
Did Trump attend?
Mr Trump missed the deadline to testify in the civil rape trial brought against him by writer E Jean Carroll.
The deadline passed without Mr Trump's lawyers filing a motion to inform the court of any change in plans – despite the former president saying that he was cutting his trip to Scotland and Ireland short to go to New York to "confront" Ms Carroll.
US District Judge Lewis Kaplan had warned Mr Trump that once the deadline passed, he would no longer have the opportunity to testify in the case.
"That ship will be irrevocably sailed," he said.
Judge Kaplan issued a deadline giving Mr Trump an extension to appear and testify in court.
This came after Mr Trump told reporters in Ireland that he would "probably" shorten his trip and return to the US to attend the trial.
"I'm going to go back, and I'm going to confront this," Mr Trump said, adding at the time that "this woman is a disgrace and it shouldn't be allowed to happen in our country", according to The Daily Beast.
He also attacked Ms Carroll, calling her "fake" and saying that Judge Kaplan was "extremely hostile".
"I have to leave early. I don't have to but I choose to," Mr Trump said, according to the New York Daily News. "I was falsely accused by this woman. I have no idea who she is. It's ridiculous."
"He doesn't like me very much," Mr Trump added of Judge Kaplan. "It's a disgrace but we have to do it. It's a part of life."
Judge Kaplan mentioned Mr Trump's comments in Ireland when saying that the jury needed the opportunity to hear from him personally.
"In the interests of justice," the judge said he would allow the case to be reopened for a short period of time to give Mr Trump an opportunity to testify.
"If he has second thoughts, I'll at least consider it," the judge said as he announced the deadline.
But, despite Mr Trump's comments, his lawyer Joe Tacopina said that he wouldn't be attending the trial.
Jury returned verdict after three hours of deliberation
On 9 May the jury in the civil case returned a verdict that Mr Trump was liable for sexually abusing Ms Carroll, but not raping her, and awarded the writer a total of $5m in damages, which includes the defamation claim.
In the courtroom, the clerk read the verdict: "As to battery, did Ms Carroll prove that Mr Trump raped Ms Carroll?" The jury answered "No".
The jury also found Mr Trump liable for wonton disregard, for which Ms Carroll was awarded $20,000, according to Inner City Press.
Mr Trump was also found liable for defamation as the jury found that he made false statements about Ms Carroll.
The jury found that Mr Trump acted with actual malice and that Ms Carroll had been injured, for which she was awarded $1m. For repairing her reputation, Ms Carroll was awarded $1.7m.
Ariana Baio and Gustaf Kilander contributed to this report
Join our commenting forum
Join thought-provoking conversations, follow other Independent readers and see their replies