Donald Trump's false claim about UK crime rate seems to have come from conspiracy theorist news network
One America News Network is known for supporting the President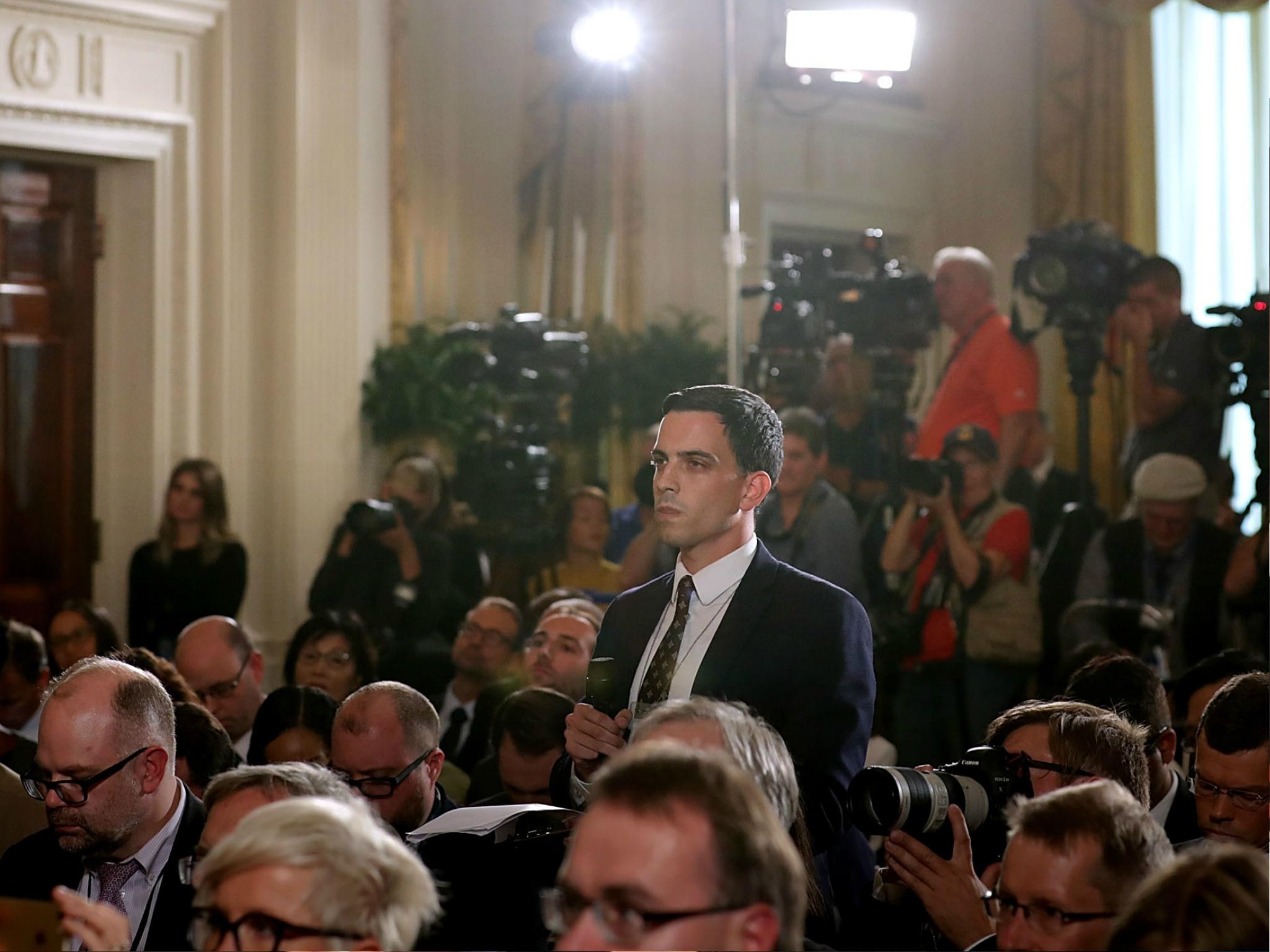 Donald Trump's tweeted claim about crime rates in the UK being linked to "radical Islamic terror" was reportedly sourced from a pro-Trump, conspiracy news network.
Media Matters reported that the President may have got the information from a segment airing early in the morning Washington DC time on the One America News Network (OANN).
The title of the particular segment was "Report: UK Crime Rises 13 per cent Annually Amid Spread Of Radical Islamic Terror."
The segment aired at 6.25am local time and Mr Trump's tweet appeared six minutes later.
There was some debate as to whether Mr Trump had sourced the information in his tweet from Fox News' morning news programmes, which he has done on numerous occasions in the past.
Members of the UK Parliament were none too pleased with what they thought was a misinterpretation of data compiled and released by the UK Office for National Statistics.
The agency put the rise in crimes recorded by police down to both an increase in offences and better reporting practices, showing that recent terror attacks had only a neglible impact on the figures.
The agency also disputed Mr Trump's - and subsequently OANN's - conclusion about the numbers presented in its report, which stated that the number of overall crimes in England and Wales had surpassed 5 million for the first time in a decade.
The report did say there was a 13 per cent increase in reported crimes and that of the "of the 664 homicides recorded in the year ending June 2017, there were 35 relating to the London and Manchester terror attacks" - or roughly five per cent of deaths were related to terrorism.
According to the Washington Post, a spokesperson for the agency said: "The simple answer is that our statistical release bulletin yesterday made no link between terrorism and violent crime."
Donald Trump says it's 'frankly disgusting the press is able to write whatever it wants'
"There is a simple answer. There is no long answer."
OANN is not available via regular television or cable, but is viewable through DirecTV, a satellite broadcast service owned by AT&T that the president reportedly uses.
One of the most called-upon reporters in the White House press corps during briefings with Press Secretary Sarah Huckabee Sanders and her predecessor Sean Spicer is Trey Yingst, who covers the beat for OANN.
The network has become known for reporting Mr Trump's claims about everything from how the mainstream media was biased for covering audio tapes from Entertainment Tonight of then-candidate Trump using lewd language to speak about women to the crowd size at his inauguration.
It also pushed a storyline that former Democratic National Committee staffer Seth Rich - murdered in Washington DC in July 2016 - likely died because he was "investigating several cases involving the DNC's electoral fraud and voter suppression, and was set to testify on the case of Hillary Clinton's email investigation."
Police have released no such evidence, no proof has been presented by the network in support of this theory, and his family has asked repeatedly in public that his death not be politicised.
Join our commenting forum
Join thought-provoking conversations, follow other Independent readers and see their replies