How a bombshell leaked tape landed Trump with his latest criminal charge
It's been two years since Donald Trump sat down for an interview for a new book. Now that conversation is coming back to haunt him. Rachel Sharp reports
Tuesday 01 August 2023 19:31 EDT
Comments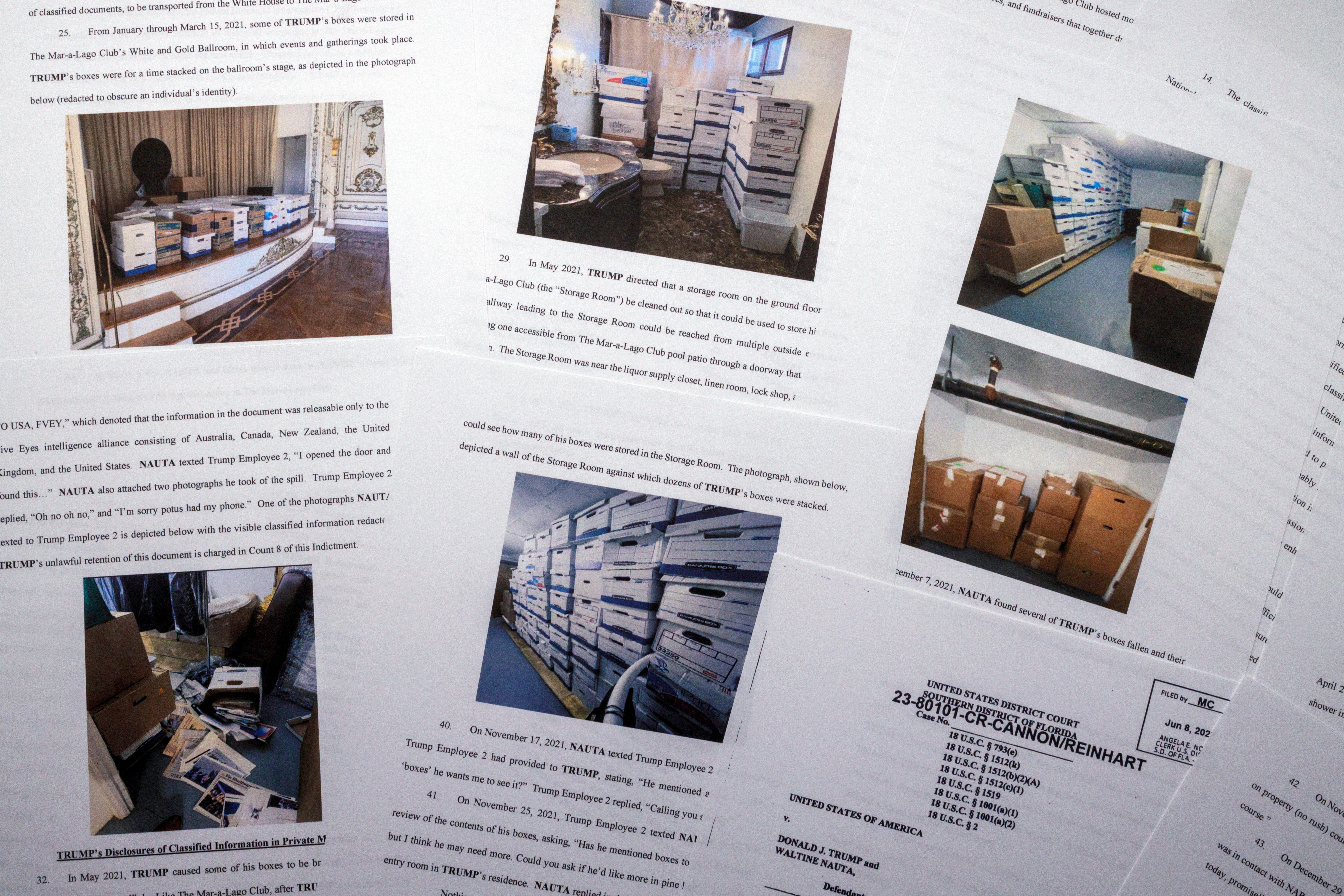 One day in the summer of 2021, Donald Trump sat down for an interview at his golf club in Bedminster, New Jersey.
His former chief of staff Mark Meadows was writing his memoir, The Chief's Chief, and a writer and publisher for the book had come to meet with the former president.
During the recorded conversation that followed, he boasted about possessing "highly confidential" military documents about Iran as the group laughed at his jokes about his political rivals – in particular Hillary Clinton.
Little did Mr Trump know that leaked audio of this conversation might one day lead to his downfall.
Just over two years later, on 27 July 2023, this conversation landed the former president with one of the latest charges in a mounting criminal case over his handling of classified documents since leaving the White House.
On 1 August, Mr Trump was indicted on four counts in the other federal probe led by Special Counsel Jack Smith into Mr Trump's efforts to overturn the 2020 election.
The audio, according to prosecutors, reveals that Mr Trump was in possession of secret government documents six months after he left office.
It also allegedly reveals that he showed off those documents to the writer, publisher and two of Mr Trump's staff members – none of whom had the security clearances to view them.
And, it also appears to blow apart Mr Trump's defence as he made the bombshell confession that he knew he did not have the power to declassify the secret documents – a direct contradiction to his statements in public.
It was 21 July 2021 and the group was at Bedminster interviewing Mr Trump for the new book.
Before the interview, there had been reports that, near the end of Mr Trump's term in the White House, General Mark Milley feared that the then president planned to launch an attack on Iran.
In the two-minute audio, Mr Trump is heard appearing to indicate that he is holding a secret military document that he claims actually shows it was Gen Milley's plan to attack Iran.
CNN plays tape of Trump appearing to show off classified military documents
"Well, with Milley, uh, let me see that, I'll show you an example," he says.
"He said that I wanted to attack Iran. Isn't that amazing? I have a big pile of papers, this thing just came up. Look. This was him," he says as the noise of papers rustling is heard in the background.
"They presented me this – this is off the record, but they presented me this. This was him. This was the Defence Department and him. We looked at some, this was him. This wasn't done by me, this was him. All sorts of stuff – pages long, look.
"Wait a minute, let's see here. I just found... isn't that amazing? This totally wins my case, you know. Except it is like, highly confidential. Secret," he says, to laughter from people inside the room.
"This is secret information. Look, look at this. This was done by the military and given to me. As president, I could have declassified, but now I can't."
Mr Trump and the meeting participants go on to joke that Ms Clinton would "print" out the documents, joking about her "private emails".
"Hillary would print that out all the time, you know. Her private emails," one staffer is heard saying.
"No, she'd send it to Anthony Weiner," Mr Trump replies, in reference to Ms Clinton's use of a private email server.
The former secretary of state has never been charged with a crime.
The bombshell audio was first described in the Justice Department's initial indictment charging Mr Trump with 37 counts over his handling of classified documents in June.
But he did not face charges over that particular incident at the time.
Weeks later, CNN obtained and released the audio of the meeting – something that led to an angry Mr Trump accusing the Justice Department of leaking it despite the interview having been recorded with Mr Trump's knowledge and consent.
Now, weeks later, this call is the focus of one of three new charges brought against Mr Trump in the growing case.
In the superseding indictment, prosecutors say that Mr Trump had unauthorised access to the document described as a top-secret "presentation concerning military activity in a foreign country" and that he showed this presentation to others who did not have clearance to view them.
He has been charged with one count of wilful retention of national defence information – a violation of the Espionage Act which is punishable by up to 10 years in federal prison.
In total, he is now facing 40 charges – 32 of them for wilful retention of national defence information.
Other charges include making false statements and representations, conspiracy to obstruct justice, withholding a document or record, corruptly concealing a document, concealing a document in a federal investigation, and a scheme to conceal.
Mr Trump has pleaded not guilty to the original 37 charges at his arraignment in a Miami federal courthouse and has railed against the indictment and the special prosecutor Mr Smith.
While he has fumed about his prosecution overall, it appears the significance of the discovery of the July 2021 audio hasn't been lost on Mr Trump.
Clearly rattled by its release, he took to Truth Social to fume about the audio and baselessly accuse the Justice Department and the FBI of leaking it.
"The Deranged Special Prosecutor, Jack Smith, working in conjunction with the DOJ & FBI, illegally leaked and 'spun' a tape and transcript of me which is actually an exoneration, rather than what they would have you believe," he wrote.
"This continuing Witch Hunt is another ELECTION INTERFERENCE Scam. They are cheaters and thugs!"
He then went on Fox News where he denied that the papers referred to – and heard rustling – in the audio were government documents.
While he jovially boasted in the audio that he was holding "secret information", he struck a wildly different tone in his latest interview.
The papers, he now claims, were nothing more than "newspaper stories, magazine stories and articles".
Join our commenting forum
Join thought-provoking conversations, follow other Independent readers and see their replies