Former US ambassador says Donald Trump is weakening the State Department
Nicholas Burns says Mr Trump's foreign policy is 'a radical departure from every president since WWII'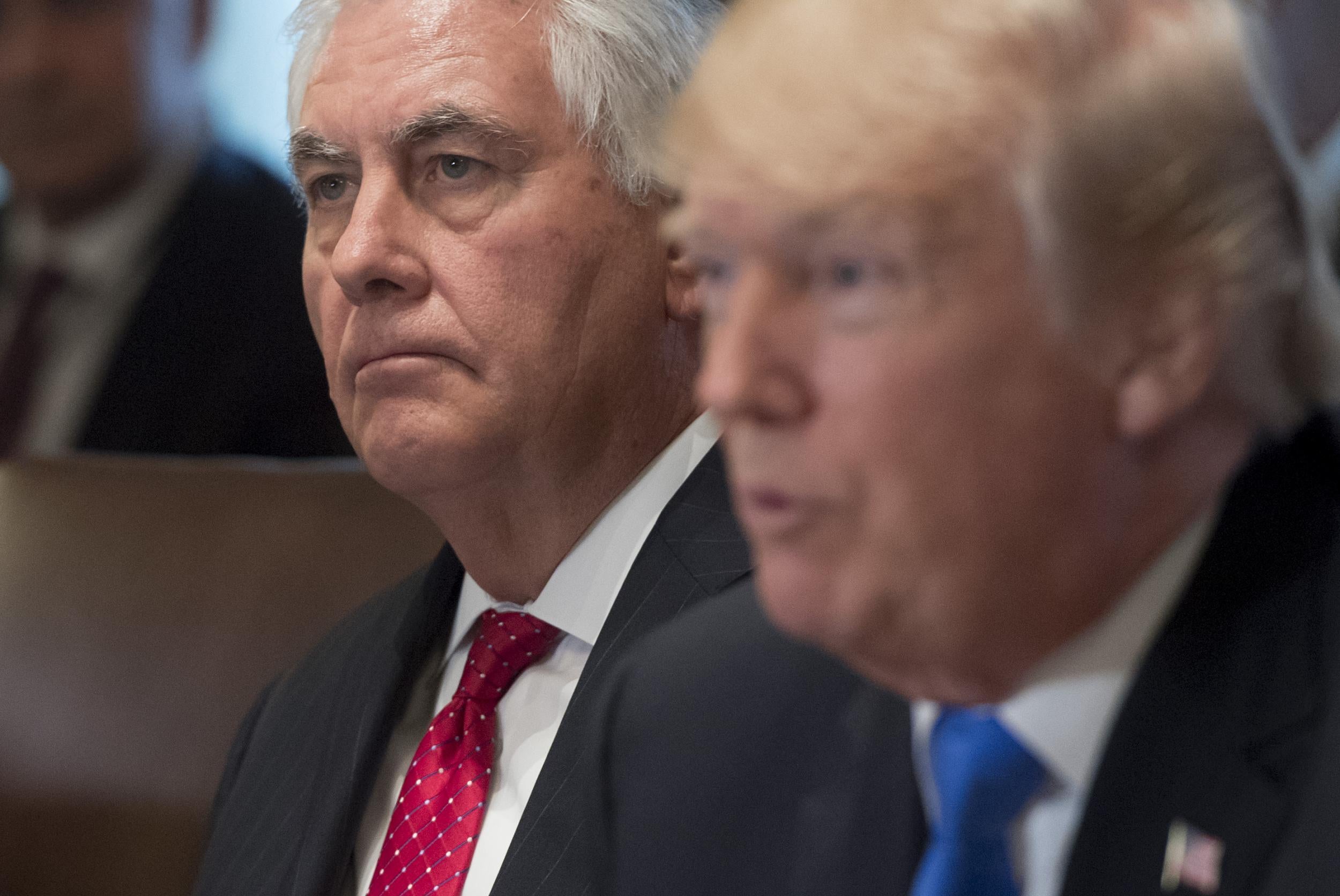 The US State Department is being "weakened and sidelined" under President Donald Trump, a former American diplomat has claimed.
Nicholas Burns, who served as a senior diplomat under both Republican and Democratic administrations, told The Los Angeles Times that Mr Trump's foreign policy is "a radical departure from every president since WWII".
"Trump is weak on Nato, Russia, trade, climate, diplomacy," said Mr Burns, the former Under Secretary of State for Political Affairs under President George W Bush.
He added: "The US is declining as a global leader."
Since taking office, Mr Trump has pursued an "America first" agenda that involves shying away from various global commitments. This summer, for example, Mr Trump pulled the US out of the Paris climate accord – a landmark environmental agreement to which nearly 200 countries signed in. He also refused to certify Iran's compliance in a historic nuclear deal, and threatened to make Nato member countries pay more to ensure their defence.
Donald Trump threatens to cut 'billions of dollars' of aid to countries over UN Jerusalem vote
Mr Trump also shocked diplomats earlier this month when he acknowledged Jerusalem as the capital of Israel – a decision the UN believes should only be negotiated during Israeli-Palestinian peace talks.
Nearly every former US ambassador to Israel told the New York Times that they disagreed with the President's decision. Former diplomat Elizabeth Shackelford resigned shortly thereafter, claiming the US government had "failed to demonstrate a commitment to promoting and defending human rights and democracy".
"In these challenging global times we should be seeking to conduct more diplomacy with more resources, not less with less," she wrote in her resignation letter. "I am sure [the State Department] will endure and ultimately overcome this period of marginalisation, but the consequences will affect our global leadership and status abroad for many years to come."
Protests erupt after Trump recognises Jerusalem as Israel's capital
Show all 22
Many diplomats have raised similar concerns about a lack of resources at the State Department. Secretary of State Rex Tillerson has implemented a hiring freeze at the Department, and proposed slashing his own budget by almost 30 per cent. America's Office of Management and Budget recently directed the Department to cut staffing by 8 per cent.
Sixty per cent of career ambassadors have left the Department this year, and 74 top posts remain vacant, according to Foreign Policy. Democratic members of the House Foreign Relations Committee wrote a letter to Mr Tillerson last month, urging him to reverse what they called an "intentional hollowing-out of our senior diplomatic ranks".
Mr Burns finds these latest developments ironic. The President, he said, "needs a strong State Department to implement" his strategy. Instead, he added, "State and the Foreign Service are being weakened and often sidelined".
The Independent has reached out to the State Department for comment.
Join our commenting forum
Join thought-provoking conversations, follow other Independent readers and see their replies