Blowback after Trump seen taking selfies with police officers
A senior campaign adviser to Mr Trump posted the video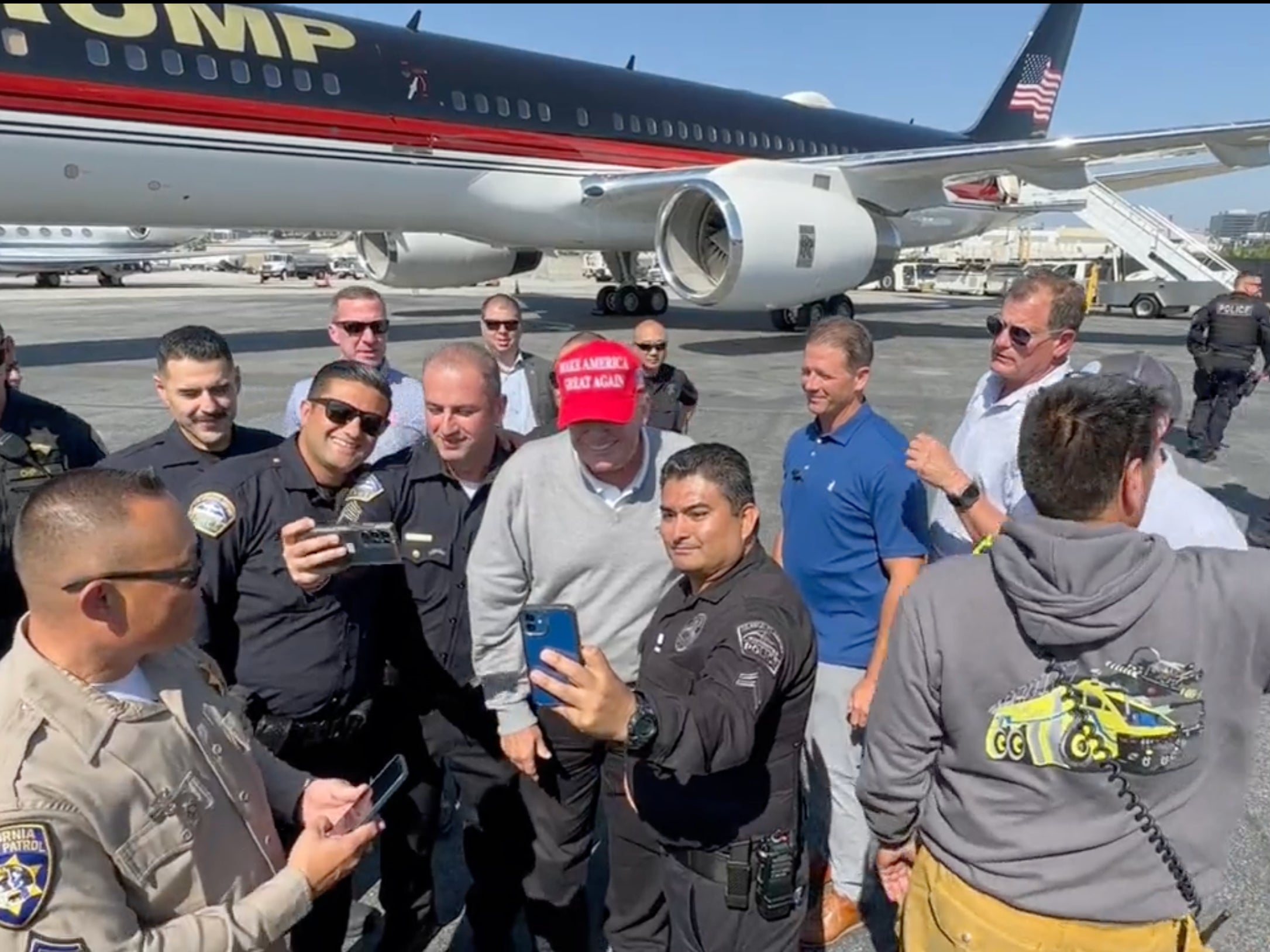 Former president Donald Trump is treading through waves of backlash after a video circulated of him taking selfies with police officers.
Dan Scavino, a senior adviser on Trump's 2024 campaign and former White House deputy chief of staff, posted the video on Sunday of the former president greeting law enforcement officers at Los Angeles International Airport.
Mr Trump is seen shaking hands and taking selfies with dozens of officers from several law enforcement agencies.
A Tennessee election commissioner, Chris D Jackson, tweeted in response: "I'm really confused how government agencies continue to let this kind of political involvement by on the job, uniformed officers take place. It's a clear violation of taxpayer dollars."
In the same vein, one Twitter user wrote, "Not LA cops doing a Trump photo op on our taxpayer's dime."
In a reply, another user said, "This should piss off every taxpayer of LA."
Yet another user reacted to the video, tweeting that the act was a "Disgrace to all the US capital and DC metro police officers who were attacked by trump's maga thugs."
Newsweek asked Trump spokesperson Steven Cheung about the online criticism. He replied, "President Trump is the law and order President, and he's the only one who can bring safety and security to all communities."
The incident happened just days after Florida a man associated with the Proud Boys, according to prosecutors, was sentenced to five years in prison for attacking police officers with pepper spray on January 6.
The January 6 Committee determined in February that Mr Trump was the "central cause" of the events that transpired on that day.
Mr Trump is facing a number of ongoing lawsuits, as well as a 37-count federal indictment. He remains the GOP frontrunner in the 2024 presidential race.
Join our commenting forum
Join thought-provoking conversations, follow other Independent readers and see their replies