Trump bragged a 'secret' document 'totally wins my case'. A tape of his remarks could land him in prison
'As president, I could have declassified, but now I can't,' the ex-president says in a recording that seems to undermine his public statements. Alex Woodward reports
Friday 09 June 2023 16:31 EDT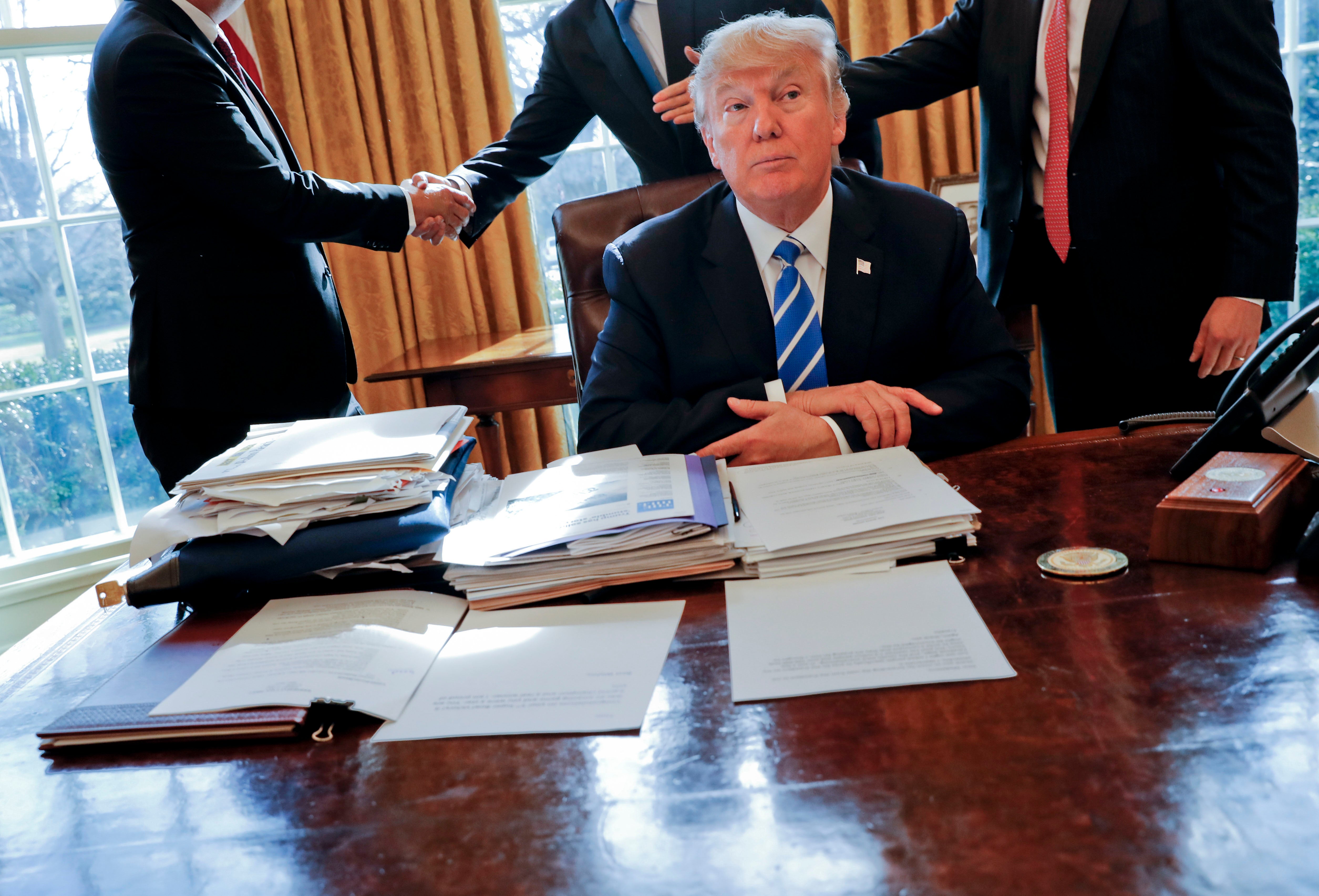 Former president Donald Trump has repeatedly asserted a legally dubious claim that he declassified sensitive documents at his Mar-a-Lago property before he left the White House after losing the 2020 presidential election.
But he admitted, on a tape, six months after leaving office, that a document in his possession was "classified", "highly confidential" and "secret information". He admitted, on tape, that he could declassify such documents as president, but now that he is out of office, "I can't."
The recording from July 2021 was in possession of federal prosecutors investigating the former president's alleged mishandling of hundreds of documents bearing classification markings found in boxes at his Florida home, and whether he lied to authorities and his attorneys about the records he was keeping.
A transcript of the recording first reported by CNN and revealed in a sweeping federal indictment is expected to be a central piece of evidence in a federal case against the former president, who faces 37 counts in a document unsealed on 9 June.
The recording also appears to contradict his ongoing, bogus claims about documents in his possession, as he rails against the federal "witch hunt" against him, among a long list of criminal charges, lawsuits and other legal actions he faces in courtrooms across the country.
Last year, he told Fox News host Sean Hannity that he could declassify sensitive material by thinking about it.
"If you're the president of the United States, you can declassify just by saying it's declassified – even by thinking about it," he said. "Because you're sending it to Mar-a-Lago or wherever you're sending it. There doesn't have to be a process. There can be a process, but there doesn't have to be."
In an appearance on Fox News with Hannity last week, the former president dismissed reports of the tape.
"All I know is this: everything I did was right," he said.
By July 2021, officials at the National Archives and Records Administration had already spent several weeks urging Mr Trump to return documents they believed he had in his possession, culminating in a federal law enforcement search of Mar-a-Lago in August 2022.
The recording appears to have taken place at Mr Trump's resort in Bedminster, New Jersey, alongside two people working with his former chief of staff Mark Meadows on his memoir from his time in the administration. Aides for Mr Trump, including communications specialist Margo Martin, also were reportedly present.
Ms Martin was reportedly asked about the recording during a grand jury appearance in the case.
A transcript of the recording suggests that the former president was showing the document to people in the room. The file allegedly involves a US Department of Defense report involving an attack on Iran.
"Secret. This is secret information. Look, look at this," he said at one point, according to the transcript. "This was done by the military and given to me."
The meeting followed The New Yorker's publication of a story from Susan Glasser detailing how, in the final days of Mr Trump's presidency, his chairman of the Joint Chiefs of Staff General Mark Milley had instructed his team to prevent Mr Trump from launching a strike that could trigger a war.
Mr Trump reportedly sought to use the document to discredit Mr Milley's warnings and undermine reports that Mr Milley pushed back against an increasingly erratic president in the finals days of the administration, but the document reportedly was drafted much earlier in Mr Trump's administration under then-Joint Chiefs chairman Joseph Dunford.
Trump says he's innocent as he is indicted on seven charges
"Well, with Milley – uh, let me see that, I'll show you an example. He said that I wanted to attack Iran. Isn't that amazing? I have a big pile of papers, this thing just came up. Look. This was him," Mr Trump said, according to the transcript.
"They presented me this – this is off the record, but – they presented me this," he added. "This was him. This was the Defense Department and him. We looked at some. This was him. This wasn't done by me, this was him."
Later, he said there was "all sorts of stuff – pages long."
"Wait a minute, let's see here," he continued. "I just found, isn't that amazing? This totally wins my case, you know. Except it is like, highly confidential. Secret. This is secret information. Look, look at this."
"Secret" and "confidential" are among classification markings for sensitive government documents.
Mr Trump is charged with 31 of 38 counts under a section of the Espionage Act that prohibits "gathering, transmitting or losing" any "information respecting the national defence".
The use of Section 793, which does not make reference to classified information, is likely intended to undercut Mr Trump's attempts to claim that he declassified such documents before moving them to his Florida home. That statute is written in a way that could encompass Mr Trump's conduct even if he was authorised to possess the information as president.
It states that anyone who "lawfully having possession of, access to, control over, or being entrusted with any document … relating to the national defence" and "willfully" transmits such information in any way can face a prison sentence of up to 10 years.
For an additional conviction on a charge of obstruction, prosecutors must prove whether he knowingly kept documents from authorities and willfully defied the Justice Department's subpoena for documents in his possession. A conviction includes a penalty of up to 20 years in prison.
The investigation is one of two helmed by special counsel Jack Smith, who was appointed by US Attorney General Merrick Garland to lead a probe into the documents and Mr Trump's role in the January 6 attempt to subvert the 2020 presidential election.