Most Americans support Trump inviting Putin to White House, poll finds
Poll comes after controversial summit in Helsinki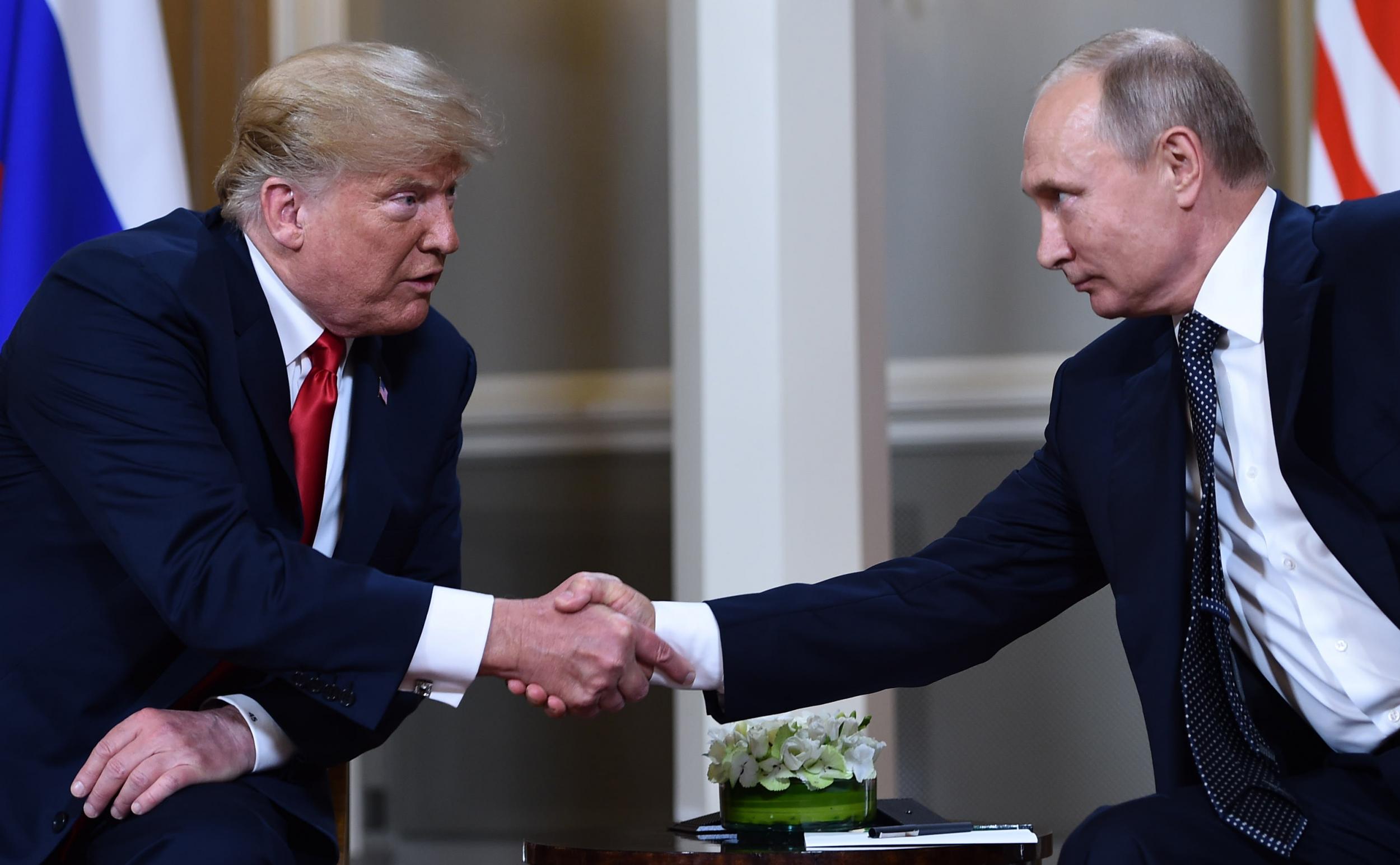 The majority of Americans approve of Donald Trump inviting Russian President Vladimir Putin to the White House, according to a new poll.
Mr Trump invited the Mr Putin to Washington on the heels of a controversial summit between the two world leaders in Helsinki last week. During the summit, Mr Trump appeared to cast doubt on the US intelligence community's assessment that Moscow had meddled in the 2016 election.
Sixty percent of Americans said they disapproved of Mr Trump's handling of Russia in the aftermath of the summit, according to a poll conducted by The Hill and the HarrisX polling company. According to the same poll, however, 54 per cent of respondents supported Mr Trump's decision to invite Mr Putin to the White House.
The poll results were heavily divided along partisan lines: Eighty-seven percent of Republicans approved of the invitation, compared to 26 per cent of Democrats.
The results were similar to a survey conducted by Axios last week, in which 79 per cent of Republicans said they approved of how Mr Trump handled the summit, and only 7 per cent of Democrats said as much.
Mr Trump claimed the summit had been "a great success" in a tweet last week, announcing that he had invited Mr Putin to the White House "so that we can start implementing some of the many things discussed".
The biggest names involved in the Trump-Russia investigation
Show all 17
The latest poll results came after numerous White House attempts to clean up from the summit, where Mr Trump said he did not see "any reason why it would be" Russia who intervened in the election – a direct contradiction of the US intelligence community's findings.
Upon returning to Washington, Mr Trump said he had misspoken, adding that he had "full confidence" in the US intelligence agencies.
"In a key sentence in my remarks I said the word 'would' instead of 'wouldn't'," the president said. "The sentence should have been: 'I don't see any reason why it wouldn't be Russia'."
Mr Trump also tweeted on Tuesday that he was "concerned" about Russian meddling in the coming midterm elections – a possibility he had refused to acknowledge up until that point. He added that Moscow would be likely be pushing for Democratic candidates, claiming that "no President has been tougher on Russia than me".
Director of National Intelligence Dan Coats informed on stage that the Trump administration has invited Vladimir Putin to the White House
The efforts did little to soothe tensions in Congress, where Republicans said Mr Putin would not be invited to speak if he visited Washington. Republican representative Trey Gowdy, usually a strong defender of the president, told Fox News that extending the invitation was a mistake.
"The fact that we have to talk to you about Syria or other matters is very different from issuing an invitation," Mr Gowdy said. "Those should be reserved for, I think, our allies."
Mr Putin has yet to accept his American counterpart's offer. A Kremlin aide said on Tuesday that Russia had not started preparations for such a summit, according to Reuters. The aide, Yuri Ushakov, said there would be plenty of other times for the two men to meet, including the G20 summit in November.
"After the [Helsinki] summit you know what kind of atmosphere there is around its outcome," he said. "I think it would be wise to let the dust settle and then we can discuss all these questions in a business-like way. But not now."
Join our commenting forum
Join thought-provoking conversations, follow other Independent readers and see their replies