At the site of the Ohio train derailment, Trump fires up his 2024 battle plan
America's union workers were crucial to Donald Trump's victory in 2016, but key to his defeat in 2020, writes John Bowden
Wednesday 22 February 2023 09:31 EST
Comments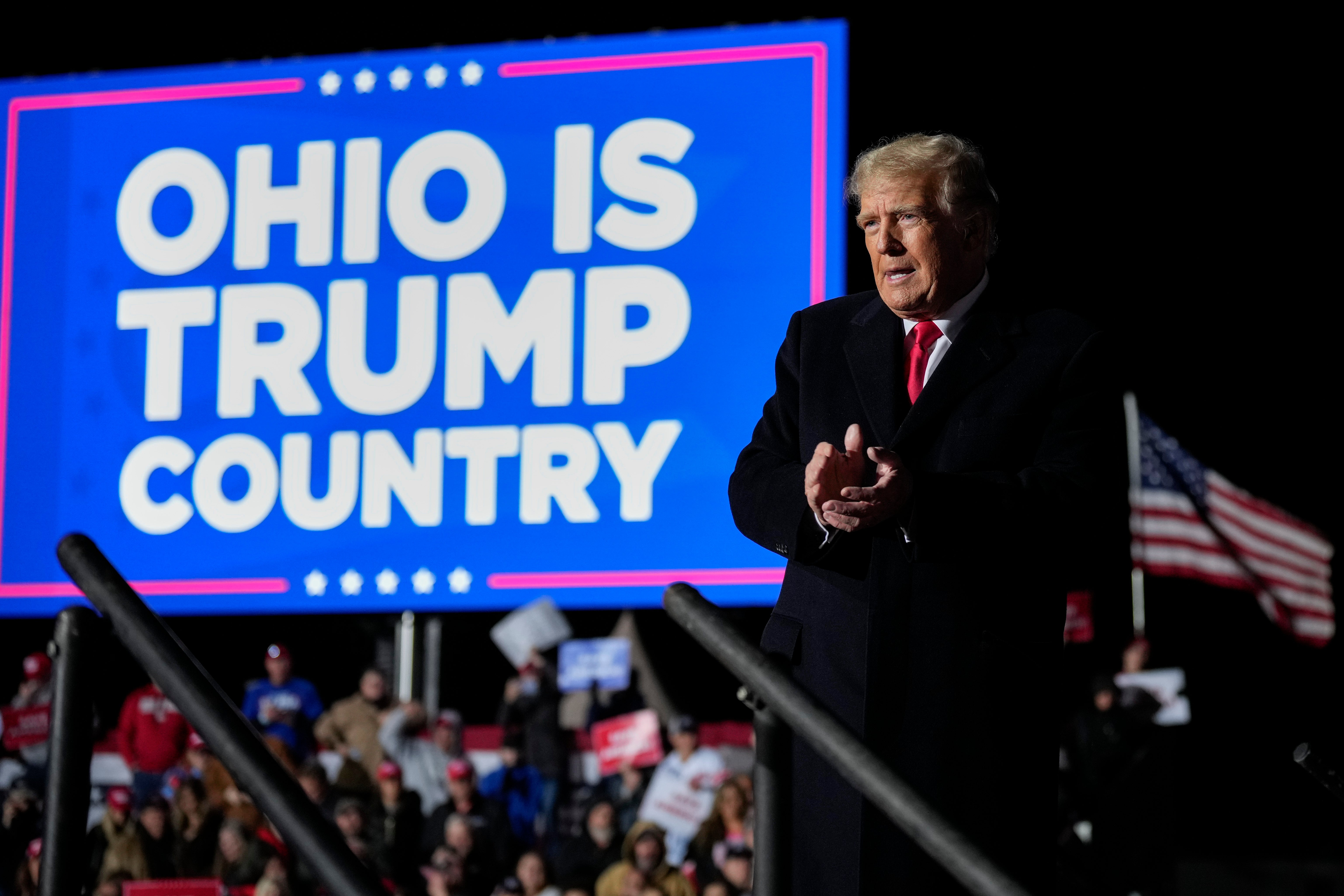 When Donald Trump won office in 2016, it wasn't initially clear who would take the credit, or blame, for the election of a reality TV star to the US presidency.
While Democrats including Hillary Clinton initially focused their fire on Russian disinformation and the role of conspiracies on social media, others pointed to a different phenomenon: the growing conservatism of the Rust Belt, the heartland of America's manufacturing power.
It was here where progressives and Maga Republicans diagnosed the same problem: an entire region, spurned once too often by the shuttering of massive plants and the resulting regional economic collapses which followed, had turned towards the only politician unwilling to dismiss them as "flyover country" — Donald Trump. Even Democrats find themselves admitting that Mr Trump successfully painted himself as a hero of America's working class, and in particular a hero of the kinds of blue collar union workers whose families had voted Democrat for years, maybe even decades.
That was the embarrassed anger which was evident whenever progressives and even some centrist Democrats noted that Ms Clinton's campaign had failed to reach out to and campaign alongside labour unions in Michigan, or even worse, failed to even show up at all in Wisconsin. After 2016, the question for the left was clear: had the Democratic Party sacrificed its connection to the working class, and in particular to unions, in favour of chasing the suburbanite Republicans and independents whom they wagered were turned off by Donald Trump's caustic rhetoric?
For progressives, the answer continues to be yes. Sen Bernie Sanders, the progressive insurgent who gave Ms Clinton a run for her money during the 2016 primary, writes in his new book It's OK to Be Angry About Capitalism, published this week, that Mr Trump was able to to capture those voters from Ms Clinton without pushing policies that actually benefited them.
"Look, you can't simply go around to wealthy people's homes raising money and expect to win elections," he said in a scathing 2017 interview about Ms Clinton's strategy. "You've got to go out and mix it up and be with ordinary people."
It was that effort to "mix it up with ordinary people" that turned the odds back in Joe Biden's favour in 2020. There were still clear issues in reconstructing the so-called "blue wall" that had long existed for Democrats in Pennsylvania, Wisconsin, and Michigan but some signs, at least, pointed to a recovery in that area.
Mr Biden won 57 per cent of union households in 2020, nearly twice the margin by which Ms Clinton won them over Mr Trump in 2016. That's a clear advantage going into these states, but not enough to claim the kind of dominance which his party relied upon in the past.
He still failed to capture Ohio, once a solidly purple state but now turning deeper red as the state's blue collar areas fume over the continued dilapidation of America's manufacturing while the suburbanite GOPers chafe over other issues like Covid guidelines and culture war issues. Still, he recaptured Michigan, Pennsylvania, and Wisconsin; all three states delivered victories for Mr Biden thanks to hand-in-hand successes in flipping some union households back blue while turnout surged in urban areas in a way it simply did not in 2016.
This week, the president faces another test in the Rust Belt: growing anger over a shocking freight train derailment in East Palestine, Ohio, which has sent a black column of smoke billowing into the sky for days. Dangerous chemicals on board the train, which the EPA said on Tuesday it would require train operator Norfolk Southern to cover cleaning up, have led to fears from residents about tainted groundwater and other serious environmental and public health concerns. Republicans and Democrats are now dueling over responsibility for safety on America's freight rail system, and have begun trading blows over deregulation efforts.
Meanwhile, reports of dead household pets and health issues arising after the crash continue to flood social media as residents question whether state and federal officials are acting with enough urgency, the latest example, they say, of an out-of-touch Washington ignoring any problem that doesn't directly affect coastal metropolises.
EPA chief Michael Regan headed to the region this week, but now Mr Biden is facing that same accusation of forgetting "flyover country" after he took a surprise visit to Kyiv, Ukraine this week before he or Transportation Secretary Pete Buttigieg had visited the region affected by the crash.
Those frustrations were summed up by the mayor of East Palestine, Trent Conaway, who delivered a message that echoed the frustrations that many residents have aimed at Washington for many years.
"That was the biggest slap in the face," he said on Fox News. "That tells you right now he doesn't care about us."
Perhaps capitalising on that anger, Mr Trump is set to visit the town on Wednesday. Ohio remains one of his favourite states to campaign in — it handed him two easy batches of electoral votes in 2016 and 2020, and last November saw the election of JD Vance, the one Trump-backed Senate candidate in a competitive race who actually won. Mr Vance capitalised on the support of the former president.
The current president has yet to announce plans to visit, though he addressed the derailment on Twitter Tuesday evening: "We'll continue to hold rail companies accountable when they fail to put safety first. But first, we've got Norfolk Southern's mess to clean. I want affected residents to know that we've got your back. And as I said to your govs, they'll have every resource that they need."
Residents of the Lordstown, Ohio region spoke to The Independent in 2022 amid the crucial Senate race that played out between the man hand-picked by Donald Trump as his stand-in for the race and Tim Ryan, a Democrat who tried to paint himself as a maverick in his own party who bucked the directives of party leaders from coastal regions — at the time, most significantly, then-Speaker Nancy Pelosi.
In interviews, there was respect evident for Mr Ryan's efforts to separate himself from his own party but a clear sense from voters on both sides that the Democratic Party had abandoned the state and, more importantly, the American union worker.
"[Democratic Senator] Sherrod Brown knew for nine months that [the Lordstown plant] was going to shut down, and he chose to stay quiet," one Republican voter, John Pleva told The Independent in September. "We don't need any more help like that."
He and others spoke of the devastation that played out after GM's pullout. The end of well-paying union jobs for even a few thousand of the city's residents, as the largest employer, devastated businesses across a wide range of sectors.
"Those people had home loans. They had IRAs," Mr Pleva said, frustration evident as he spoke about Youngstown's city centre. "They had a lot of stuff…a lot of them lost their homes…it was like a torpedo went off".
"The buildings are still there, but they're shells."
In Ohio, Mr Biden and the Democrats still face steep challenges when it comes to winning back union households and convincing voters that their state was not left behind by lawmakers in Washington who saw America's manufacturing sector as an afterthought. There are much better signs, however, in Wisconsin and Michigan where Democrats are seeing Republicans similarly abandon urban areas and minority voters in favour of their increasingly old, white base.
Michigan in particular was a source of pride for Democrats after the 2022 midterms, when the party saw Gov Gretchen Whitmer coast to a clean reelection over her Trump-backed challenger and Democrats likewise captured the state legislature for the first time in decades. In Wisconsin, Mandela Barnes came within a hair of knocking out an incumbent Republican senator despite a brutal wave of attacks that went largely unanswered by Democratic operatives. And in Pennsylvania, Democrats had another strong showing this cycle with the dual victories of Governor Josh Shapiro and Senator John Fetterman.
With 2024 looming closer by the day, the Rust Belt remains a heated battlefield which neither party is willing to cede. As Joe Biden gears up for his presumed reelection bid, his campaign will face a crucial challenge in both rhetoric and focus as the president doubles down on the pro-worker, pro-labour pitch that saw him recapture areas once considered one of his party's most reliable bastions.
Join our commenting forum
Join thought-provoking conversations, follow other Independent readers and see their replies