Donald Trump says 'we have many options' on North Korea after saying threat must be 'dealt with rapidly'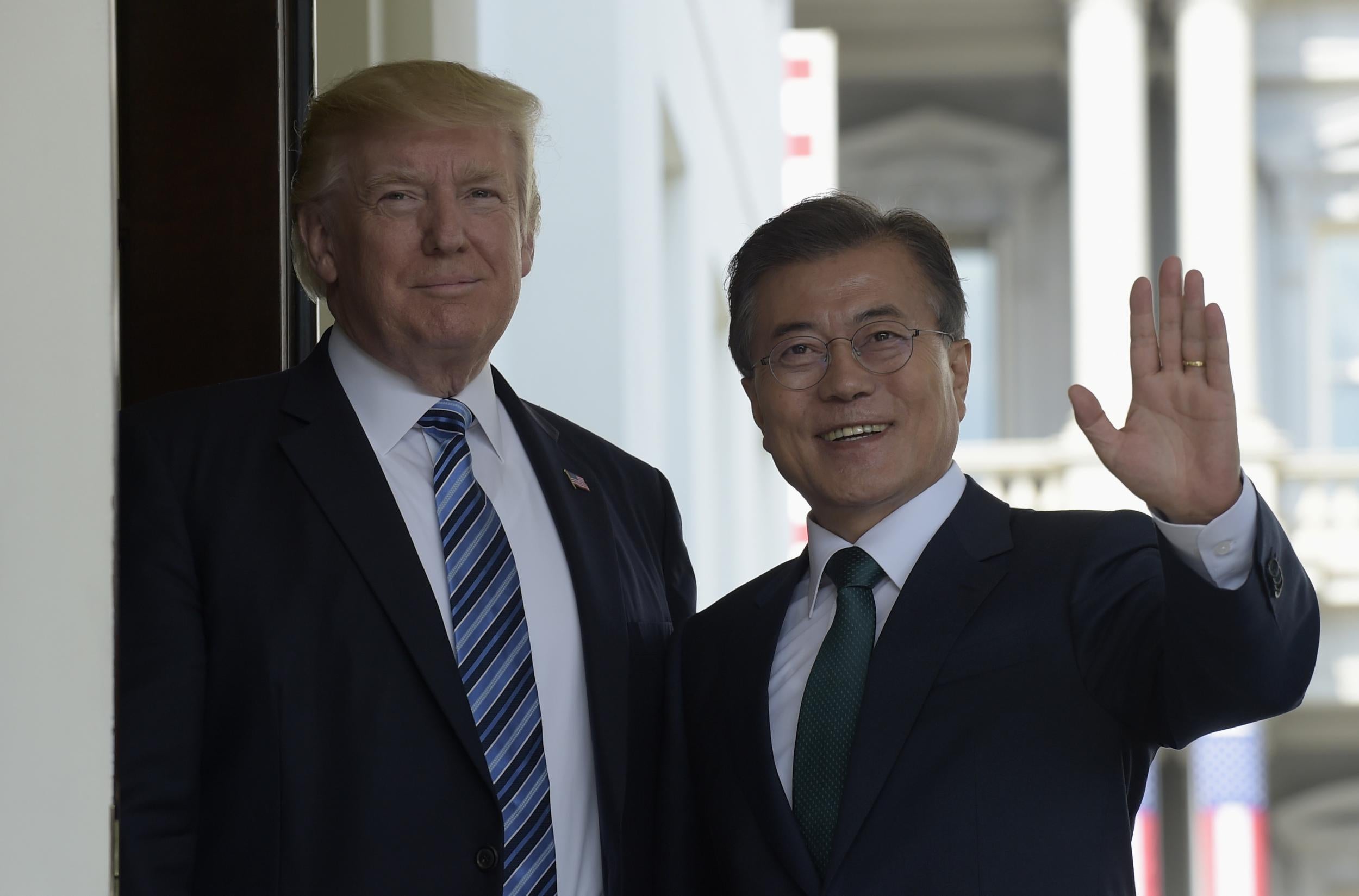 Donald Trump has said that the US "has many options" for dealing with the threat from North Korea, as he meets with South Korean President Moon Jae-in.
Mr Trump, who said earlier this week that North Korea was a problem that should be "dealt with rapidly," is set to discuss the issue of the isolated nation as well as trade with South Korea's new leader, whose pro-engagement stance toward the North could clash with the US administration's intent to crank up sanctions.
The US and North Korea's regional neighbours have expressed dismay about the threat posed by North Korea's nuclear weapons programme.
Mr Trump welcomed South Korean President Moon for formal talks at the White House. The two leaders had their first meeting over dinner Thursday, shortly after the Treasury Department blacklisted a Chinese bank accused of conducting millions in illicit business with North Korea.
"We accomplished a lot having to do with our thoughts on North Korea and very much our thoughts on trade," Mr Trump told reporters on Friday in the Oval Office. "We are renegotiating a trade deal right now with South Korea, and hopefully it will be an equitable deal. It will be a fair deal for both parties. It's been a rough deal for the US, but I think that it will be much different and will be good for both parties."
"We're also in the process of discussing our frankly many options. We have many options with respect to North Korea," Mr Trump added.
Mr Moon told reporters that his discussions with Mr Trump have been a great opportunity to further the trust between him and the US leader.
"It was also an opportunity to reconfirm that the US and Korea are walking together on the same path towards a great alliance," Mr Moon said. "Last night, at the dinner with President Trump, we discussed various issues through a diverse scope and very honest discussions and on issues to include the North Korean nuclear issue and other issues of mutual interest."
In pictures: North Korea military drill
Show all 8
The South Korean leader has sought to make clear to the US that he is serious about dealing with his neighbour's threat, despite his inclination to restart dialogue with the North to address its nuclear weapons development.
Mr Moon did not mention trade in his remarks to the press in the Oval Office. After Mr Trump scuttled the Trans-Pacific Partnership, a landmark 12-nation trade pact proposed and finalised by former President Barack Obama, China and South Korea – both of which were not members of the TPP – were said to be joining trade talks with TPP member states in Washington's absence.
Mr Moon appeared to try to break the ice early on during Thursday's dinner, telling Mr Trump that he also suffers from "fake news" coverage, prompting laughs. Trump has used the term to describe media reports he doesn't like.
Mr Trump also wrote on Twitter that they had a "very good meeting" and that they discussed North Korea and trade. Those discussions are expected to continue on Friday.
Ahead of the meeting, US National Security Adviser HR McMaster confirmed that US military options for North Korea have been prepared.
"What we have to do is prepare all options because the President has made clear to us that he will not accept a nuclear power in North Korea and a threat that can target the United States and target the American population," McMaster said during remarks at a Washington think tank.
He also said the South Koreans were being "held hostage" by the North Korean regime.
"The threat is much more immediate now. We can't repeat the same failed approach of the past," Mr McMaster said. "The President has directed us to not do that and to prepare a range of options, including a military option, which nobody wants to take."
North Korea so far has executed five nuclear tests and a series of missile tests, defying UN Security Council and unilateral resolutions. In January, Kim Jong-un said that North Korea had entered the final stage of preparation for a test-launch of an intercontinental ballistic missile, which would have the capability of reaching the US. Trump tweeted in response at the time: "It won't happen!"
Earlier this month, the American student Otto Warmbier died after having been detained in North Korea for more than a year. He was transferred back to the US in a coma, but had showed signs of severe neurological decline.
Join our commenting forum
Join thought-provoking conversations, follow other Independent readers and see their replies