Lawsuits, jail threats and 'enemy of the people': Donald Trump's endless war on the media
The former president once relied on press coverage to spin his narrative of self-made success. Now he threatens to imprison journalists and labels coverage 'fake news' to deflect criticism, Alex Woodward reports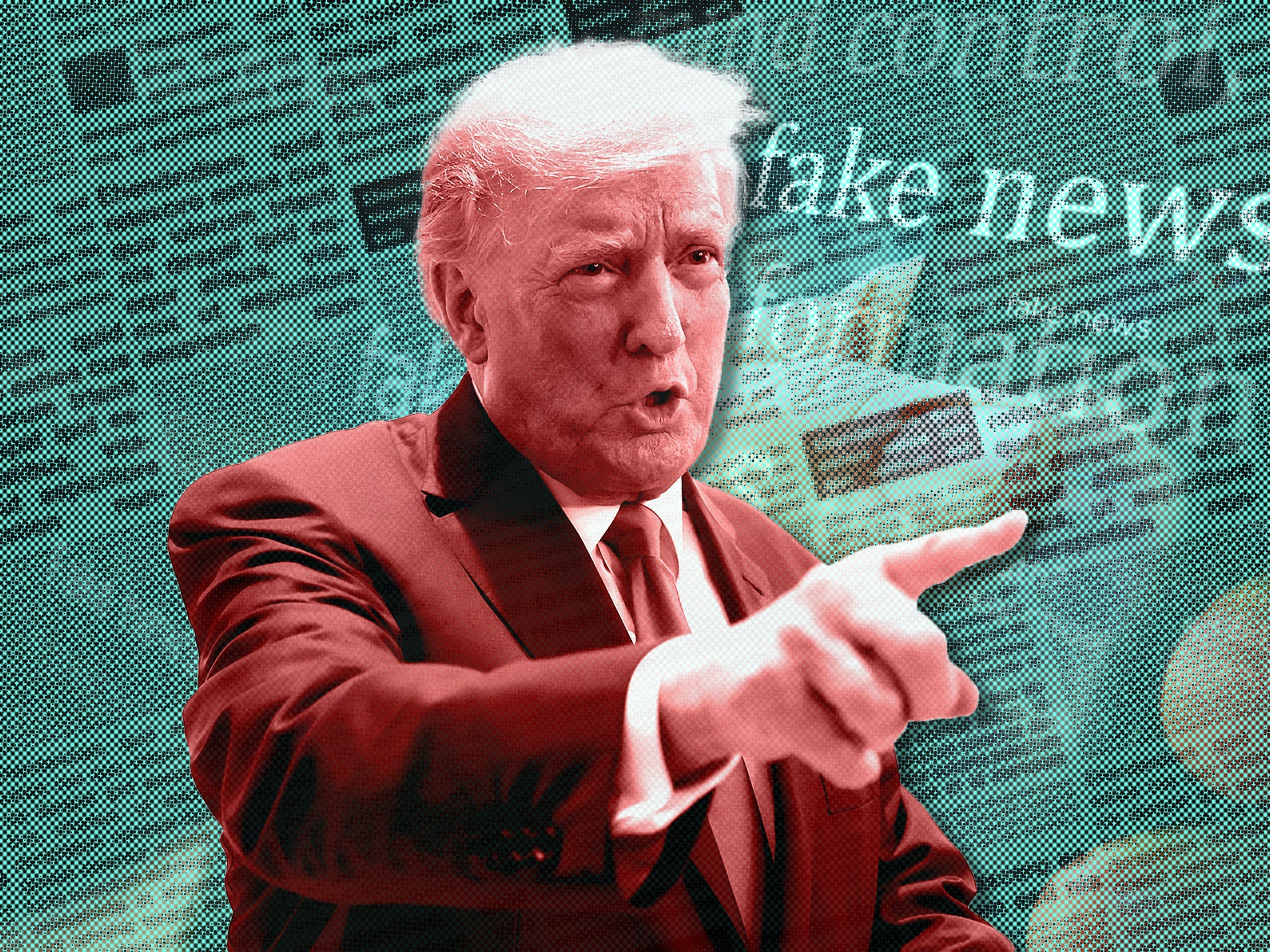 After paving his path to celebrity with a media image of enormous wealth and self-made success, Donald Trump has spent years attacking critical coverage, falsely accusing reporters of lying, and publicly suggesting they should be imprisoned for imaginary crimes.
The former president's rhetoric has alarmed civil rights groups and press freedom advocates, warning his potentially chilling remarks pose a threat to constitutionally protected speech.
During the four years of his presidency, he called journalists and news outlets "fake news" roughly 2,000 times, averaging more than one daily broadside against the press and continuing a long legacy of attempts to undermine his critics that has continued well after his time in the White House.
Following the "leak" of a draft of what became the US Supreme Court's ruling to strike down Roe v Wade, Mr Trump has repeatedly demanded that the journalist and outlet that published the draft be thrown in jail if they don't reveal their source, accelerating the former president's public war on the media.
"It won't take long before the name of this slime is revealed," he said in a statement on his Truth Social account on 19 January.
Threatening to imprison reporters
The former president has repeatedly publicly threatened journalists and publishers with jailtime as a way to extract information from them, telling faithful crowds cheering him on at campaign-style rallies that reporters could be "prison brides" if they refuse to cooperate.
Privately, he has reportedly mulled using the full force of the federal government and US Department of Justice to imprison reporters, comparing such actions to those under authoritarian regimes.
Mr Trump also allegedly suggested former FBI director James Comey should consider putting reporters in prison for publishing classified information.
Recently, he has used the Supreme Court "leak" example as a punishable offence, despite there not being any law that prevents such information from being published.
During a rally in Texas in October, the former president's remarks suggested that reporters should be threatened with the possibility of being raped in prison in an effort to draw out the Supreme Court "leaker" – a violation that does not exist.
"You take the writer and or the publisher of the paper … You say, 'Who is the leaker?' National security," Mr Trump said in rambling remarks at a rally in Robstown, Texas on 22 October.
"They say, 'We're not going to tell you.' 'You're going to jail.' And when this person realizes that he is going to be the bride of a prisoner very shortly, he will say, 'I very much would like to tell you exactly who that leaker is,'" he added.
He repeated the suggestion not even three weeks later during a rally in Ohio, where he said that the "leaking from the Supreme Court is unbelievable."
"But you get the information very easily," he said. "You tell the reporter … and if the reporter doesn't want to tell you, it's 'bye bye.' The reporter goes to jail. When the reporter learns he's going to be married to a certain prisoner who's extremely strong, tough, and mean, he will say, 'you know, I think I'm going to give you the information.'"
In the final year of Trump's presidency, at least 117 journalists in the US were detained or arrested on the job, a figure that skyrocketed by more than 1,200 per cent compared to the number of arrests in 2019, according to the US Press Freedom Tracker, a project of the Freedom of the Press Foundation and Committee to Protect Journalists
Labeling journalists 'fake news' and 'enemy of the people' hundreds of times
During a speech on 8 December, 2016, then-recently defeated Democratic presidential candidate Hillary Clinton warned that "the epidemic of malicious fake news and false propaganda that flooded social media" in the leadup to the 2016 election could undermine democracy and threaten peoples' lives.
That election was marked by a coordinated campaign of false political information, parallel to a bogus "Pizzagate" conspiracy theory that would brew online into a larger QAnon community, trafficking in authoritarian violence and antisemitism as it gained a foothold in right-wing grievances and mainstream Republican politics.
"It's now clear that so-called fake news can have real-world consequences," Ms Clinton said. "This isn't about politics or partisanship. Lives are at risk… lives of ordinary people just trying to go about their days, to do their jobs, contribute to their communities."
Two days later, the president would use the phrase for the first time – about his TV show.
President Donald Trump tells a reporter you are fake news
In a post on Twitter, he said that "reports by @CNN that I will be working on The Apprentice during my Presidency, even part time, are ridiculous & untrue – FAKE NEWS!"
He said the phrase more than 2,000 times while in office, according to transcripts and social media posts reviewed by The Independent.
Days before the president's inauguration in 2017, then-press secretary Sean Spicer lashed out at Buzzfeed News for publishing an unverified dossier, some of which has been corroborated, prepared by a former British intelligence operative alleging ties between Trump's campaign and Russia.
"For all the talk lately about fake news, this political witch hunt by some in the media is based on some of the most flimsy reporting and is frankly shameful and disgraceful," he said.
Moments later, Mr Pence condemned the "irresponsible decision of a few news organizations to run with a false and unsubstantiated report, when most news organizations resisted the temptation to propagate this fake news."
On 2 October 2019, the president took credit for creating the term – which Buzzfeed media editor Craig Silverman began using five years earlier as part of his research project at Columbia University's Tow Center for Digital Journalism.
"I call the fake news now corrupt news because fake news isn't tough enough," he said during an appearance at the Oval Office. "And I'm the one that came up with the term. I'm very proud of it, but I think I'm gonna switch it to corrupt news."
He used the phrase "enemy of the people" – infamously invoked by Adolf Hitler's propaganda minister and in the Soviet Union under Joseph Stalin – dozens of times while in office.
His deflection follows his own countless false statements, including more than 30,000 while in office, by The Washington Post's count.
'Saving' MBS and praising a congressman who body slammed a reporter
Former congressman Greg Gianforte pleaded guilty to misdemeanor assault after attacking a reporter for The Guardian a day before he won a 2017 special election for a seat in the House of Representatives.
Mr Gianforte, now the governor of Montana, was hailed by then-President Tump as a "tough cookie" who likely helped him win the state in 2016.
"Any guy that can do a body slam, he's my kind of guy," Mr Trump said at a campaign rally in Missoula in October of 2018. "He's a great guy, tough cookie."
His remarks came just days after the assassination of Washington Post columnist Jamal Khashoggi, which the Central Intelligence Agency determined was ordered by Mohammed bin Salman. Mr Trump continued to defend the Saudi leader after authorities determined that the murder was premeditated and after the CIA named him as responsible.
"I saved his ass," Mr Trump reportedly told journalist Bob Woodward. "I was able to get Congress to leave him alone. I was able to get them to stop."
A statement from the White House Correspondents' Association following Mr Trump's praise for the Montana congressman said that "all Americans should recoil from the president's praise for a violent assault on a reporter doing his Constitutionally protected job."
'You're a rude, terrible person'
During a White House briefing in November of 2018, then-President Trump lashed out at a roomful of reporters and labeled a CNN correspondent a "terrible person" before the White House revoked his credentials.
CNN reporter Jim Acosta asked why the president falsely labeled Central American migrants traveling towards the US-Mexico border an "invasion" before the president shouted out "that's enough" and "put down the mic."
White House press person attempts to take microphone away from Jim Acosta as he asks Donald Trump question
"CNN should be ashamed of itself having you working for them. You are a rude, terrible person. You shouldn't be working for CNN. ... You're a very rude person. The way you treat [then press secretary] Sarah Huckabee is horrible. And the way you treat other people are horrible. You shouldn't treat people that way," he said.
Another reporter, NBC News correspondent Peter Alexander, tried to defend Acosta, saying he is a "diligent reporter." Mr Trump responded: "Well, I'm not a big fan of yours, either."
"When you report fake news, which CNN does, a lot, you are the enemy of the people," he said.
Following the briefing, CNN said in a statement that Mr Trump's "ongoing attacks on the press have gone too far."
"They are not only dangerous, they are disturbingly un-American," according to the statement. "While President Trump has made it clear he does not respect a free press, he has a sworn obligation to protect it. A free press is vital to democracy, and we stand behind Jim Acosta and his fellow journalists everywhere."
Calling a Black reporter's question about white nationalism 'racist'
During that same briefing, Mr Trump shut down a Black reporter who asked about his embrace of nationalism and how it emboldens white supremacists.
"I don't know why you'd say that," he said, cutting her off. "That's such a racist question."
PBS correspondent Yamiche Alcindor continued, saying that the Republican Party appears to support white nationalism because of his rhetoric.
"I don't believe that. I don't believe that," he said. "I don't know – why do I have my highest poll numbers ever with African Americans? Why do I have among the highest poll numbers with African Americans? I mean, why do I have my highest poll numbers? That's such a racist question. Honestly, I know you have it written down and you're going to tell me. Let me tell you, that's a racist question."
Lawsuits aimed at stripping First Amendment protections
The litigious former president has filed lawsuits against The New York Times and CNN as his legal team targets a decades-old US Supreme Court precedent that limits the ability of public officials to sue for defamation by using the "actual malice" standard.
In a recent filing in the CNN case, his lawyers argued that the precedent "no longer merely provides 'breathing space' for the occasional misstatement, but rather, offers a nearly impenetrable shield to the media, allowing it to publish defamatory statements targeting political enemies, without fear of consequence."
A lawsuit against CNN provides a "perfect vehicle" to strip First Amendment protections, his lawyers wrote in a recent filing.
The Trump campaign's lawsuit against The New York Timeswas dismissed, and CNN has sought to dismiss the challenge against the network.
Mr Trump's defamation lawsuit against CNN accuses the network of baselessly comparing the former president and his Make America Great Again movement to the rise of Nazism in 1930s Germany. Meanwhile, his attorneys suggest journalists are "an enemy of democracy", according to a recent filing.
The lawsuit also suggests that the network is responsible for the "rise of disinformation" without addressing Mr Trump's own wave of bogus claims.
Join our commenting forum
Join thought-provoking conversations, follow other Independent readers and see their replies