Pro-Trump group deny telling Latino and Native American legislators to 'get out of my country'
Members of Living United for Change say they were accosted by flag waving pro-Trump supporters who asked them if they were in the country illegally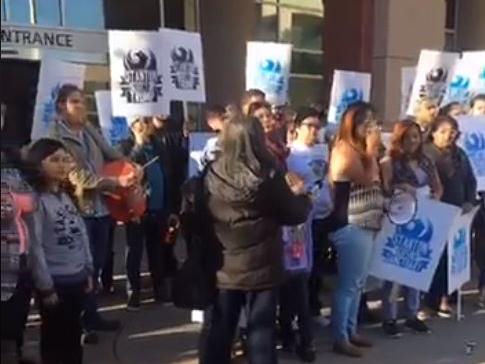 Donald Trump supporters have denied heckling Native American and Latino legislators in Arizona and asking if they were illegal immigrants.
Several witnesses recorded footage of people at the rally shouting insults and abuse. Some were heard telling the politicians to "go home" as they protested proposed immigration reform in the state's capital, Phoenix.
Members of Living United for Change in Arizona (LUCHA) said they were accosted by flag waving pro-Trump supporters while standing between the state's House and State buildings.
The protesters reportedly asked people whether they supported illegal immigration – including one Native American legislator.
Representative Eric Descheenie, a member of the Navajo tribe, said he was asked if he was in the country legally when he defended a young student he said was being harassed.
He said: "I'm indigenous to these lands. My ancestors fought and died on these lands. I just told them, 'Don't ask me that question.'"
Two advisers to Democratic State Senators said they were yelled at while they walked past on their way to get lunch.
Lisette Flores and Selianna Robles, who are both Latina, said they were being escorted by a white colleague, Jane Ahern, when the protesters started shouting at them.
Ms Robles said: "We're walking back, and they start yelling again, 'Get out of the country.' At that point, they pointed to Lisette, called her an illegal, and said, 'Get out, go back home!'.
"But they pointed at Jane, who works for the House, and they said: 'No, you can stay.'"
World news in pictures
Show all 50
"I was born in California," she added. "I'm obviously of Mexican descent, so I think in that group I'm the darkest one. Selianna [is a] light-skinned Latina. So, I think probably that's why they pointed at me out of a group of six."
But Jennifer Caminiti-Harrison and Lesa Antone, who said they were at the protest, said they believe the LUCHA activists were undocumented and said they had received abuse when they tried to protest.
In a live stream of the protest uploaded by Ms Antone, seen by the Arizona Capitol Times but subsequently deleted from Facebook, a LUCHA member was allegedly seen telling a black Trump supporter: "You're gonna be the first to get lynched."
Ms Caminiti-Harrison told the newspaper: "First, we were a group of several white, black and Latina Americans. To make assumptions that we were only calling out Hispanic representatives or 'non-white' legislators is a disgusting, blatant lie.
"We also had legal immigrants visiting the Capitol who stood in solidarity with us along with Republican lawmakers who thanked us for being there and stopped for a photo."
A video uploaded to YouTube of the protest showed the protesters shouting that the group were illegal aliens.
"No, they're not legal. They're illegal," one woman can be heard saying.
"Yeah, we know they're illegal. Get legal or get out of America … They're illegal, see that?" another is heard shouting.
The Independent has contacted Ms Caminiti-Harrison, Ms Antone and LUCHA for comment, but none had arrived at the time of publication.
Join our commenting forum
Join thought-provoking conversations, follow other Independent readers and see their replies