Majority of Trump supporters 'don't believe Trump Jr attended Russian lawyer meeting'
Donald Trump Jr has confirmed he took the meeting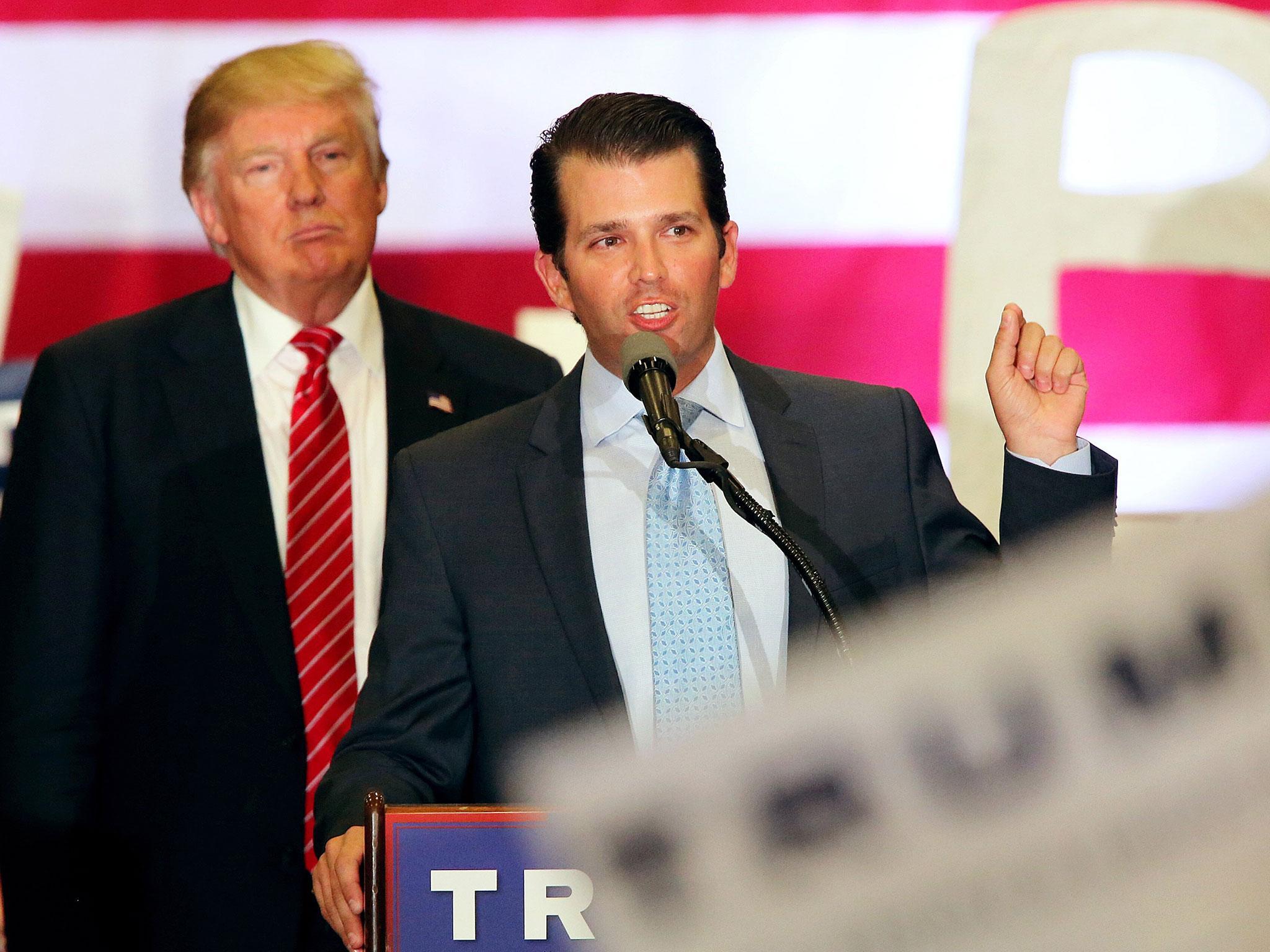 A new survey from Democratic polling firm Public Policy Polling (PPP) has revealed that less than half of all Trump supporters believe the President's son met with a Russian lawyer during the 2016 campaign – a fact Donald Trump Jr himself has confirmed.
Only 45 per cent of Trump voters, the national poll found, believe that Mr Trump Jr met with a Kremlin-connected lawyer who promised damaging information on Hillary Clinton.
Donald Trump Jr has confirmed multiple times that he took this meeting. The White House has not disputed this account.
Emails from June of last year – released by Mr Trump Jr himself – show he helped plan a meeting between himself, then-campaign manager Paul Manafort, adviser Jared Kushner, and a woman described as a "Russian government lawyer".
The purpose of the meeting, according to the emails, was to "provide the Trump campaign with some official documents and information that would incriminate Hillary and her dealings with Russia" as part of "Russia and its government's support for Mr. Trump".
Still, only 13 per cent of Trump voters believe members of the Trump campaign worked with Russia to boost his presidential bid. In fact, only 26 per cent of Trump voters believe that Russia even wanted Mr Trump to win the election. Forty-four per cent believe Russia wanted Ms Clinton to win.
The biggest names involved in the Trump-Russia investigation
Show all 17
This belief – contradicted by reports from multiple US intelligence agencies – has been encouraged by Mr Trump himself, who last week claimed that Russian President Vladimir Putin would have liked to see Ms Clinton win.
"We are the most powerful country in the world, and we are getting more and more powerful because I'm a big military person," he said. "As an example, if Hillary had won, our military would be decimated … There are many things that I do that are the exact opposite of what [Mr Putin] would want."
Trump voters are also likely to repeat another of the President's favourite lines: According to the PPP poll, almost two-thirds of Trump voters consider the Russia story to be "fake news".
Mr Trump has alternately called the allegations of his ties to Russia "fake news," a "hoax," and a "witch hunt".
But even this "fake news" turned out to be true, the poll finds, Mr Trump's base would stand by him. Seventy-seven per cent of Trump voters said they would support the President staying in office, even if investigations find he did collude with Russia.
Join our commenting forum
Join thought-provoking conversations, follow other Independent readers and see their replies