Donald Trump calls Iran a 'murderous regime' in surprisingly hostile UN speech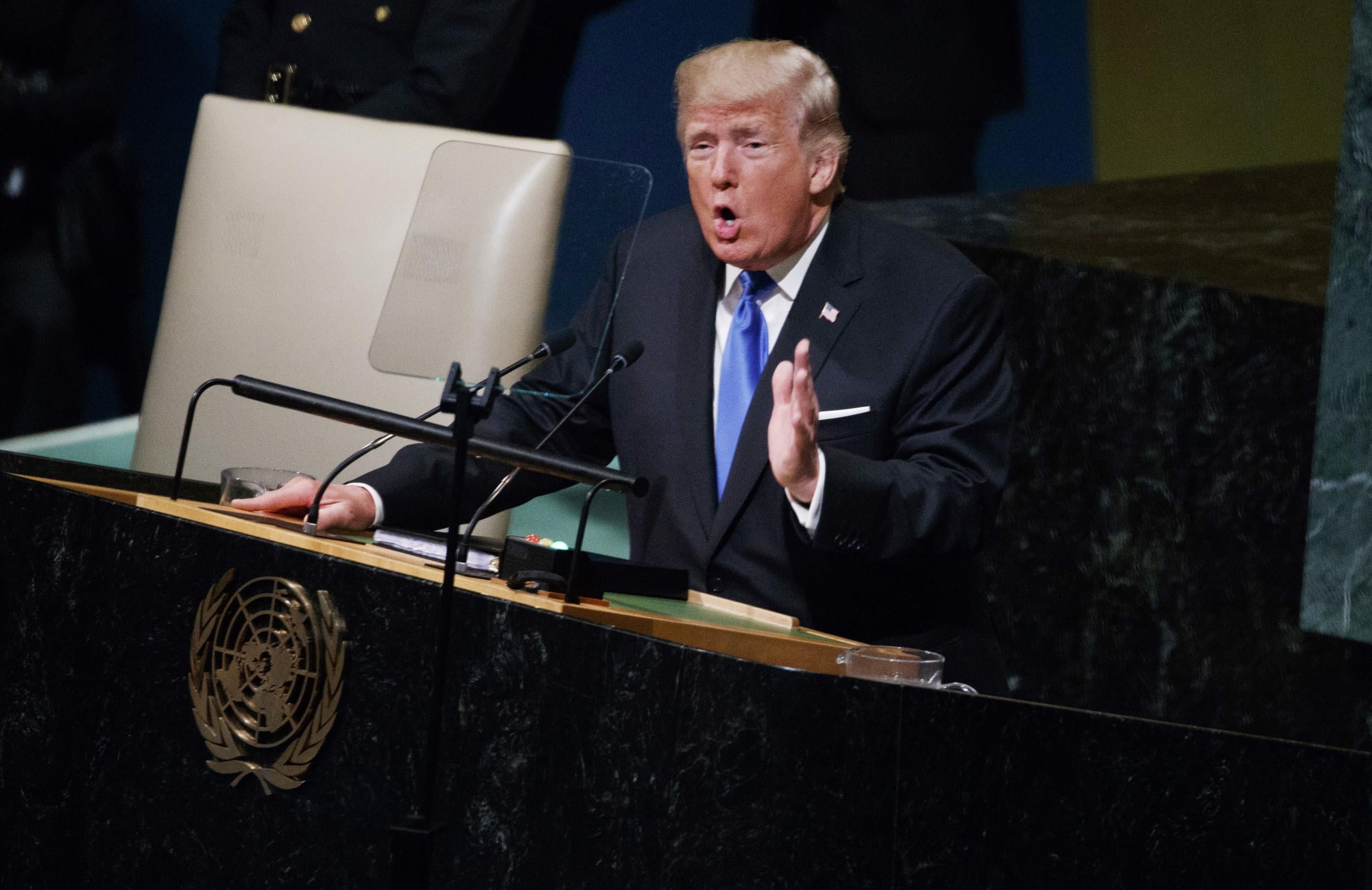 Donald Trump says that Iran is a "murderous regime" and that the nuclear deal negotiated by his predecessor with the country is an "embarrassment".
Mr Trump gave the harsh assessment of the Persian nation during his first address to the United Nations General Assembly as President.
"The Iran deal was one of the worst and most one-sided transactions the US has ever entered into," Mr Trump said. "Frankly, that deal is an embarrassment to the United States, and I don't think you've heard the last of it. Believe me."
The President characterised Iran as a violent and oppressive regime, and called on the country to release US and other foreign citizens currently held in prisons there.
"It is time for the entire world to join us in demanding that Iran's government end its pursuit of death and destruction," Mr Trump said. "It is time for the regime to free all Americans and citizens of other nations that they have unjustly detained. And above all, Iran's government must stop supporting terrorists, begin serving its own people, and respect the sovereign rights of its neighbors."
The Iranian government has warned that pulling back from the 2015 nuclear deal would force America to pay a "high cost". Iranian President Hassan Rouhani reiterated that threat just a day before Mr Trump delivered his hostile remarks at the United Nations.
Iran's 'Trumpism' contest
Show all 10
"Exiting such an agreement would carry a high cost for the United States of America, and I do not believe Americans would be willing to pay such a high cost for something that will be useless for them," Mr Rouhani said during an interview in New York.
Pulling back from the deal, which saw the US extend sanctions relief to the Iranians in exchange for an end to nuclear weapons development, would give the US very little, Mr Rouhani said. Doing so "will yield no results for the United States, but at the same time it will generally decrease and cut away and chip away at international trust placed in the United States of America."
The US could re-impose sanctions against Iran, but Iran would likely immediately restart its former program of rapid uranium enrichment. The next major deadline for the agreement details is in October, when Mr Trump will be asked to recertify whether the Iranian government has been complying with the Iranian agreement, which is known as the Joint Comprehensive Plan for Action. Should the President decide not to recertify, Congress would have 60 days to determine whether to re-impose those sanctions.
It appears likely that the President won't recertify. Mr Trump discussed the issue with reporters last week aboard Air Force One, and similarly said that the deal was a bad one.
"You'll see what I'm going to be doing very shortly in October," Mr Trump said. "But I will say this, the Iran deal is one of the worst deals I've ever seen, certainly at a minimum the spirit of the deal is just atrociously kept. But the Iran deal is not a fair deal to this country. It's a deal that should have never ever been made. And you'll see what we're doing in a couple of weeks."
Mr Trump promised on the campaign trail in 2016 to pull back from the deal.
Join our commenting forum
Join thought-provoking conversations, follow other Independent readers and see their replies