'Everybody needs to support Trump': Ex-president's indictment overshadows DeSantis in North Carolina
The Florida governor needs to win primary states like North Carolina if he wants a chance to beat Donald Trump. But the indictment meant he couldn't escape him, Eric Garcia reports from Greensboro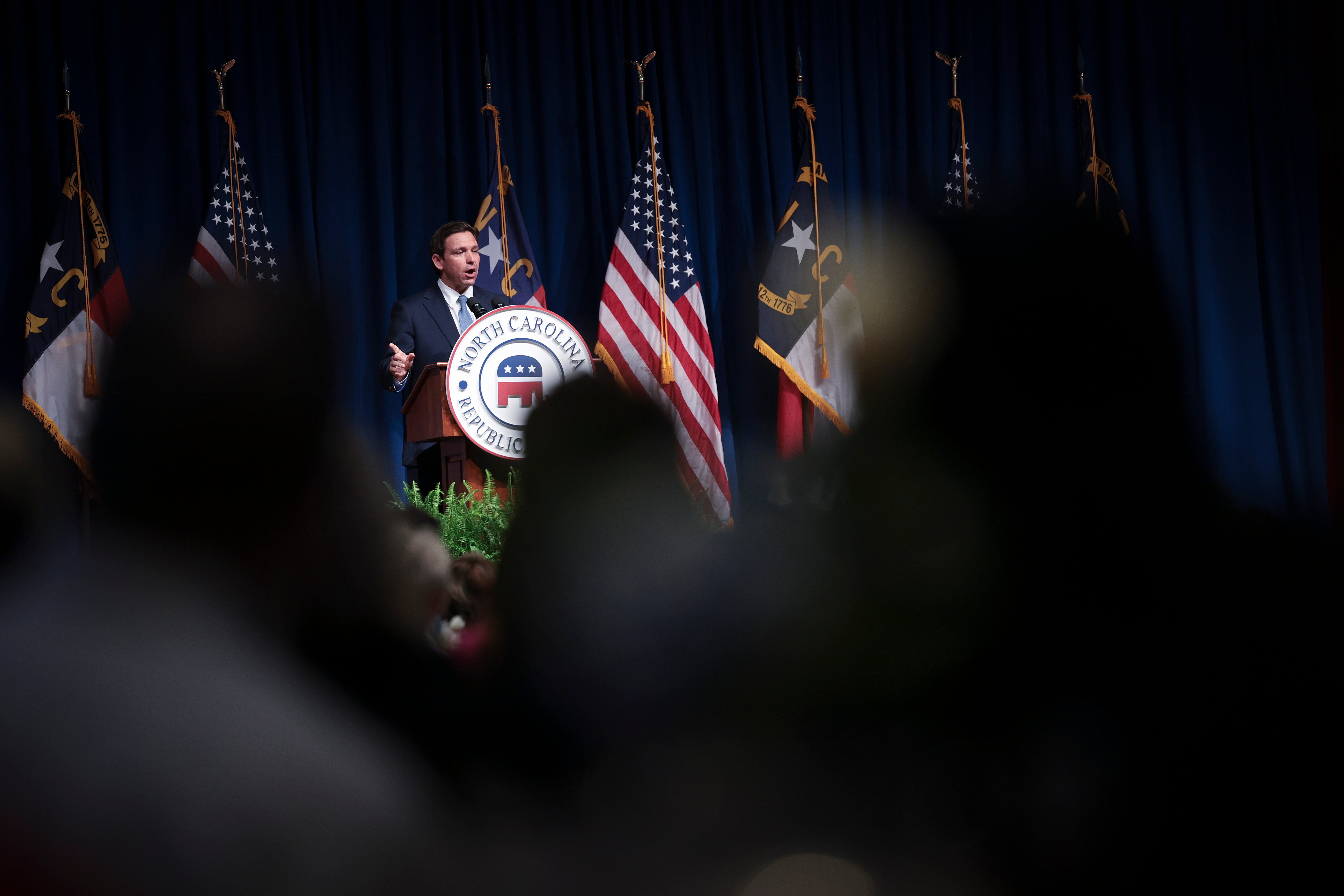 In another era, a Republican frontrunner facing his second indictment in three months would mean that primary voters would actively be shopping for other candidates to put up against a president as unpopular as President Joe Biden.
Instead, former president Donald Trump's indictment, which he announced on Thursday evening and which was unsealed on Friday, calcified his support among Republican voters at the North Carolina Republican Convention in Greensboro. If anything, the 37-count indictment accusing Mr Trump of showing highly classified information to unauthorised persons on two separate occasions made Republicans in the Tar Heel State more likely to support him.
"After yesterday?" Beverly Atwell of Forsyth County asked in response to a question from The Independent about who she was leaning towards. "Trump."
Ms Atwell said what happened to Mr Trump was "terrible."
"Everybody needs to support him," she said. "What Joe Biden has done, only somebody like Trump can fight."
Terry Stafford, an attendee, said the indictment would not affect his vote either way.
"I know they're just making s*** up," he told The Independent. "If they wanted to show us how true they were, Biden would have been arrested for his crimes."
Friday should have been all about Mr Trump's main rival for the Republican nomination, Florida Gov Ron DeSantis. Mr DeSantis addressed a packed house for the Old North State Dinner at the Koury Convention Center. The super PAC that supports Mr DeSantis called Never Back Down had a booth on the third floor of the building. One campaign button being sold showed Mr DeSantis telling Mr Trump, "hold my beer."
The convention is meant to be a cattle call for the top Republican presidents. Former vice president Mike Pence will speak there on Saturday afternoon during a luncheon and Mr Trump will deliver one of his first speeches since his indictment in the evening after he speaks at the Georgia GOP's state convention earlier in the day.
Alan Pugh of Randolph County told The Independent that the GOP had a wide array of qualified candidates, citing not just Mr Trump and Mr DeSantis but also Sen Tim Scott of South Carolina and Gov Doug Burgum of North Dakota. But he said that Mr DeSantis had received much of the talk.
"I think the reason is, simply the fact that his record in Florida," he said, noting how Mr DeSantis went from narrowly winning his first race to winning re-election by almost twenty per cent and carrying the Hispanic vote. "People like whoever you want to, but we've got to win. And DeSantis is a winner."
But Mr Trump dominated the discussion. Even Mr DeSantis spoke about the Department of Justice "weaponising" itself against conservatives, though he didn't mention the former president by name.
"Our Founding Fathers would have absolutely predicted the weaponisation of these agencies, particularly Justice and the FBI, because if we don't have constitutional accountability, human nature is such that they will abuse their power," he said. He also criticised the Justice Department for not indicting former secretary of state Hillary Clinton for using a private email server during her tenure as secretary.
"Is there a different standard for a Democrat secretary of state versus a former Republican president," he said. "I think there needs to be one standard of justice in this country."
Republican presidential candidates find themselves in a bind in that they now have to simultaneously show their support for the twice-impeached and now twice-indicted former president and make the case that they are a more optimal choice.
Even Mr Pugh, who praised Mr DeSantis, said that even though he was not committed to any candidate, the charges helped Mr Trump "because he's being attacked by our own government."
"Our own Justice Department," he said. "That infuriates me as a lawyer."
Republicans will likely continue to feel pressure to show solidarity with Mr Trump. Charlie Kirk, the chief executive of Turning Point USA, tweeted that every Republican should suspend their campaign and go down to Miami to show support for Mr Trump.
"Either we have an opposition party or we don't," he said. "GO to Miami Tuesday, and show solidarty or we will mark you as part of the oppsition [sic]."
The predicament many Republicans face is personified by one poster in one of the booths at the convention centre which featured a quote from Ronald Reagan showing his 11th commandment: "Thou shalt not speak ill of any fellow Republican."
Join our commenting forum
Join thought-provoking conversations, follow other Independent readers and see their replies