Who are the 30 'unindicted co-conspirators' in Georgia's massive criminal case against Trump?
A massive case alleging a vast criminal enterprise to subvert election results includes more than 50 people. Alex Woodward explains what we know about the 30 individuals who were not named in the indictment
Wednesday 06 September 2023 15:42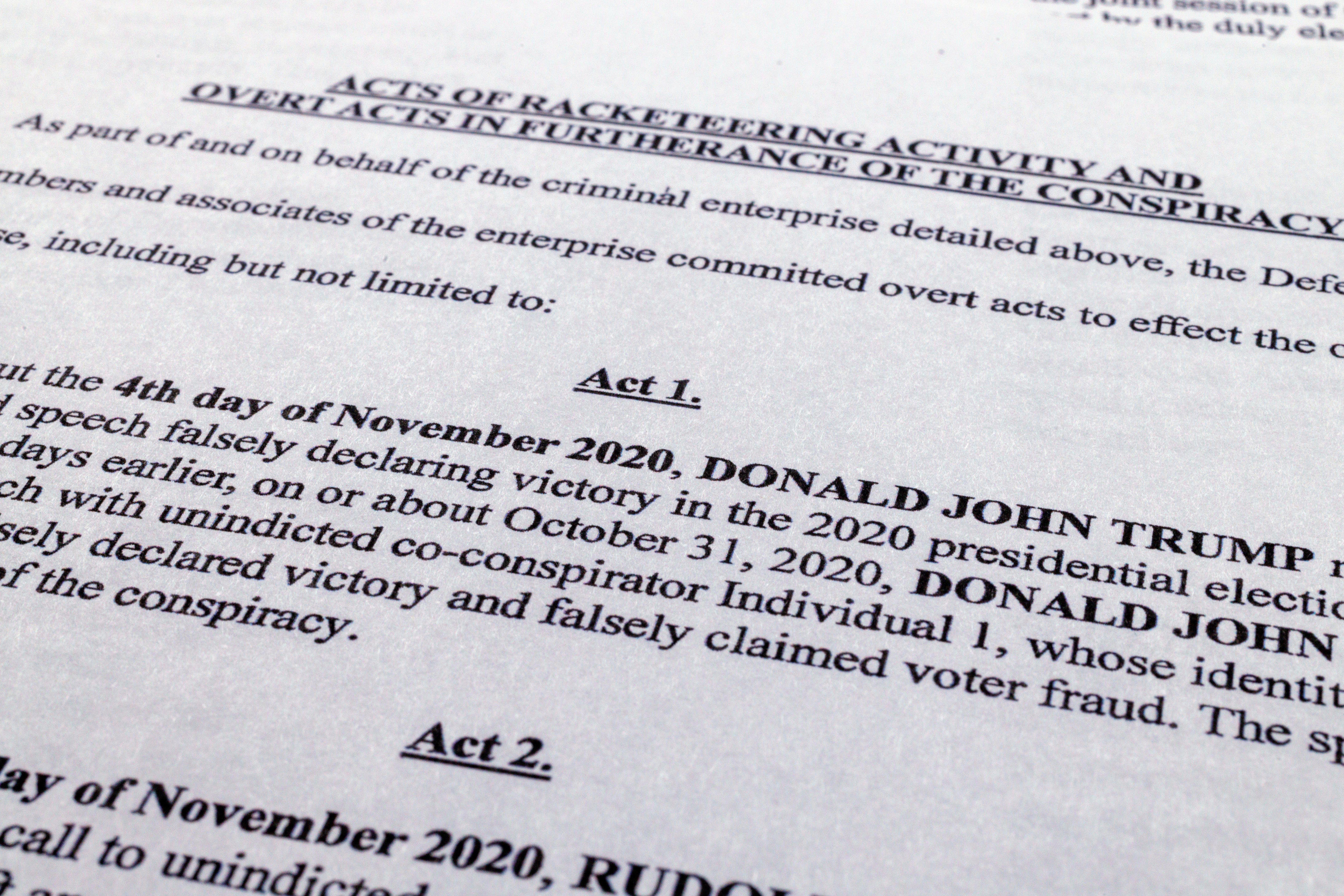 A sweeping criminal indictment targeting Donald Trump and 18 co-defendants – including members of his former legal team, White House chief of staff and government officials – also lists 30 unnamed co-conspirators who are accused of supporting the former president's alleged criminal enterprise to overturn the 2020 presidential election in the state of Georgia.
The identities of those unnamed (and, as of now, uncharged) co-conspirators were not immediately clear following a state grand jury's indictment on 14 August.
But many of the details of their alleged actions bear similarities to Trumpworld figures who were identified in previously-reported events described in the indictment.
In all, the sweeping charging document outlines a vast criminal conspiracy case connecting the actions of more than 50 people accused of trying to undermine and subvert the outcome of the 2020 election, including attempts to appoint a fraudulent slate of electors loyal to the former president, a harassment campaign targeting election workers, and efforts to copy and distribute sensitive voting machine data from a state elections office.
Donald Trump indicted for fourth time
Typically, prosecutors include "unindicted co-conspirators" who are believed to have conspired with the named defendants to commit a crime or multiple crimes, as indicated in the massive RICO case against Mr Trump and his allies. But prosecutors have either provided them some immunity from prosecution in exchange for their testimony or have reached another arrangement.
As with the federal indictment targeting Mr Trump's efforts to subvert the 2020 election, many of the alleged actions outlined in the Georgia case echo those uncovered by the House select committee investigating January 6.
Many of the unindicted co-conspirators in the Georgia case are known to the grand jury, the document states.
Unindicted co-conspirators nine through 19 are likely the other fake electors who have not been charged in the indictment, while unindicted co-conspirators 24 through 29 are among those likely involved in a scheme to hijack voting machine software in Coffee County. Several people allegedly involved in an effort to seize voting machine software and share files with other election deniers were charged with several crimes in the indictment.
One key unindicted co-conspirator – No 20 – allegedly joined a White House meeting on 18 December 2020 involving Mr Trump and attorney Rudy Giuliani and Sidney Powell to discuss "certain strategies and theories intended to influence the outcome" of the 2020 election, "including seizing voting equipment" and appointing Ms Powell "as special counsel with broad authority to investigate allegations of voter fraud in Georgia and elsewhere," according to the indictment.
The first unindicted co-conspirator listed in the indictment is accused of discussing a draft speech with Mr Trump on 31 October 2020, days before Election Day, to falsely declare victory and make baseless allegations of widespread voter fraud and manipulation.
The House select committee previously reported that then-President Trump consulted with Tom Fitton of right-wing activist group Judicial Watch on that same day.
An email sent to Mr Fitton and obtained by the National Archives includes Mr Trump's false declarations of voter fraud and a statement claiming that "we had an election today and I won" – a message that January 6 committee member Zoe Lofgren said amounted to instructions for an "intentional" and "premeditated" effort to subvert the democratic process.
A second unindicted co-conspirator allegedly received a voice message about voter fraud from Mr Giuliani on 3 November 2020 as well as messages about organizing a fraudulent slate of electors loyal to Mr Trump – including a key meeting on 14 December 2020, when the 16 so-called "alternate" electors convened at the state capitol.
The third unindicted co-conspirator referenced in the indictment joined Mr Giuliani and former Trump campaign attorneys Jenna Ellis and Sidney Powell at a now-infamous 90-minute press briefing at the Republican National Committee headquarters bloated with false claims and wild accusations about election fraud and manipulation on 19 November 2020.
Ms Powell and Ms Ellis – among members of the so-called "strike force" behind a spurious and failed legal campaign to challenge election results – are now among the 19 co-defendants in the Georgia indictment.
The other three people who stood behind the lectern at that press conference were GOP operatives Joseph diGenova, Victoria Toensing and Boris Epshteyn.
Robert Sinners – the head of Mr Trump's Georgia campaign operations whose role in the alleged scheme to subvert the state's election results – is likely the fourth unnamed and unindicted co-conspirator in the indictment. The indictment outlines several events in the days after Election Day previously uncovered by the House select committee, including correspondence surrounding the fake elector scheme, that match descriptions in the Georgia case.
The indictment also notes a White House meeting on 25 November 2020, when Mark Meadows, Trump campaign attorneys and two unindicted co-conspirators met with Pennsylvania state lawmakers to discuss holding a special legislative session to contest election results.
Georgia's current Lt Governor Burt Jones, a former state senator, is likely the eighth unnamed and unindicted co-conspirator in the indictment.
The indictment quotes a post from his Twitter account on 7 December, 2020, in which he calls on supporters to "sign the petition" for a special legislative session to review the outcome of the 2020 election, a message shared by Mr Giuliani.
That same co-conspirator also was involved with correspondence about the fake elector plot with other co-defendants in the case, according to the indictment.