More Americans support Trump's impeachment than oppose it for first time, poll finds
The striking results come after Mr Trump dismissed his FBI director without warning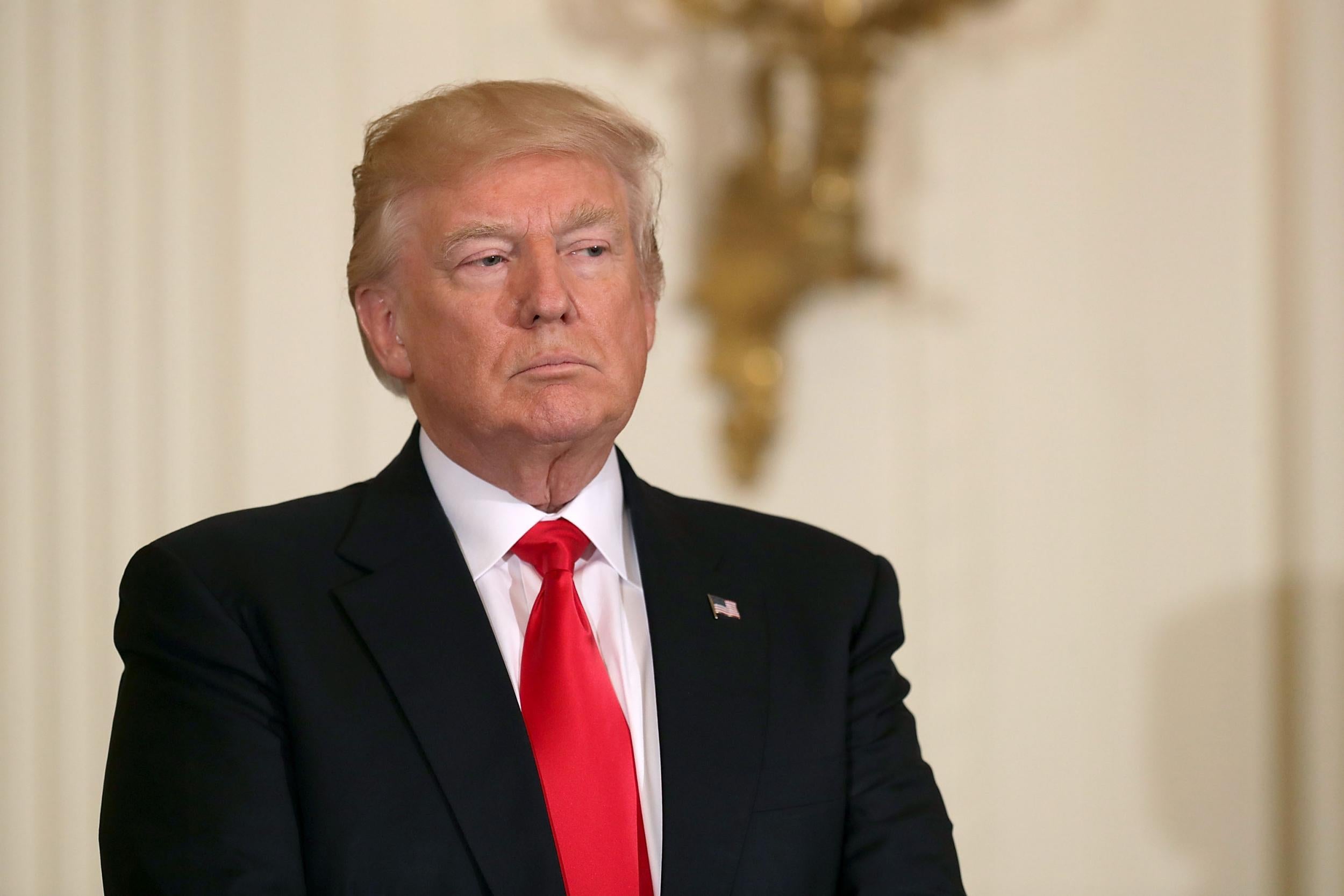 More Americans support impeaching President Donald Trump than oppose it, a new poll shows.
The poll, conducted by Democratic polling company Public Policy Polling, found that 48 per cent supported such a move, while 41 per cent opposed it.
The same poll found Americans were evenly divided on the issue just three months before.
Researchers surveyed voters between 12 and 14 May – after Mr Trump's surprising dismissal of FBI director James Comey, but before revelations from the Washington Post that the president had reportedly shared classified information with Russian officials.
Mr Comey's firing sparked concern from both Democrats and Republicans concerning the FBI's ongoing investigation into possible Trump campaign ties to Russia. Mr Trump's approval rating slumped to its lowest point in two months in the wake of the firing, according to Gallup daily tracking. The majority of Americans – 57 per cent – now say they are not happy with Mr Trump's performance.
Only 37 per cent of Americans say they support Mr Comey's firing, compared to 48 per cent who oppose it.
The biggest names involved in the Trump-Russia investigation
Show all 17
At least 12 Democratic members of Congress have called for Mr Trump's impeachment since his inauguration. Harvard Law professor Laurence Tribe has also argued for such a move, writing in the Washington Post that the firing of Mr Comey marks an "obvious effort to interfere with a probe involving national security matters".
Robert Reich, former labour secretary under President Bill Clinton, has argued that Mr Comey's firing amounts to an "impeachable offence".
"The question is no longer whether there are grounds to impeach Donald Trump," he wrote in a column for Newsweek. "It is when enough Republicans will put their loyalty to America ahead of their loyalty to their party."
Public Policy Polling found voters' discontent extends to Republicans in Congress, where Democrats have an 11-point lead in a generic Congressional ballot. Democrats lead Republicans by an average of almost seven points across 15 national polls. according to RealClearPolitics.
The polling firm attributes this downswing in Republican popularity to the widely disliked American Health Care Act, which narrowly passed a House vote this month. Only a quarter of voters say they support the bill, compared to 52 per cent who oppose it.
The bill is expected to undergo substantial changes when it moves to a Senate vote.
Public Policy Polling was ranked by the Wall Street Journal as one of the most accurate polling firms in 2008, but – like many national polls – significantly underestimated Mr Trump's lead in key swing states in the 2016 election.
Join our commenting forum
Join thought-provoking conversations, follow other Independent readers and see their replies