Democrats 'excluded' from meeting on Trump campaign FBI informant
Republicans have warned of partisan bias discrediting investigation into Russian election meddling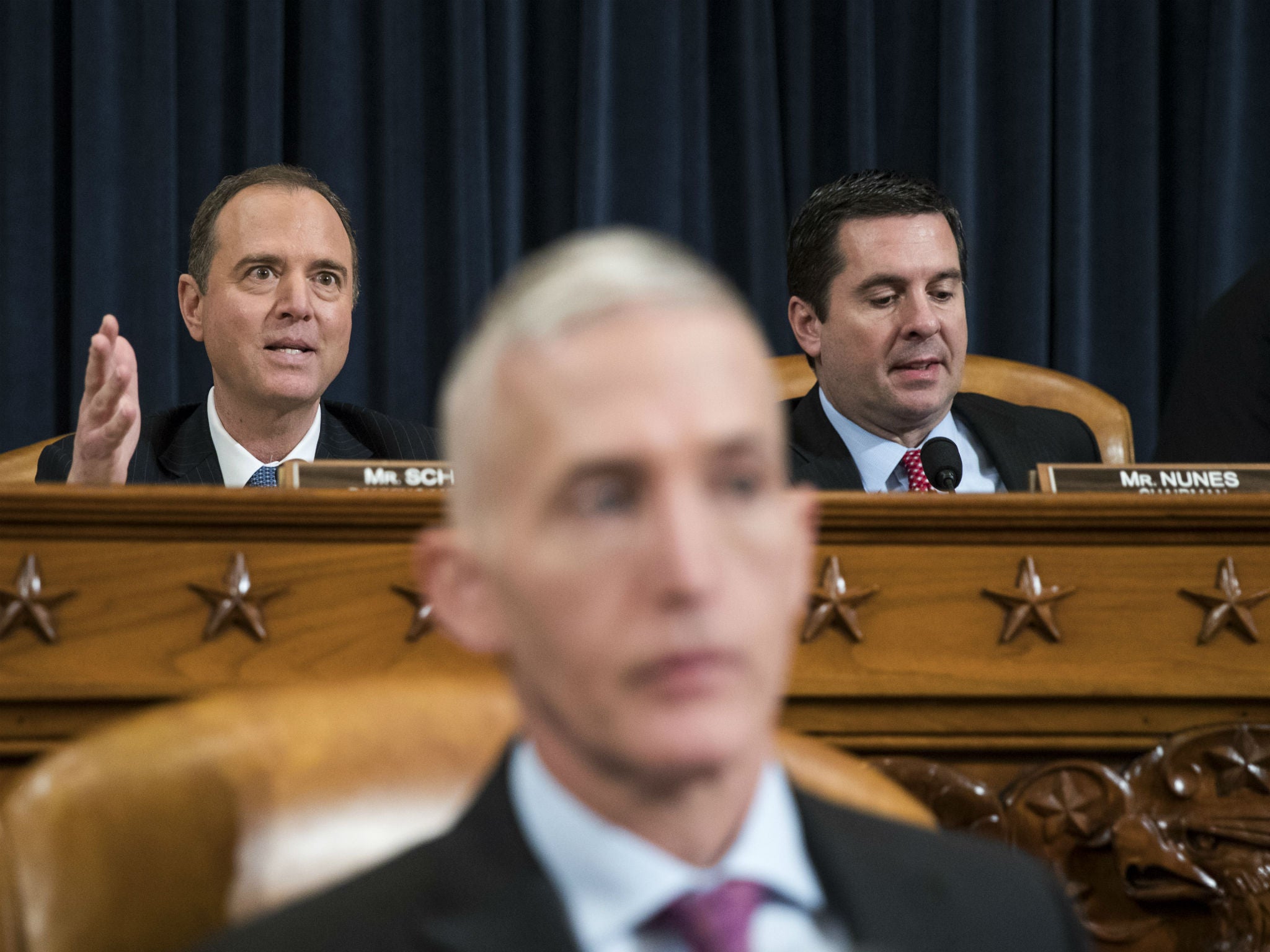 Democrats will not attend a meeting to learn about an FBI informant said to have gathered intelligence on the Trump presidential campaign, the White House said.
It has emerged that federal investigators looking into Russian efforts to interfere in the presidential election dispatched the anonymous emissary to speak with members of the Trump campaign. Donald Trump and Republicans have demanded more information, raising the spectre of a politically motivated investigation.
At Mr Trump's urging the Department of Justice announced it would conduct an internal investigation to determine if there had been "any impropriety or political motivation" in the probe of "persons suspected of involvement with the Russian agents who interfered in the 2016 presidential election".
In an effort to illuminate what happened, the White House said it was arranging a meeting in which congressional leaders would hear from top intelligence and law enforcement officials and be able to review "highly classified" materials.
But "congressional leaders" does not include Democrats, White House press secretary Sarah Huckabee Sanders said.
The members of Congress expected to attend are Rep Trey Gowdy, a South Carolina Republican who leads the House Oversight Committee, and Rep Devin Nunes, a California Republican and key Trump ally who has delved into allegations of FBI misconduct from his perch leading the House Intelligence Committee.
The biggest names involved in the Trump-Russia investigation
Show all 17
Asked why Democrats would not be present, Ms Sanders told reporters "they haven't been the ones requesting this information".
Rep Jim Himes, a Connecticut Democrat, told CNN that the meeting itself was problematic regardless of the guest list.
"Going in and demanding information on a live investigation is historically unprecedented in this country. It should never have happened", Mr Himes said, adding that "if we join this and say 'no, we want to see this information, too', we become complicit in establishing the precedent that any time one of the two parties gets irritated, we get to attack the FBI".
Donald Trump suggests he would override his legal team submit to interview with Robert Mueller
Alleged partisan bias has been a recurring theme in Republican critiques of the FBI and the Department of Justice's conduct. Mr Trump and Republican legislators have alleged that the investigation of Russian influence has been compromised by agenda-driven officials.
Earlier in the day, a group of conservative House Republicans issued a resolution seeking a special counsel to investigate potential misconduct, warning of "inherent bias displayed at the highest levels" of federal law enforcement agencies.
Join our commenting forum
Join thought-provoking conversations, follow other Independent readers and see their replies