Trump nominates judge who argued countries are stronger if everyone is same ethnic group
Lawyer accused of promoting 'highbrow argument for racial purity'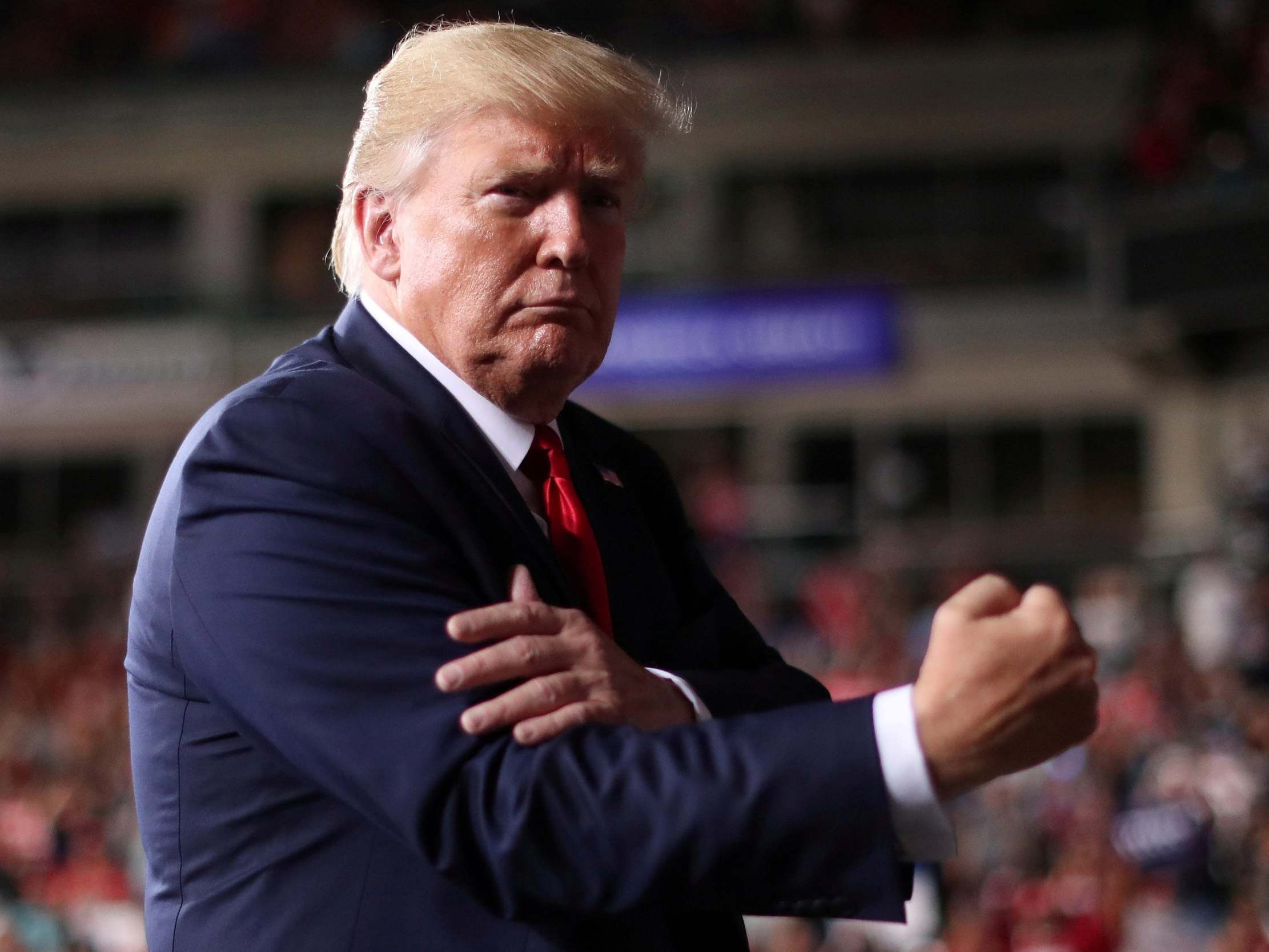 A White House lawyer chosen by Donald Trump to serve on the federal appeals court previously argued countries were weakened by ethnic diversity.
Steven Menashi, the president's nomination for the Court of Appeals Second Circuit, wrote in an academic journal that "ethnic ties provide the groundwork for social trust" and "solidarity underlying democratic polities rests in large part on ethnic identification".
"Surely, it does not serve the cause of liberal democracy to ignore this reality," he added in the 2010 article for the University of Pennsylvania Journal of International Law.
The passages resurfaced on social media following the announcement of Mr Menashi's nomination on Wednesday and were later discussed on air by MSNBC host Rachel Maddow, who described them as "a highbrow argument for racial purity in the nation state".
In the journal article, titled "Ethnonationalism and Liberal Democracy", the lawyer says he aims to refute claims that "Israel's particularistic identity — its desire to serve as a homeland for the Jewish people — contradicts principles of universalism and equality upon which liberal democracy supposedly rests".
All the times that bigger crowds than Trump's showed up to DC
Show all 7
"This article, in contrast, argues that ethnonationalism remains a common and accepted feature of liberal democracy, consistent with current state practice and international law," he writes.
Later, he adds: "Democratic self-government depends on national fellow-feeling: the capacity of citizens to identify with each other, to respect their competing political claims, and to trust that others will do the same.
"Ethnic ties provide the groundwork for social trust and political solidarity and, universalist aspirations notwithstanding, continue to do so. At the same time, social scientists have found that greater ethnic heterogeneity is associated with lower social trust.
"Ethnically heterogeneous societies exhibit less political and civic engagement, less effective governing institutions, and fewer public goods. The sociologist Robert Putnam has concluded that greater ethnic diversity weakens social solidarity, fosters social isolation, and inhibits social capital."
Maddow described the article as "blood-curdling", while the Council on American-Islamic Relations called on Mr Trump to withdraw Mr Menashi's nomination.
Robert McCaw, the council's director of government affairs, called his appointment "unconscionable" at a time when "our nation confronts the growing threat of white supremacy and white nationalism". He added: "American democracy is founded on the principle that our rich national diversity is to be celebrated and that we as a people are united by our shared experiences and principles, not by our race or ethnicity."
Mr Menashi, former general counsel for the US Department of Education and currently a special assistant to the president, rejected claims he was advocating for racial purity and - apparently contradicting his article - acknowledged the dangers of ethnic nationalism.
"I take seriously the role of the United States as a nation of immigrants and of Israel as a home for the Jewish people, both of which are important because of suffering that has been caused by ethnic nationalism," he was quoted as saying in the conservative political news website The Daily Signal.
Support free-thinking journalism and attend Independent events
Right-wing commentators also rallied to the lawyer's defence and attacked Maddow, who some accused of an "antisemitic attack" without providing details to support the allegation.
"Rachel Maddow grossly distorts Menashi's argument," wrote Ed Whelan in National Review. He said Mr Menashi's argument was is "clearly not about racial purity" but instead "what makes a population regard itself as a nation, what gives rise to national self-consciousness".
Join our commenting forum
Join thought-provoking conversations, follow other Independent readers and see their replies