Senator who once worked at a Planned Parenthood warns that Republicans are planning a national abortion ban
Senator Tina Smith of Minnesota talks with Eric Garcia about the year since the Supreme Court overturned Dobbs, Republicans blocking military nominations because of abortion and the need to get rid of the filibuster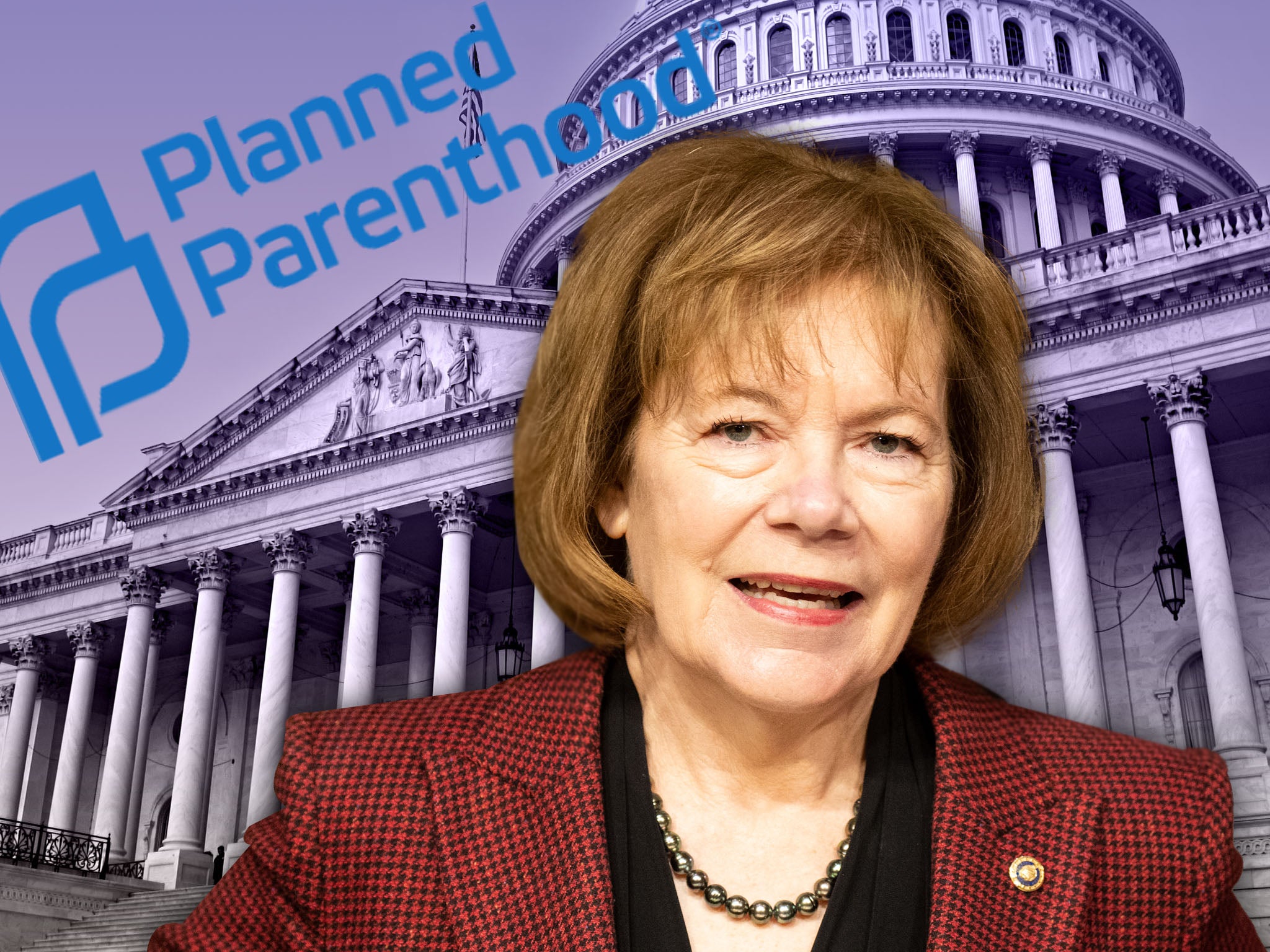 When a draft of the Supreme Court's Dobbs v Jackson opinion that would overturn Roe v Wade leaked in May of last year, US Senator Tina Smith had only three words.
"This is bulls***," the Minnesota Democrat tweeted.
Ms Smith told The Independent in a phone interview that she knew the consequences of overturning the enshrined constitutional right to seek an abortion from her time working at Planned Parenthood as the Minnesota branch's executive vice president for external affairs. She said her time working there taught her about the effects restrictions have on women's lives.
"The first thing I realized is that for women facing a decision about what to do about an unplanned pregnancy, a pregnancy that they don't want, this is a purely personal decision for them," she said. "As a policymaker, why do Republicans in the Senate and in state legislators around the country think that they know better than those women whose stories they'll never know? Why do they think that they should be the ones who decide? It's those women's decisions."
Ms Smith said that the Dobbs decision has led to rooting the question of abortion rights in terms of personal freedom.
"You know, they can see this, these stories of individuals and doctors that are trying to provide the best health care, get the best health care for people, and you know, they unable to do that and they can see that that's just wrong," she said.
Sen Smith arrived under peculiar circumstances after then-Governor Mark Dayton nominated her, while she was serving as lieutenant governor of Minnesota, to replace Sen Al Franken amid multiple allegations of inappropriate sexual behaviour. Similarly, she has often been overshadowed by Minnesota's senior Democratic Sen Amy Klobuchar, who ran for president. She and fellow midwestern Democratic Sen Tammy Baldwin, of Wisconsin, have a running joke that reporters and Capitol Hill staff often confuse them.
In the past year, Sen Smith has emerged as a stronger presence. She wrote some of the climate provisions in what would become the Inflation Reduction Act. When Sen John Fetterman (D-PA) left the Senate for a few weeks to undergo treatment for depression, she spoke about her own difficulties with the condition.
In addition, she's emerged as one of the strongest voices defending abortion rights. Ms Smith said the Dobbs decision has made the contrast between Democrats and Republicans clearer. In recent months, Sen Tommy Tuberville (R-AL) has blocked military nominations because of the Pentagon's policy that reimburses people who travel out of state to receive abortions.
"What Senator Tuberville is doing is so outside the norms of what we should be doing in the Senate, it's outrageous," she said. "I just need to point out that what Senator Tuberville is trying to do is to overturn a policy which basically provides women serving in the military with the same access to health care that people that are incarcerated in our federal prisons have."
Few Republicans seem deterred from their opposition to abortion despite the role it played in dulling their efforts to flip the Senate last year. Ms Smith's colleague Sen Tim Scott (R-SC), now a candidate for president, told the Faith & Freedom Coalition's Road to Majority Conference last month "thank God almighty for the Dobbs decision."
Former vice president Mike Pence has called for a 15-week national abortion ban. Meanwhile, former president Donald Trump has campaigned as the president who nominated the three Supreme Court justices who made the decision possible. Florida Gov Ron DeSantis, who often places a second distant behind Mr Trump in polls, signed legislation banning abortion after six weeks.
As vice chairwoman of the Democratic Senatorial Campaign Committee, Ms Smith faces a tough challenge because not only does she have to defend Senate seats in Wisconsin, Michigan, Pennsylvania, Arizona and Nevada – all of which President Joe Biden won in 2020 – she also has to defend Senate seats in three states Mr Trump won twice: Ohio, Montana and West Virginia.
"And make no mistake, if Republicans win the Senate or if Republicans win the White House, we can see from their statements, they're going to move to pass a national ban on abortion," she said, noting how many GOP candidates for Senate oppose abortion.
"So, this is the contrast, this is what voters will be confronted with when they cast their votes in 2024," she said. "Do you want to elect individuals who think they know better, that they should be the ones making decisions, individuals that want to ban abortion rights? Or do you want to elect Democrats who believe that women and not politicians should be making their own health care decisions?"
At the same time, Democrats face huge challenges to codify abortion rights. Last week, Mr Biden told donors he was personally uncomfortable with abortion.
"I'm a practising Catholic," he said on Tuesday. "I'm not big on abortion, but guess what? Roe v Wade got it right."
Sen Smith defended Mr Biden's actions defending abortion rights.
"I believe that the President and the administration have moved decisively in all the ways that they can as they look for other ways to the practical reproductive freedom, that's a good thing," she said. "I'm proud of the work that they've done. I think ultimately, the action that we need to take is legislative action, and that is why we need to win these elections."
Last year, shortly after the Dobbs leak, Senate Majority Leader Chuck Schumer tried to put the Women's Health Protection Act, which would have codified the protections in Roe, to a vote. But Sen Joe Manchin (D-WV) opposed the measure. Even then, Sen Kyrsten Sinema of Arizona, who later left the Democratic Party to become an independent, opposes removing the filibuster, which demands a two-thirds majority to pass legislation.
Sen Smith said if Democrats with the House, the Senate and the White House again, they should get rid of the filibuster.
"And you know, we need to work towards a Senate majority that will not only support reproductive freedom but will also change Senate rules so that we can act on that belief," she said. "And that I think is going to as I said before, that I believe will be a decisive issue in the in the elections in 2024."
Join our commenting forum
Join thought-provoking conversations, follow other Independent readers and see their replies