ACLU sues over Tennessee House Republican ban on signs after 3 people were kicked out of a hearing
Tennessee House Republicans are being sued over their new rule banning the public from holding signs during floor and committee proceedings
ACLU sues over Tennessee House Republican ban on signs after 3 people were kicked out of a hearing
Show all 4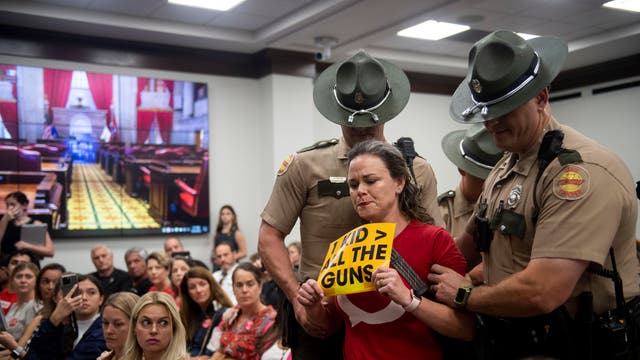 Tennessee House Republicans are being sued over their new rule banning the public from holding signs during floor and committee proceedings after three people with signs urging gun control were kicked out of a hearing Tuesday.
The American Civil Liberties Union of Tennessee filed the lawsuit Wednesday in a Nashville state court on behalf of Allison Polidor, Maryam Abolfazli and Erica Bowton.
All three were ordered by a Republican subcommittee chair to be removed by state troopers just a day prior for holding signs during a subcommittee hearing. The GOP-dominated Statehouse is meeting for a special session in reaction to a Nashville school shooting in March.
The lawsuit seeks an emergency temporary restraining order to immediately stop the ban on signs, arguing it infringes on the public's free speech rights in the U.S. and Tennessee constitutions.
A spokesperson for House Speaker Cameron Sexton, who is named as a defendant, did not immediately respond to a request for comment.
"These rules are unreasonable," Stella Yarbrough, ACLU of Tennessee legal director, said in a news release. "The Tennessee House's ban on silently holding signs in House galleries directly undermines Tennesseans' First Amendment right to express their opinions on issues that affect them and their families."
On the first day of the special session Monday, House Republicans approved a new set of procedural rules that carried harsh penalties for lawmakers deemed too disruptive or distracting, and they banned visitors from carrying signs inside the Capitol and in legislative hearing rooms. While House GOP leaders have defended rules on disruptions by lawmakers, they've been largely silent on why they also went after signs.
Separately, the Senate and House also signed off on severely limiting the public from accessing the galleries where people have traditionally been allowed to watch their government in action.
Along with kicking out the three plaintiffs, the same subcommittee chair, Republican Rep. Lowell Russell, also removed the rest of the public from the hearing room Tuesday after some members of the audience clapped on multiple occasions. That included parents of students who attend The Covenant School, where the shooting in March killed six people, three of them young students.
The actions come after the Tennessee Republicans attracted national attention for expelling two young Black Democratic lawmakers this year for breaking House rules during a demonstration in support of gun control. Reps. Justin Jones and Justin Pearson have since been reinstated and reelected to their positions, but the actions sent shock waves about the Republican supermajority's ability to hand down strict punishments to opponents.
Polidor, a gun control advocate from Nashville, was escorted out of a hearing room because she was holding a sign that said, "1 KID" is greater than "ALL THE GUNS."
"I joined with so many other moms from across Tennessee to urge our lawmakers to enact common sense gun laws," Polidor said in the news release. "I was removed for peacefully holding a small sign, and exercising my First Amendment rights. What started as a debate on gun safety has morphed into a blatant violation of my First Amendment rights."
While firearms have long been allowed inside Tennessee's legislative building, hand-held signs have faced strict criticism from lawmakers as being a potential safety hazard and too distracting to proceedings.
In 2017, signs were briefly prohibited from Cordell Hull — the building that contains both legislative committee rooms and offices for lawmakers and staffers — following demonstrations over refugee resettlements, Medicaid expansion and gas taxes.
That policy was then altered to allow the public to hold small letter-size signs inside Cordell Hull, but banned any signs on sticks or poles.
In the years since, the public has repeatedly shown up with signs that reflect a wide range of policy stances.