Ashley Williams: Activist who confronted Hillary Clinton says she is 'not to be trusted'
The 23-year-old activist made international news when she confronted the former first lady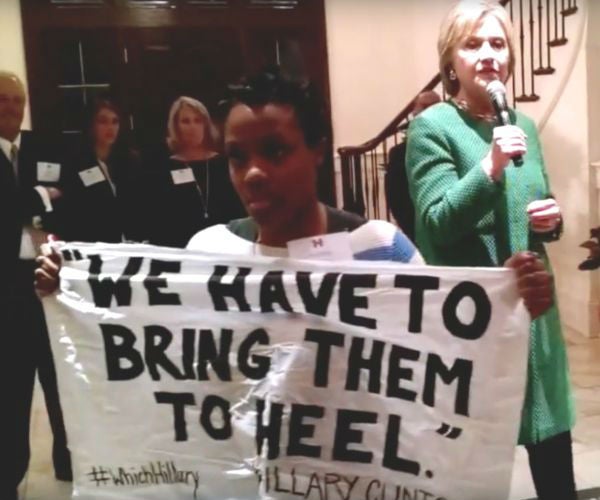 On a day when it seemed it would never stop raining, Ashley Williams and a friend jumped into a car, drove to Charleston and made headlines around the world by confronting Hillary Clinton over comments she made about black people 20 years ago.
"You owe black people an apology," the student told Ms Clinton, holding a sign bearing the words "we need to bring them to order", a comment the former first lady said in 1996 about so-called "super predators".
The 23-year-old, who asked to be referred to simply as Ashley, was gently escorted out by the Secret Service, but the agents did not confiscate the all-important video footage captured on cell phone.
HIllary Clinton protested over 'super-predator' remarks from 1996
In an interview with The Independent, Ashley said that as they drove away they realised they had pulled it off. "I was really nervous," the student said, speaking from Charlotte.
In the confrontation of Ms Clinton on Wednesday night, the student challenged the Democratic frontrunner over a subject that few of her political rivals, and little of the media, have bothered to address: the role of the administration of Bill Clinton in passing several laws that subsequently proved to be deeply discriminatory towards African Americans.
In particular, activists have pointed to the 1994 Violent Crime Control and Law Enforcement Act, which passed through the Senate with the help of Joe Biden, now the Vice President but who then served as chair of the Senate Judiciary Committee.
Ms Clinton spoke in support of the bill in 1996, saying that the young people being jailed were "not just gangs of kids anymore".
"They are often the kinds of kids that are called super-predators. No conscience, no empathy," she said. "We can talk about why they ended up that way, but first we have to bring them to heel."
Many believe the bill, which toughened sentences for the use of drugs such as crack cocaine, promoted longer sentences, expanded the death penalty and included the notorious three-strikes rule, led to era of mass incarceration in which African American constitute 1 million of the 2.3 millon people behind bars, and which Ms Clinton now rails against.
Ashley said they had been given $1,000 from a supporter to attend a private, ticket-only reception where Ms Clinton was to speak.
"We knew for a week that we were going to do this," the student said. "We were not sure how it would go. We thought about the video being taken away by the Secret Service."
Ashley added: "We told ourselves that unless we got it on video, then it did not happen."
Ashely said they had acted in the spirit of the Black Lives Matter movement, but they were not representing any specific group. "It was done in the name of people of colour who want racial justice."
The incident came as the former secretary of state stands anywhere up to 28 points ahead of her rival Bernie Sanders in polls ahead of Saturday Democratic primary election in South Carolina.
Ms Clinton has spent time and resources in the state, seeking to cement her claim that she should be the natural choice for black voters. In doing so, she has met with the mothers of young black man who have died in gun violence.
"The other night I met with five women who have lost their sons - some to police shooting, others to senseless gun violence," she said at a rally on Thursday night.
"Trayvon Martin's mother. Her 17-year-old son was killed by someone with a gun. Jordan Davis's mother. He was a teenager teenager playing his music loud, like teenagers do….And then the horrors of what happened at Mother Emanuel [church] when those people welcomed a stranger in their midst."
Some have accused Ms Clinton of using the events of last summer's shooting at the Emanuel African Methodist Episcopal Church for "political ends".
Asked about whether she believed Ms Clinton's embrace of the black community was genuine, Ashley said: "I think she is inconsistent and she has not explained this and she is not to be trusted until she explains her record on supporting policies" that were detrimental to so many people.
On Thursday night, at a rally in Charleston, Ms Clinton was asked directly about the 1994 bill and her comments. She said there were some positive elements to the bill, including legislation designed to limit the manufacture of semi-automatic weapons and provide extra protection for women against domestic violence.
But she added: I think there were some things that were negative." Ms Clinton went on to say it was essential that the country ended the "private prison industry" as soon as possible.
Ashley said not Bernie Sanders or any of the other candidates running for the White House should escape the questioning she directed at Ms Clinton.
The activist added: "We need to put each candidate under this scrutiny."