Steve Bannon warns Trump the 'anti-patriarchy movement' will be bigger than the Tea Party
'Women are going to take charge of society. And they could not juxtapose a better villain than Trump. He is the patriarch,' says former White House chief strategist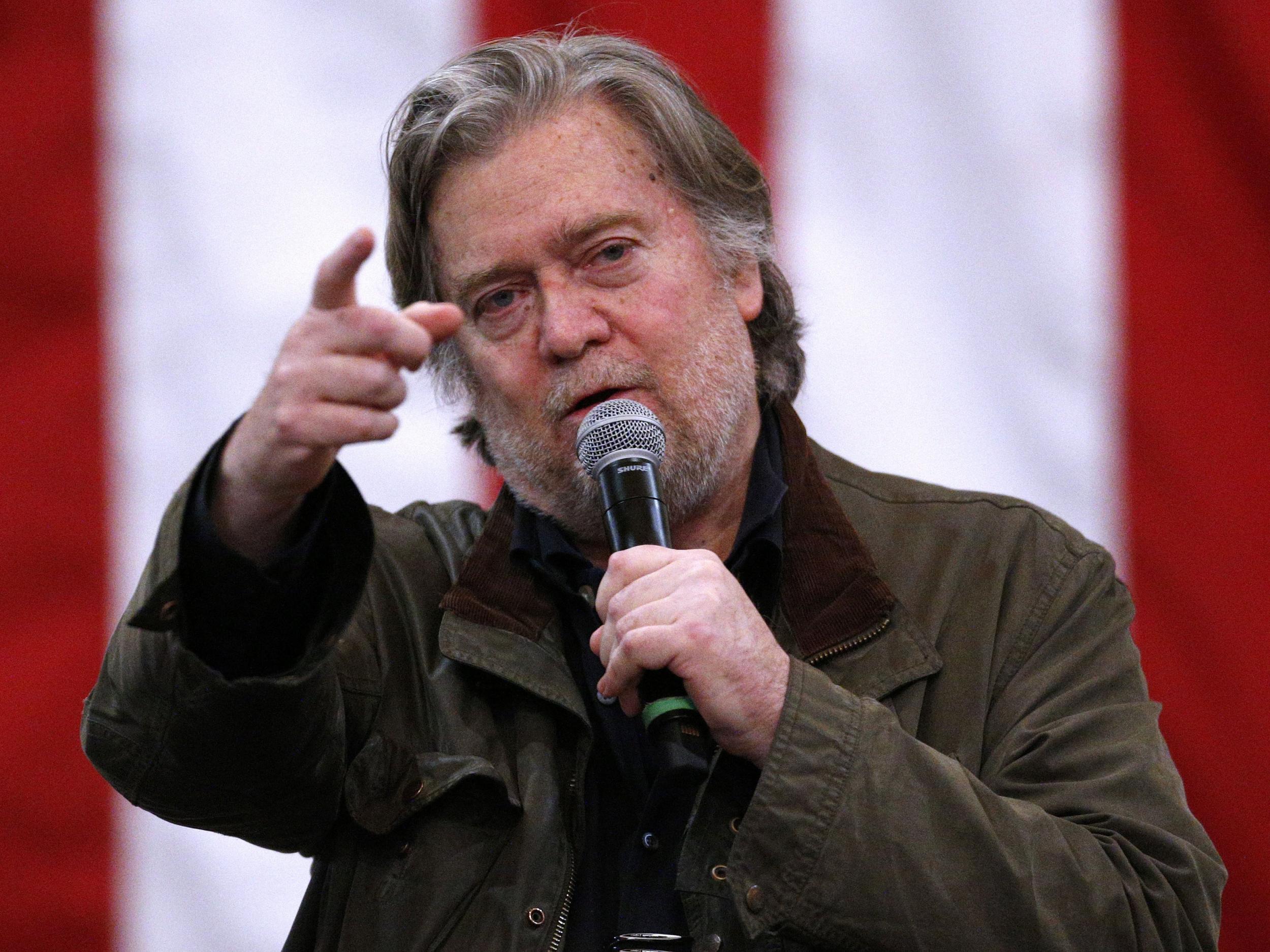 Steve Bannon has warned Donald Trump the anti-patriarchy movement will dramatically change power relations in the US and predicted it will be bigger than the Tea Party.
The former White House chief strategist argued the movement against male-dominated politics was going to advance similarly to the Tea Party – a conservative movement loosely associated with the conservative branch of the Republican Party – but would surpass it in terms of impact.
He also claimed "10,000 years of recorded history" were coming to a close.
The quotes were reported in an account by Joshua Green, a Bloomberg journalist and author of a book about Mr Bannon called Devil's Bargain, who watched the Golden Globes ceremony with Mr Bannon last month.
Mr Bannon said the award show, which saw attendees wear black to support the Time's Up initiative and female actors make speeches about the need to relegate sexual assault to the past, represented a turning point in history.
"It's a Cromwell moment!" Mr Bannon shouted to Mr Green, according to a copy of the text obtained by CNBC.
"It's even more powerful than populism. It's deeper. It's primal. It's elemental. The long black dresses and all that - this is the Puritans! It's anti-patriarchy."
He added: "I think it's going to unfold like the Tea Party, only bigger. It's not Me Too. It's not just sexual harassment. It's an anti-patriarchy movement. Time's up on 10,000 years of recorded history. This is coming. This is real."
Donald Trump's first year: in pictures
Show all 29
Mr Bannon, the former executive chairman of far-right site Breitbart News, drew attention to Dwayne Johnson's admiration for Oprah Winfrey while she gave her Cecil B DeMille Award acceptance speech.
"He's ruined his career. If you rolled out a guillotine, they'd chop off every set of balls in the room," he reportedly told Bloomberg.
Mr Bannon predicted that if Winfrey, who is a Democrat, were to get involved in the 2018 midterms, she could pose a threat to the Republican Party's chances of keeping the House of Representatives.
He said: "You watch. The time has come. Women are going to take charge of society. And they could not juxtapose a better villain than Trump. He is the patriarch. This is a definitional moment in the culture. It'll never be the same going forward."
Mr Bannon said he believed Mr Trump and the White House had recently diluted their stance on some issues, including immigration, because they were concerned about a fall in white women's approval of the President. He said: "It's a total free fall."
Mr Bannon, who was head of Mr Trump's presidential campaign, also reportedly remarked on the potentially symbolic wardrobe choice of the First Lady, Melania Trump, as she went into the House chamber just before her husband's speech. "She's wearing suffragette white. Suck on that," he is reported as having said.
Ms Trump attended her husband's State of Union address last month in a striking all-white pantsuit by Christian Dior, accompanied with a white silk Dolce & Gabbana blouse and Christian Louboutin pumps.
Steve Bannon says he is launching war on the Republican establishment
She looked similar to the female Democratic congressional members who protested Mr Trump's policies by wearing white, the colour of suffragettes, at his address to the joint session of Congress last year.
Mr Bannon, who has a track record of making misogynistic remarks, is far from a feminist himself.
Headlines published on Breitbart under his watch include "Does feminism make women ugly?" and "Birth control makes women unattractive and crazy".
Mr Bannon, who has recently been abandoned by his wealthy backers Robert and Rebekah Mercer, resigned from his White House role months ago after rumours of in-fighting in the West Wing over the summer.
He returned to be head of Breitbart, with the publication proclaiming the return of their "populist hero" on its homepage hours after his departure became public.
But last month it emerged Mr Bannon was stepping down from his role as executive chairman, which he held before joining Mr Trump's team.
Join our commenting forum
Join thought-provoking conversations, follow other Independent readers and see their replies