Steve Bannon 'removed from National Security Council' but remains Donald Trump's chief strategist
The former Breitbart publisher has been a controversial presence in Washington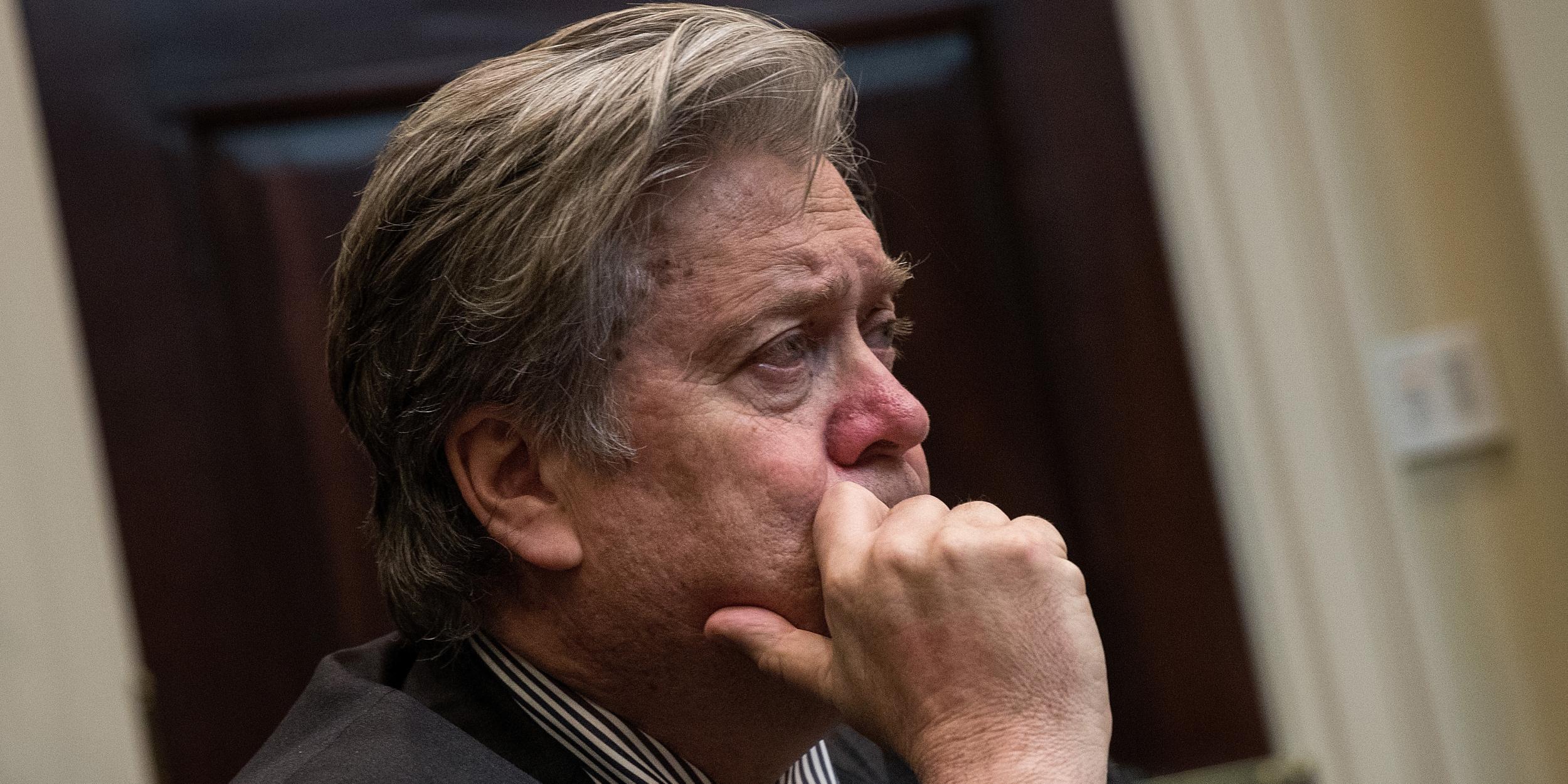 Donald Trump's controversial, right-wing adviser Steve Bannon has reportedly been stripped of his position within the National Security Council in a shake-up ordered by the President.
Washington observers were startled after Mr Trump took office when Mr Bannon, a person with minimal foreign policy experience, was given a senior role on the council. He was even made a member of the council's principals committee, in preference to military officials who usually take up such roles.
But, in a shake-up highlighted by a new memorandum published in the Federal Register, Mr Trump has removed his political confidant from the NSC, a body that advises the President on matters relating to national security. It said he had also downgraded the role of his Homeland Security Adviser, Tom Bossert.
It said that national security adviser, General HR McMaster – who is likely to have had a hand in the decision – has been given responsibility for setting the agenda for meetings of the NSC or the Homeland Security Council.
He has also been authorised to delegate that authority to Mr Bossert, at his discretion.
According to a regulatory filing, under the move, national intelligence director, Dan Coats, and the chairman of the Joint Chiefs of Staff, Marine Corps General Joseph Dunford, will again become regular attendees at the principals committee.
Donald Trump's closest advisor Steve Bannon thinks there will be war with China in the next few years
Mr Bannon, the former executive chairman of Breitbart News, was elevated to the National Security Council's principals committee at the beginning of Mr Trump's presidency. The move drew widespread criticism from Washington's foreign policy establishment and Trump critics, who said that it was inappropriate for the political advisor to play such a key brole on matters of national security.
However, White House officials were seemingly quick to state that the move was not a demotion for Mr Bannon. Indeed a parallel security structure known as the Strategic Initiatives Group reports to Mr Bannon and is seen as alternative base of power by some - while the fact that he is so close to Mr Trump means that he will likely still wield significant influence.
The controversial orders Donald Trump has already issued
Show all 9
A senior White House official told the Associated Press that Mr Bannon was initially placed on the National Security Council after Mr Trump's inauguration as a measure to ensure implementation of the President's vision, including efforts to downsize and streamline operations at the NSC.
Mr Trump's first national security adviser, Michael Flynn, was at the helm of the NSC at the time with Mr Bannon seemingly being tasked with guiding him, but the official said Mr Bannon's role on the committee had nothing to do with the troubles facing Mr Flynn, who was later asked to resign for misleading the administration about his communication with Russian officials.
Some may point to the situation as a win for Gen McMaster, but Mr Bannon had apparently attended NSC meetings infrequently, with reports suggesting he attended only one meeting in the last month. Mr Bannon will still be able to attend such meetings, but will not be invited to each one.
In a brief statement to the Wall Street Journal – referencing former President Barack Obama's national security adviser, Susan Rice – Mr Bannon said: "Susan Rice operationalised the NSC during the last administration. I was put on to ensure that it was de-operationalised. General McMaster has returned the NSC to its proper function."
Join our commenting forum
Join thought-provoking conversations, follow other Independent readers and see their replies