As xenophobic protests rock NYC, the city closes its door to asylum seekers
Xenophobic protests against a migrant centre in Staten Island come as City Hall is seeking to remove its longstanding obligation to provide shelter, Richard Hall writes.
Thursday 05 October 2023 17:03 EDT
Comments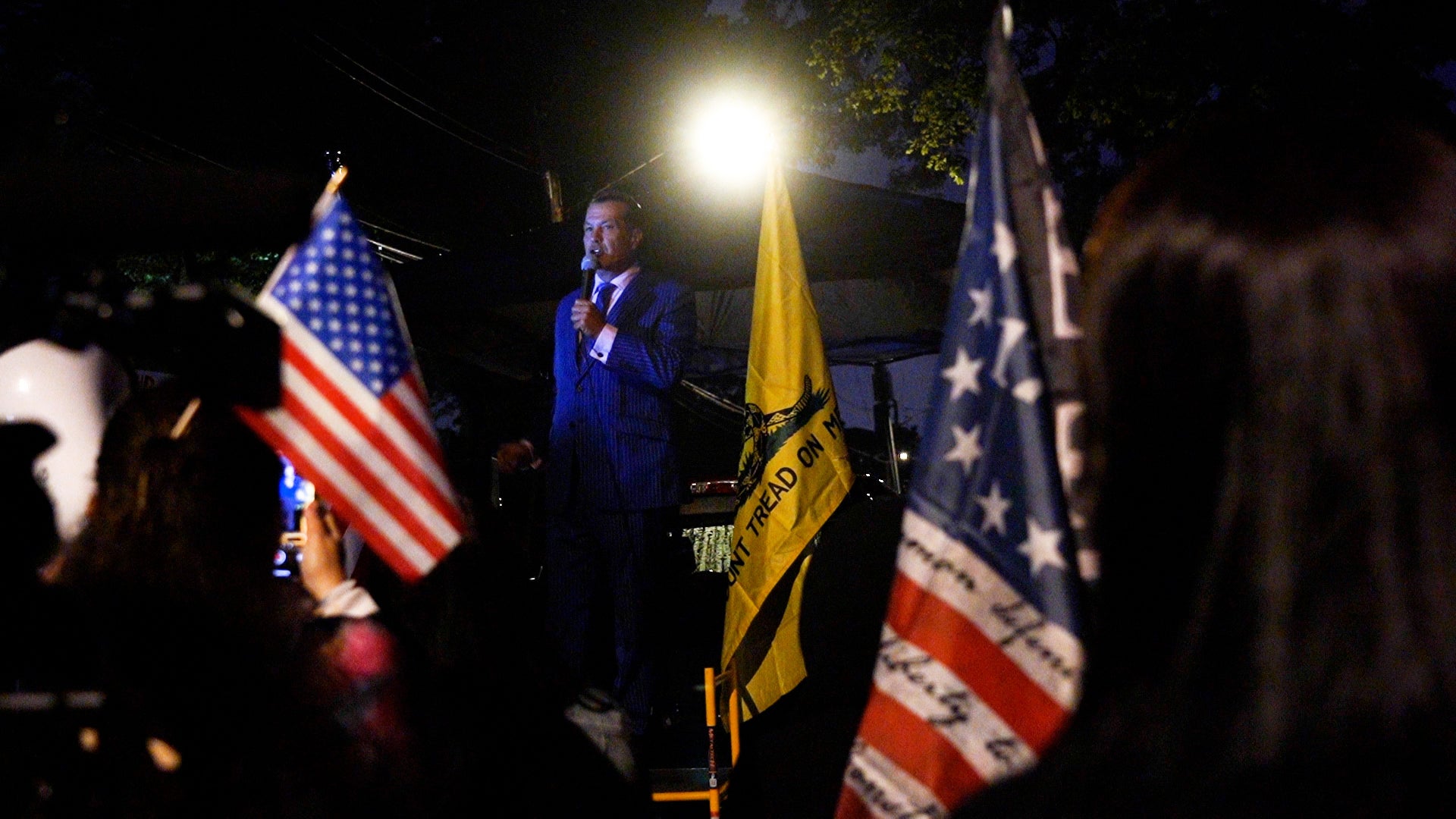 On a rainy evening in a quiet residential neighbourhood on Staten Island, right wing media personality John Tabacco stood on the back of a flatbed truck in a suit, flanked by the Stars and Stripes and a 'Don't Tread On Me' flag.
"Believe it or not, this whole damn country left it up to Staten Island to go toe-to-toe with George Soros!" shouted Tabacco, a host on Newsmax. A crowd of protesters cheered the reference to the often-repeated conspiracy theory that many consider to be anti-Semitic. "Staten Island is where we draw a line in the sand. It's a fight between good and evil," he went on, to even louder cheers.
The subject of Tabacco's ire, and the cause of the gathering, lay in the building behind him: a few dozen recently arrived asylum seekers housed in a former school that has been turned into a temporary shelter.
The centre, formerly the St John Villa Academy, has become a focal point for protests against the temporary housing of migrants around New York City. Since late August, local residents have held loud nightly demonstrations outside of the building where a few dozen families and single women are living, clashing with police.
Some of these protests have taken a sinister and xenophobic turn. On 28 September,The Independent witnessed people holding signs that read "Americans over illegals" and "Send them back!" At an earlier protest, a resident who lives on the same street as the facility set up a loud speaker to play the same message in six languages on repeat: "​​Immigrants are not safe here." Others have taken to shining bright flashing lights into the windows of shelters at night to disrupt those trying to rest.
In times past, small but vocal anti-migrant protesters here in Staten Island — the most conservative of the five boroughs — might have been an outlier in a city that was built by, and whose very identity is tied to, immigration. But increasingly they have found common cause with Democratic city and state leaders, including mayor Eric Adams and New York's governor, Kathy Hochul.
New York City is struggling to deal with a sharp influx of asylum seekers. Currently it is currently providing shelter to around 60,000 asylum seekers, and has been forced to use city-owned buildings in far flung parts of the city to do it.  The numbers represent a massive increase on previous years: in 2021, city courts issued around 30,000 notices to appear in immigration court. That number rose to 70,000 in 2022 and doubled again, to reach 140,000, by August of this year.
The Adam's administration's response looks set to alter the city's status as one of the world's most welcoming places for migrants.
"We are past our breaking point," Adams said in August. "New Yorkers' compassion may be limitless, but our resources are not."
Those sentiments have been echoed by protesters on Staten Island, but that hasn't stopped them blaming the mayor for the influx.
"The mayor of the city opened his arms months ago, and welcomed them with candy and gifts, now he's shitting his pants," Scott LoBaido, an activist and artist who paints portraits of Donald Trump and American flags, told The Independent, before taking his turn to speak at the migrant centre protest last week.
"Everybody's a sanctuary city enthusiast until the sanctuary city gets plopped in their front door and it is out of control," he added.
Adams condemned the Staten Island protesters for "some commentary of hate" and "racist comments." But his tone on rising migrant numbers has changed in recent months, casting it in apocalyptic terms and claiming it will "destroy New York City" if not addressed urgently.  Adams is now seeking to exclude migrants from the city's longstanding 'right to shelter' law, which requires authorities to provide shelter for anyone who needs it, arguing that housing migrants will cost the city $12bn.
His administration began distributing flyers at the southern US border, telling migrants there is "no guarantee" they will receive shelter or services. The city shut down a reception centre at the city's main bus station where volunteers greeted newly arrived migrants and directed them towards city services. Mayor Adams' chief advisor, Ingrid Lewis-Martin, recently called on the federal government to "close the borders," echoing Republican falsehoods about the US border being open. 
The Adams administration's sudden shift in rhetoric and policy is stoking the flames of anti-migrant feeling seen in St John Villa Academy protests, say immigration activists.
"In Staten Island, we have seen what happens when our elected officials use inflammatory xenophobic language against vulnerable communities, giving right-wing groups cover to further demonise them and incite the public in the name of 'public safety,'" Murad Awawdeh, executive director of the New York Immigration Coalition, told The Independent.
He added that although the protesters represent a minority, they are nonetheless "emboldened by the reckless and dangerous rhetoric of elected officials, and are using increasingly problematic tactics."
For the Staten Island protesters who turned out last week, this was not just a problem of resources, but a broader struggle against the Biden administration's immigration policies, both real and imagined.
LoBaido, the activist and artist, said the people protesting weren't against migrants — "we are all immigrants too" — but rather those who came into the country illegally.
"A large percentage of these illegal aliens coming here are young adult men [...] and they need to be sent back," he told The Independent.
"This is just an invasion," he added.
Migrants who make it to the US have a legal right to seek asylum and are allowed to remain in the country while their claim is processed. Many migrants arriving in New York have made their own way here, attracted by its historic reputation as a city of immigrants. But others were brought by bus as part of a politicised scheme by the Republican governor of Texas, Greg Abbott, to transfer migrants to Democratic cities. A large portion of the new arrivals to New York over the past year have come from Venezuela, where the country's economic collapse has caused more than 7 million to flee.
There is also no indication that the migrants housed in the former school entered the country illegally. City Hall has described those living there as single adult women and families, and noted that less than two per cent of the 60,000 migrants currently being sheltered by New York City are in Staten Island.
But despite those numbers, the St John Villa Academy is now at the centre of New York's migrant crisis in more ways than one. Just days before the protest, a judge temporarily blocked the city from using it to house migrants, striking at the heart of the city's longstanding law to provide shelter to anyone who needs it.
The judge wrote that the 1981 consent decree only applied to certain groups: "destitute and homeless alcoholics, addicts, mentally impaired derelicts, flotsam and jetsam," to be precise. He further called the decree an "anachronistic relic from the past, an altruistic plan to assist local 'Bowery derelicts,'" and ordered the centre closed.
The city quickly filed an appeal and a judge ruled in its favour, allowing migrants to keep living there. But the Staten Island protesters were still celebrating the case as a win days later.
"This has been the epicentre of the battle all over the country to stop the invasion of illegals," said Curtis Sliwa, the leader of the Guardian Angels and Adams' Republican opponent in the 2021 mayoral race, before he took his turn on stage at the Staten Island protest.
"No community was able to do it until Staten Island came together. "
The status of the centre, and others like it, is made all the more precarious by a simultaneous legal battle going on in a separate court where the Adams administration is currently attempting to end the city's right to shelter.
In a letter to a New York judge, the city claimed "unprecedented demands on the city's shelter resources confront the city defendant with challenges never contemplated, foreseeable or indeed, even remotely imagined."
Adams said in a statement that the change was needed because "New York City cannot single-handedly provide care to everyone crossing our border. Being dishonest about this will only result in our system collapsing, and we need our government partners to know the truth and do their share."
On Wednesday, his administration filed a request with New York's Supreme Court to suspend the right to shelter law, blaming the influx of migrants. He said in a statement: "It is abundantly clear that the status quo cannot continue."
The move has infuriated migrant rights groups. Josh Goldfein, staff attorney at Legal Aid, which sued the city to meet its right to shelter obligations in August after migrants were left sleeping outside of an intake centre in Manhattan, told The Independent the right is "guaranteed by New York's Constitution and protects our most vulnerable neighbours from injury or death as a result of exposure to the elements on the streets of New York.
"Rather than seeking to undo this fundamental protection, all three levels of government should be working together to help our newest neighbours find ways to support themselves and their families," he added.
The Adams administration, meanwhile, has suggested that the city is unable to solve the crisis alone.
A City Hall spokesperson said in a statement: "New Yorkers are weary of bearing the brunt of this national crisis, and we empathize with their concerns."
They said that the city had opened 206 sites, including 15 large-scale humanitarian relief centre, but added: "The sites we are now finding are the only options left. This situation demands a broader state and national solution."
Join our commenting forum
Join thought-provoking conversations, follow other Independent readers and see their replies