Sri Lankan police disperse protesters demanding election
Sri Lankan police have fired tear gas and a water cannon at opposition supporters who marched in the capital demanding that the government hold next month's local council elections as planned
Sri Lankan police disperse protesters demanding election
Show all 4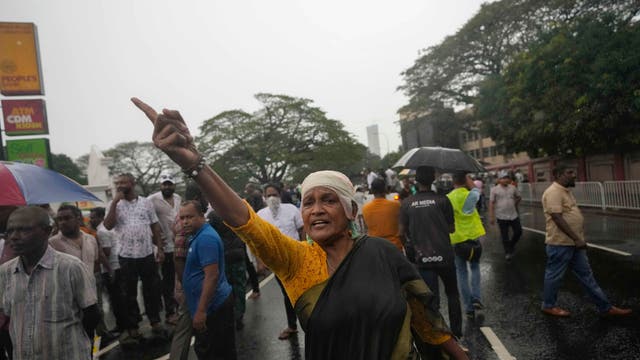 Sri Lankan police fired tear gas and a water cannon at opposition supporters who marched in the capital on Monday demanding that the government hold next month's local council elections as planned.
Several thousand backers of Samagi Jana Balawegaya, or United Peoples' Power party, shouted anti-government slogans as they marched toward the center of Colombo, where government offices and the president's office and residence are located. They were blocked by police, who fired tear gas and a water cannon to disperse them.
The March 9 elections, postponed from last year because of economic and political turmoil, won't affect the government's majority in the 225-seat Parliament. But they are widely seen as a test of the popularity of the governing coalition, which has been criticized for raising taxes and electricity charges.
Election officials have reportedly said they have not received money from the treasury to conduct the voting, and opposition lawmakers accuse the government of attempting to further delay the elections.
Governing coalition lawmakers say it isn't an appropriate time to hold elections because the country is still recovering from an economic crisis. Government spokespeople say the government is struggling to find enough money to pay the salaries of civil servants and conduct other administrative functions.
Sri Lanka is effectively bankrupt and has suspended repayment of foreign debt pending the outcome of talks with the International Monetary Fund on a bailout package. The country's foreign debt exceeds $51 billion, of which $28 billion must be repaid by 2027.
A currency crisis has also led to shortages of essential items such as food, fuel, medicine and cooking gas. Massive protests last year forced then-President Gotabaya Rajapaksa to flee the country and resign.
His successor, Ranil Wickremesinghe, has begun to stabilize the economic situation by reducing shortages, enabling schools and offices to operate. To cope with funding shortages, the government has announced a 6% budgetary cut for each ministry. It also plans to downsize the military, which had swelled to more than 200,000 personnel due to a long civil war.