Former Italian premier Silvio Berlusconi was also successful in soccer at AC Milan and Monza
Former Italian premier Silvio Berlusconi dominated Italian soccer for decades just like he commanded the show in Italian politics
Former Italian premier Silvio Berlusconi was also successful in soccer at AC Milan and Monza
Show all 10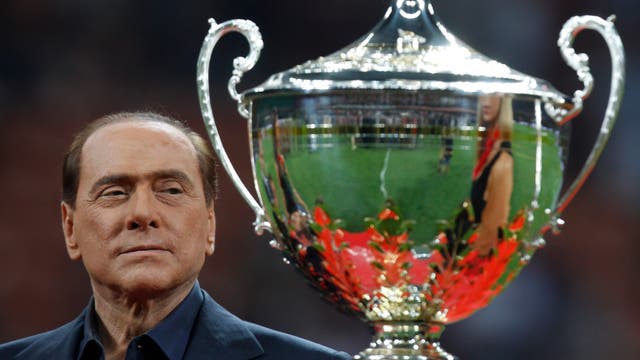 From his grand entrance by helicopter after buying AC Milan to empowering Monza up to Serie A for the first time in its history, Silvio Berlusconi dominated Italian soccer for decades just like he commanded the show in Italian politics.
Berlusconi, a former three-time Italian premier, died Monday, according to his television network. He was 86.
Berlusconi was hospitalized on Friday for the second time in months for treatment of chronic leukemia. He also suffered over the years from heart ailments and prostate cancer.
Under his ownership, AC Milan won 29 trophies, including eight Serie A titles and five European Cups.
"All of the things I work on are profane. But Milan is sacred," Berlusconi once said. "I remember when my dad would bring me to the stadium and I didn't pay for a ticket because I was so small. So I repeat, Milan is a matter of love."
Berlusconi was the ultimate "presidente" in an era when Italian soccer was still a family-run business commanded by powerful men, alongside the Agnellis at Juventus and the Morattis at Inter Milan.
These days, Milan is under American ownership, Inter is under Chinese control and only the Agnellis remain at Juventus among Italy's three biggest clubs.
"Deeply saddened, AC Milan grieves the passing of the unforgettable Silvio Berlusconi and wishes to reach out to the family, associates, and most cherished friends to share our sympathies," Milan said in a statement. "Tomorrow, we will dream of new ambitions, create new challenges, and seek new victories. Which will represent the good, the strong, and the true that lies inside us, in all of us who shared this adventure of binding our lives to a dream called Milan. Thank you, Mr. President. Always with us."
MILAN TURNAROUND
Berlusconi saved Milan from near bankruptcy when he bought the club in February 1986.
Milan was still suffering from the effects of being relegated to Serie B after the Totonero match-fixing scandal and had finished fifth in the top division the previous season.
In June 1986, Berlusconi marked the start of his first full season as president in typically dramatic fashion at a team presentation. In front of 10,000 fans at the city's neoclassical Arena Civica, he and the players flew in on three Apache helicopters to the tune of Wagner's "Ride of the Valkyries."
"The squad met up at Linate (airport) without knowing what was happening," former Milan captain Franco Baresi said. "People made fun of us, but with the helicopters the president showed immediately his desire to astound. And we understood that the winds had changed direction."
TITLES AND TROPHIES
Berlusconi quickly made his mark when Milan won Serie A in his second full season in charge.
The real glory came in the following two seasons, though, when Milan earned consecutive European Cup titles with a team led by Dutch stars Marco van Basten, Ruud Gullit and Frank Rijkaard.
Many more trophies followed, with Paolo Maldini and Alessandro Nesta anchoring the defense and Andriy Shevchenko and Kaka scoring the goals.
With success after success on the soccer field, it was no coincidence that Berlusconi borrowed a soccer chant when his right-wing political party was named "Forza Italia."
"The problem is that Milan often comes up against left-wing referees," Berlusconi said after a soccer loss in 2010.
COACHING CAROUSEL
Under Berlusconi's presidency, Milan made 21 coaching changes.
The man in the hot seat when Berlusconi bought the club was Nils Liedholm. But Milan was beaten twice in the Italian Cup by a Parma team that was coached by a certain Arrigo Sacchi, who Berlusconi eventually hired despite criticism about Sacchi never having played professional soccer.
Sacchi went on to revolutionize the game with his offensive tactics in a country that was better known for "catenaccio," or lockdown defense.
After coaching Milan to European Cup titles in 1989 and 1990, Sacchi went on to coach Italy's national team to the 1994 World Cup final.
Always a hands-on owner, Berlusconi was never shy about dictating player lineups to his coaches or voicing a preference for one formation over another.
"Berlusconi criticized us when things were going well and gave us support when they were going bad. Most presidents do exactly the opposite," said current Real Madrid coach Carlo Ancelotti, who matched Sacchi by coaching Milan to two Champions League titles in 2003 and 2007 — in addition to a runner-up finish in 2005.
Berlusconi was famously a proponent of the 4-3-2-1 "Christmas tree" formation.
"Everyone's always talking about Sacchi's Milan and (Alberto) Zaccheroni's Milan and Ancelotti's Milan and you never hear anyone talk about Berlusconi's Milan. But for 18 years I've been making the lineups, dictating the rules and buying the players," Berlusconi said in 2004.
GALLIANI FRIENDSHIP
While Berlusconi was a constant presence at the San Siro, it was his good friend and fellow TV executive Adriano Galliani who actually ran Milan on a day-to-day basis.
Backed by Berlusconi's millions, Galliani became known as a master of signing top players on the transfer market.
"The best player was certainly Marco van Basten," Galliani told Corriere della Sera in 2018. "(Former Milan sporting director) Ariedo Braida realized he was a phenomenon and we went to Amsterdam several times with Berlusconi to see him. Even Berlusconi's father, Luigi, came along.
"But the best story was Gullit. It was August 1986 and we were in Bermuda and all of a sudden the president (Berlusconi) says that Milan is playing in a four-team preseason tournament in Barcelona that night. So we grabbed a plane and flew there. Berlusconi immediately noticed this giant playing for PSV (Eindhoven) with dreadlocks as a defender. The president went crazy and said 'We've got to get him.' But in 1986 we couldn't buy any more foreign players and so we had to wait until 1987 to sign him after a year-long courtship."
REUNITED AT MONZA
After selling Milan to a Chinese consortium in 2017, Berlusconi and Galliani reunited a year later with the purchase of Monza, the team that Galliani grew up supporting.
In just a few years, Monza worked its way up from the third division to a Serie A debut in 2022-23.
At this season's Monza team Christmas party, Berlusconi told the squad that if they won one of their upcoming games against Inter, Juventus or Milan, "I'll bring in a busload of whores."
While Berlusconi was widely criticized for his remarks, Monza did end up beating Juventus in January for a season-sweep of the Bianconeri.
___
Dampf reported from Rome.
___
More AP soccer: https://apnews.com/hub/Soccer and https://twitter.com/AP_Sports